4 Tools Supporting DTC eCommerce Growth in 2023
By Sophie Walker • Last updated: Tuesday Jul 4th, 2023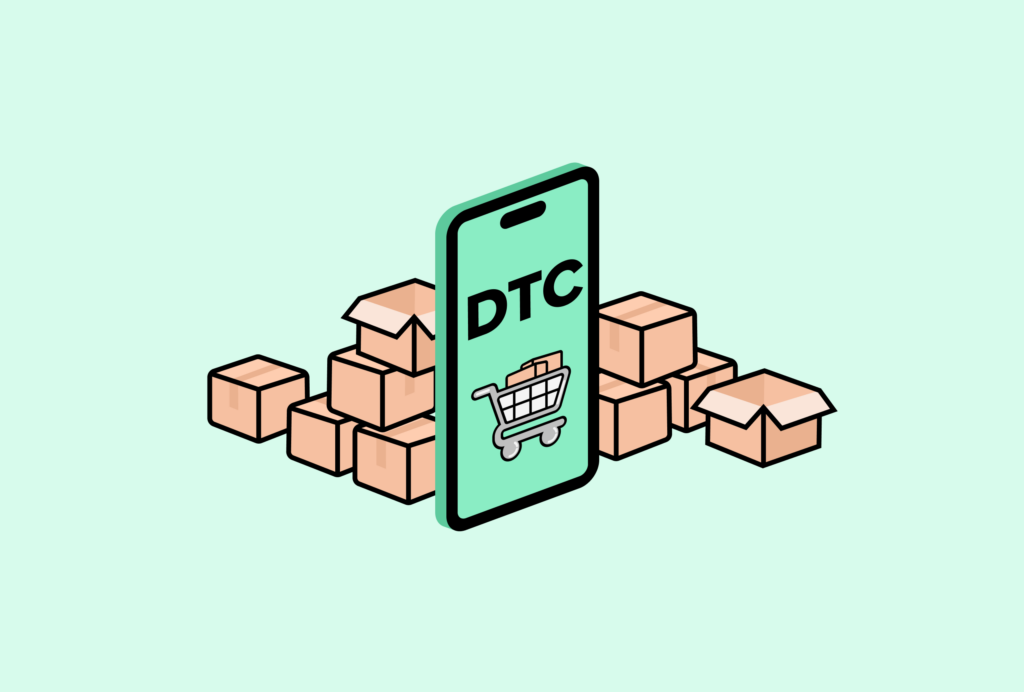 Data shows that digital spending grew 55% during the COVID-19 pandemic, accelerating the eCommerce industry to new heights.1
This sudden change in consumer behaviour massively impacted online spending and transformed the way in which we interact with our favourite brands.
As a result, we've seen major growth in the DTC retail model. Studies show that DTC sales are expected to reach $161.22 billion by 2024, as technology makes it easier for retailers to reach new audiences with the help of digital marketing and online platforms.2
As we move through the post-pandemic era, retailers must adapt to the most profitable business models and identify the ways they can continue driving sales for the long term.
Suggested reading: Read our eBook, 'The State of eCommerce in 2022', to learn more about how the industry has changed over the last year and how it is expected to grow.
What is DTC eCommerce?
The direct-to-consumer (DTC) eCommerce model is gaining in popularity as eCommerce retailers leverage the opportunity for selling direct-to-consumer through digital channels.
The DTC business model, also referred to as a 'D2C' model, revolutionises traditional retail methods by cutting back on costs that are traditionally linked to supply chain inflations. This allows brands to gain a competitive advantage in their eCommerce space and spend more money on:
Design: Enabling brands to focus on innovation and consistency within their product offerings.
Manufacture: Retailers can spend more of their time and resources finding the highest quality manufacturing methods.
Sourcing: Focusing on supply chain management and taking action to improve efficiency for the long term.
Digitally native DTC brands such as Warby Parker and All Birds, and fashion brands such as Cuts Clothing and PANGAIA, have all opted for the direct-to-consumer model that bypasses the involvement of third-party wholesalers.
The benefits of the DTC model
As well as cutting back on costs, the DTC model allows retailers to:
Take control of their own customer data as all sales are made directly on their site, providing the tools for eCommerce data analytics.
Nurture their customer relationships through personalised marketing and messaging.
Strategically address promotions and sales on their site based on specific brand challenges or goals.
Improve brand loyalty and retention by building a direct relationship with returning customers and developing more effective loyalty programs.
It's clear to see why eCommerce retailers may opt for this business model, as major growth in online channels and social media platforms allows brands to catapult their marketing efforts, reach their customers more efficiently and direct traffic straight to their own site.
Cutting back on all major third-party costs allows brands to take control of all stages of their buyer's journey.
But as we navigate through a period of financial uncertainty, retailers need to address the efficiency of the DTC model and ensure that their site is adjusted to a modern eCommerce landscape.
Suggested reading: Want to find out more about DTC eCommerce? Read our blog, 'What Is D2C eCommerce and Why is it Key to Customer Engagement?', for an in-depth exploration of how DTC impacts engagement and loyalty.
Navigating DTC in times of economic uncertainty
It's essential for any DTC business to address the current economic climate and adapt to the challenges retailers are facing.
As the pandemic eCommerce boom starts to fade and interest rates continue to increase, it's safe to say that a large percentage of consumers are shopping more cautiously and it's becoming harder for retailers to secure conversions.
Approximately 52 percent of UK consumers in 2022 reported thinking more carefully about how they spend, with value for money, price, and affordability all being top priorities.3
In the context of the wider market, DTC retail may struggle to gain traction and reach as wide an audience when compared to brands that leverage third-party vendors and wholesale distribution.
As well as this economic uncertainty, customer acquisition costs are continuing to rise, increasing by as much as 60% over the last five years.4
As brands compete for the same keywords and ad space online, DTC brands need to spend more money and work harder to drive eCommerce traffic to their site.
A DTC brand relying solely on its own websites and channels makes it more challenging to gain that all-important brand exposure that more traditional retail models may provide.
However, with the right tools and processes in place, DTC brands can retain their competitive edge and drive profit, even in times of economic difficulty.
DTC tools that drive eCommerce growth
Through economic uncertainty there are still plenty of opportunities for retailers to utilise the DTC model and propel their business forward.
As eCommerce retailers focus more on their own websites and look to provide the best user experience, it's essential to consider how site optimisation can enhance the DTC model.
Let's look at some of the latest innovations and AI-driven tech solutions that DTC retailers can leverage to drive growth.
1. Tools for personalisation
In a competitive eCommerce space, it's no longer enough to provide a one-size-fits-all solution when it comes to your website.
Creating a unique customer journey and responding to the needs of your shoppers with the use of intelligent personalisation tools allows you to win over the loyalty of your customers and increase eCommerce engagement.
Some of the personalisation tools that can be useful on your DTC website include:
Personalised overlays: Display targeted messaging in the form of an Overlay at exactly the right time in the user journey. This could include a promotional incentive, a reminder of your USPs or a popup showing your latest campaigns. Depending on when they are displayed, Overlays can help to drive conversions, encourage engagement, or boost loyalty.
Product Recommendations: Connect your shoppers to their next purchase using intelligent, AI-powered Recommendations. Anticipating your shopper's needs, personalised product suggestions inspire purchases and effortlessly drive DTC sales.
Basket abandonment emails: Adapt your email marketing based on consumer behaviour. Sending a series of abandoned cart emails or reminders of the products your shopper has shown interest in, you can recover lost sales and re-target based on individual needs. 
Taking action to provide a personalised experience on-site using intuitive tools can improve the efficiency of your DTC site, increasing the likelihood of a conversion and creating a more seamless AI-driven customer journey.
2. Data and analytics tools
A big advantage for direct-to-consumer brand models is the ability to take control of your own first-party data, and subsequently track revenue and sales straight from your own website analytics.
This data provides crucial insights into user satisfaction and allows you to address your brand performance and adapt your marketing strategies accordingly.
Many DTC brands will already use Google Analytics, which provides users with key information on buyer behaviour and site views. This can be used effectively alongside industry-wide eCommerce analysis tools such as Trends, which allows brands to benchmark their performance against key competitors and keep up with consumer trends in online shopping. With Trends you can track:
Site visitors
Pageviews
Revenue
Conversion rates
Allowing you to monitor customer behaviour and key metrics specific to your industry, Trends helps you to make informed decisions for your business.
Utilising this data can help retailers to identify opportunities for optimisation, create reactive online strategies, and deliver more accurate shopper targeting based on the performance of past campaigns.
Suggested reading: Learn more about the importance of analytics by reading our article on big data in eCommerce.
3. CX optimisation tools
The customer experience (CX) starts when a shopper first learns about your brand, and continues through to their first purchase and beyond. This means online retailers need to identify ways they can optimise the on-site customer journey and provide the best experience possible.
This is especially important for DTC brands that rely heavily on the revenue they generate from their own site.
Tools such as Digital Assistant offer retailers the opportunity to enhance the most influential touchpoints in the buyer's journey and create a more fluid on-site experience.
Digital Assistant is equipped with ready-to-deploy campaigns such as:
Countdown timers: Display end-of-sale or delivery deadline countdowns to increase the urgency in completing a purchase and help your shopper to get the best deal.
Increase average order values: Remind customers of your free delivery incentive and prompt them to increase their basket value.
Price match: Display your price match guarantee at exactly the right moment and prevent your shopper from comparing prices elsewhere.
With the help of Digital Assistant, you can integrate intelligent, on-site campaigns that deliver the most relevant information throughout the customer journey and respond to your shoppers' needs.
Optimising customer experiences in this way will not only help to ensure that you secure more sales, but will also encourage first-time customers to return to your site.
4. Omnichannel tools
The freedom of the direct-to-consumer model allows retailers to capitalise on the customer relationships they build.
One way to solidify these relationships is to focus on supporting your shopper throughout their journey, using support tools and an omnichannel eCommerce strategy to proactively reach out if a shopper is showing signs of hesitancy.
As a DTC brand, you rely heavily on your customer support channels to deliver the right messaging and information for your customers. Similarly, DTC consumers will look directly to your brand for support and assistance.
Adopting an omnichannel approach to your customer support and investing in multiple avenues of support allows you to be where your customers are. Your customer support strategy can be optimised by:
Integrating a live chat tool on-site: Allow customers to ask questions about your products or services and boost their confidence in making an order. Using a tool like Digital Assistant allows you to integrate live chat and reach shoppers at the right moment in their on-site journey.
Offering support on social media: Ensure your live chat tool allows your shoppers to reach you for support through social platforms. This way, you can also enhance the social media product discovery pipeline.
Creating a dedicated email channel for support: Email is one of the most important support channels you can offer, with some 29% of customers saying it is their preferred method for communicating with a brand.5 Make a dedicated support channel for customer email queries, from pre-purchase support to returns questions, you can deliver the right assistance your shopper needs.
Showcase customer reviews: Use social proofing to communicate your brand experience in highly reviewed, and showcase that your shoppers are satisfied with their overall experience.
Kerry Mythen, Head of Live Content and Events at REVIEWS.io, spoke of the importance of using the feedback that you receive through these support channels to improve your products and services:
"Utilising customer feedback through reviews is just one of the many tools that businesses can use to drive DTC eCommerce growth. These insights can be used to improve products, services, and customer satisfaction, ultimately driving growth."
"By leveraging technology and tools to engage with customers, businesses can build lasting relationships, improve their offerings, and thrive in today's ever-changing digital landscape." 6
With the right omnichannel tools in place, you can meet your customer in their preferred channel and maintain a high level of customer service.
Investing in customer support tools can help solidify the relationship with your shopper and ensures that you are the first brand on a shopper's mind when they need a specific item.
Providing this level of support for shoppers in all stages of the buyers funnel boosts your shoppers' confidence and increases the likelihood of them investing in your brand time and time again.
Pro tip: Are conversion rates a priority for your DTC business in 2023? Read our blog, '4 Signs Your eCommerce Business Needs CRO Software', to learn about how eCommerce tools can impact conversion rates.
Support your DTC eCommerce growth with intelligent tools
As we navigate through a new era of online shopping, it's no surprise that ambitious eCommerce brands may choose to break away from the constraints of traditional retail models.
DTC retailers must look at the latest tech and tools that will support their growth and optimise the on-site experience for increased conversions.
1 eCommerce Jumped 55% During Covid To $1.7 Trillion | Forbes
2 DTC Trends: 10 Insights from DTC Experts andd Notable Stats | Shopify
3 The new normal is about shopping better not more | EY UK
4 Brands Losing a Record $29 for Each New Customer Acquired | Business Wire
5 Live Chat Statistics Your Business Needs in 2023
To see how Salesfire can help you optimise your product discovery experience, email one of our experts at [email protected] or book a free demo of our personalisation tools.