Why You Need an Omnichannel eCommerce Strategy
By Kelly Aitkin • Last updated: Monday May 15th, 2023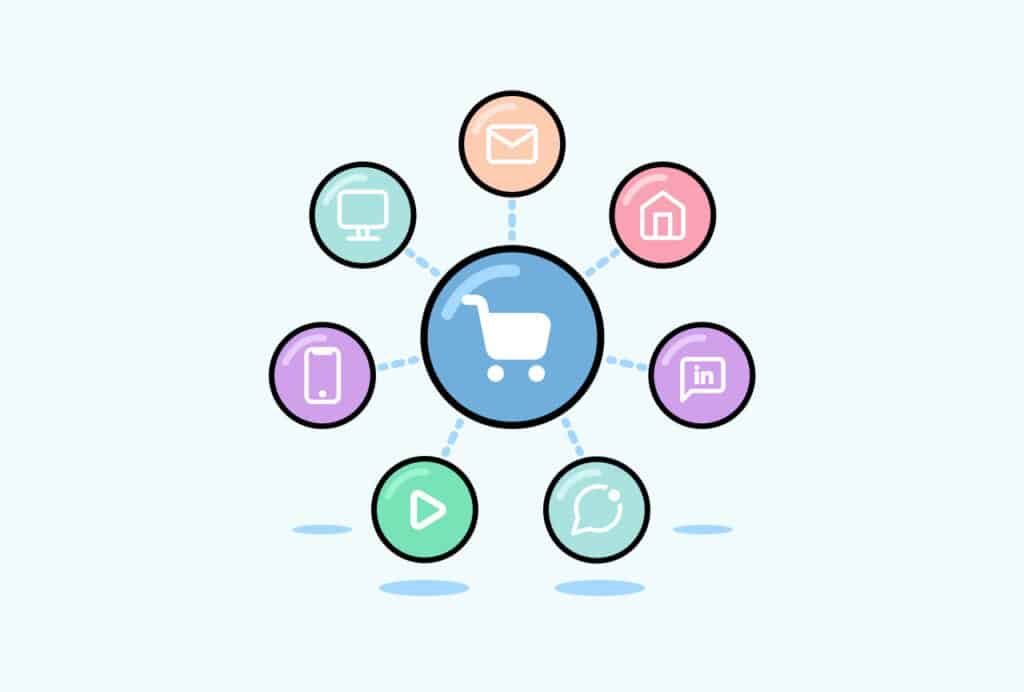 The eCommerce customer experience should be at the forefront of any brand.
With such a wide variety of ways a customer can engage with a business, omnichannel marketing is now a leading strategy for many retailers to ensure shoppers receive an all-encompassing view of their company.
Customers are becoming increasingly tech-savvy and with more people turning to eCommerce since the pandemic, the online share of total retail sales increased to 19% in 2020.
Shoppers, therefore, want to be involved in eCommerce experiences that are cohesive and trustworthy. Incorporating omnichannel marketing into your eCommerce strategy is a must-do.
What is omnichannel retail?
Over the years the variety of marketing channels companies are using has continued to expand; from websites and email marketing to social media and apps.
Omnichannel retail involves unifying these channels to offer consistent messaging and branding whether it's online or in-store, no matter the platform.
Research shows that retailers who adopt an omnichannel retail strategy see a 9.5% YoY increase in annual revenue compared with 3.4% for those without.
It makes your brand identifiable no matter if a shopper is just learning about your products on social media or is interacting with your website when they are further through the buyer journey.
Working to enhance the entire customer journey, omnichannel retail offers shoppers a seamless experience from start to finish.
Omnichannel strategies
Connecting digital and retail
As retailers continue to invest in eCommerce, shoppers are coming to expect both the online and in-store experiences to be synonymous with one another.
Bridging the gap between digital and retail is at the core of omnichannel marketing, translating your physical store, products and services into your online channels.
For example, the traditional avenues customers use to find products have changed, with two-thirds of shoppers using social media as part of their shopping strategy.
To connect your digital and in-person store experience you must offer choice throughout the customer journey.
CRO tools such as Visually Similar Search are great for complementing the shopping experience.
Not only can you enable shoppers to upload their own inspiration from social media but you can merge the divide between online and in-person closer by allowing customers to browse similar items to the product they're currently viewing.
A simplified delivery process or relaxed returns policy that allows shoppers to return in-store or via post also offers the customer more choice and convenience depending on their preference, truly connecting the digital and retail experience.
Data and personalisation
ou may have heard a lot about personalisation in eCommerce recently and it's for good reason.
Customers want personalised experiences and with a multitude of ways to monitor how shoppers are interacting with your brand, there is a plethora of data you can use to tailor the sales journey to each customers' needs.
Going granular with your analytics enables you to segment your visitors based on demographics or on-site behaviour such as page views or search history.
It's wise to identify your brand message and ensure you use it throughout all touchpoints both online and in-store, using the data you've collected to personalise the messaging based on a shopper's preferences and point in the sales funnel.
It's also important to have an in-depth understanding of the customer journey to know where and what shoppers are interacting with prior to purchasing and what the fastest routes to conversion are.
This will prevent you from wasting any marketing spend and enable you to really focus your strategy on specific platforms.
Related: How to utilise trends and data to strengthen the customer experience.
The customer experience
Omnichannel retail doesn't end with your marketing efforts.
Research shows that a 5% increase in customer retention correlates with a 25% increase in profit, omnichannel retail should therefore take a customer-centric approach.
When offering numerous campaigns across a variety of platforms it can be easy to fall into the trap of exhausting your marketing efforts.
At a time when people are busier and attention spans are shorter, appreciating your customer's time and offering them useful information is key to getting shoppers to value your company.
Ensure your content, from emails and blogs to videos and social media, is always offering customers valuable insight and information on your brand and products to further engage them with your company.
Once a shopper has made a purchase, providing them with a positive customer service experience is essential to turning them into a loyal customer and encouraging them to recommend your brand to others.
After all, 81% of customers trust recommendations from family and friends more than from companies themselves.
You can do this by providing FAQs on your website and facilitating quick and convenient customer service opportunities through email or phone or social media platforms such as Facebook and Twitter messaging.
The future of retail
As retail continues to evolve and customers expect more from their online experiences, omnichannel marketing will take the lead.
Implementing eCommerce tools to ensure your onsite experience is synonymous with your marketing strategy offers the opportunity to personalise the journey based on past behaviour as well as strengthen your brand voice with shoppers.
Customers expect consistent experiences throughout every touchpoint in their shopping journey and want memorable interactions.
Omnichannel isn't just a trend, it's a key component for retailers who want to continue growing and standing out from their competitors.
See how Salesfire can help you optimise your product discovery experience, email one of our experts at [email protected] or book a free demo of our personalisation tools.