How to Gain the Competitive Advantage in eCommerce
By Sophie Walker • Last updated: Tuesday Jan 31st, 2023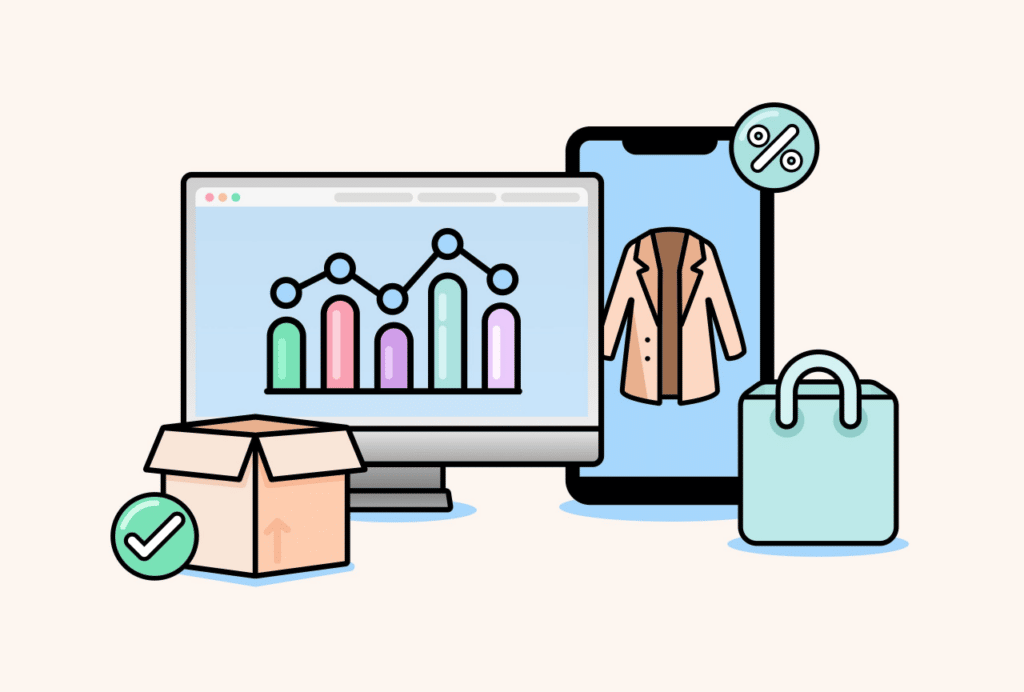 The modern consumer has access to a vast array of eCommerce stores in the palm of their hand. Studies have shown that eCommerce will account for 20.4% of global retail sales by the end of 2022.1
And with an estimated 12-24 million online stores available, building customer loyalty has become increasingly difficult.2
Working to differentiate your brand and put your business ahead of your competitors is crucial to maximising sales and succeeding in the highly competitive eCommerce space.
Increased competition in eCommerce
The pandemic has had a major effect on the growth of eCommerce in recent years, with 46% of UK consumers having bought a product online that they had previously only ever purchased in-store.3
This change in consumer behaviour due to national lockdowns and the temporary closure of physical retail stores solidified the shift to shopping online for a wide range of products or services.
Alongside this growth, eCommerce has evolved to keep up with the ever-changing demands of younger Gen Z shoppers. Growing up in a digital age, eCommerce is second-nature to this group who are looking for personalised experiences.
Gen Z may have experienced financial hardships as a result of a turbulent economy, but they still have a high spending ability. These shoppers are the most likely to utilise financially savy methods such as buy now, pay later which allows them to purchase more and spread out costs. With increased spending power and less brand loyalty than previous generations, this group is a key demographic for many eCommerce businesses so competition for their custom is fierce.
What you can do: Optimising your on-site user experience is crucial to standing out against your competition.
Conversion rate optimisation (CRO) focuses on increasing the number of your website users that make a purchase. As shopper behaviour changes, integrating intelligent CRO solutions appeals to a new generation of shoppers looking for a faster, optimised on-site experience.
5 areas to focus on to gain a competitive advantage in eCommerce
Let's delve into some of the ways you can achieve a competitive advantage and elevate your eCommerce strategy using CRO.
1. Stay ahead of the curve with new on-site technologies
As the first generation to be born into a world of technology, Gen Z are true digital natives. The online behaviour of this group is ever-evolving, so there is a need to adopt the latest technology that will create a smoother, more desirable experience on your site.
Such technologies and AI functionalities are no longer exclusive to the eCommerce giants. Retailers of all sizes are now implementing AI and machine learning features, which work to deliver quicker results and make smarter use of customer data. Salesfire's AI-powered Visually Similar Search allows shoppers to use an image as their search query to find exactly what they're looking for using their own visuals.
VSS works to:
Take away the guesswork of text-based searches: It removes the need for customers to find the exact search terms used to describe a product as they can upload an image as their search query.
Capitalise on visual inspiration: As many shoppers find inspiration directly from social media, VSS allows customers to use screenshots and photos they have found on these platforms to discover similar products.
Offer a unique feature on your website: VSS allows you to stand out from competitors and create a more interactive, engaging on-site experience.
Increase product exposure: By providing close matches and similar variations to your customer's image query, you can expose the shopper to a variety of products at different price points.
The user-friendly features and enhanced product discovery capabilities of VSS allow you to effortlessly enhance your on-site journey and help you gain a competitive edge.
Things to consider: While visual search is paving the way for the future of search, it's important to ensure your existing search engine functionalities are optimised effectively for speedy results. Salesfire Search returns results in under 0.001 seconds for an optimised product discovery experience. Book a demo with one of our experts to see for yourself
2. Prioritise customer service
62% of Gen Z say their standard for customer service has never been higher. As eCommerce competition increases and brand loyalty decreases, shoppers are looking for stores that can deliver excellent support.4
In a brick-and-mortar store, shoppers would traditionally have a sales assistant to help them through their shopping experience.
Implementing CRO tools can replicate this in-store experience and guide shoppers seamlessly to purchase. Consider integrating solutions like an AI-powered chatbot or live messaging so that customers can gain answers to their questions quickly while on-site and ensure you are not missing out on any conversion.
You should also make sure that your FAQs, delivery, and return policies are easy to find. Offering excellent customer service allows you to improve your customer retention rates, create memorable experiences and stand out from your competitors.
Suggested reading: Learn more about increasing your eCommerce website's customer retention rates.
3. Keep an eye on analytics and data
In order to provide a seamless user experience, it's crucial for retailers to build a comprehensive profile of their customers. Using analytics you can track user behaviour and identify:
Recurring drop-off points
Page view trends
Bounce rates
Average session time
You may consider third-party integrations such as Google Analytics to gain valuable insights into your buyer's journey and ensure you're providing a friction-free experience. Gaining insights into who your customers are and how they use your website based on your analytics, allows you to tailor your on-site experience and implement the correct CRO tools. Benchmarking and trend platforms such as Trends also offer valuable insights into eCommerce data across industries.
Using Trendesk allows you to:
Track performance: You can track real-time data across 28 industries to benchmark the performance of your site.
Compare data from previous years: Use this to identify trending dates and plan your calendar.
Develop reactive strategies: Plan your marketing and social media campaigns around TrendDesk data.
Data and analytics can be used to inform your overall strategy and your marketing campaigns, these unique insights help you gain a deeper understanding of your customers and your eCommerce competitors.
What you can do: Sign up to Salesfire Trends platform to access eCommerce insights and trends.
4. Utilise personalisation
Personalisation is a powerful tool for increasing customer loyalty and helping with shopper retention. 59% of consumers who have experienced personalisation believe it has an influence on purchase decisions. 5
On-site personalisation appeals to a new generation of consumers who are used to highly personalised social media algorithms that recommend content based on their interests and browsing history.
You can implement personalisation by offering:
Hyper-personalised product recommendations on-site: Provide relevant AI-powered recommendations that will connect shoppers with further products of interest based on the data collected on-site.
Showcase recently viewed products: Through Digital Assistant you can display a shopper's recently viewed on-site, this provides a more personalised user experience and allows them to effortlessly return back to the products they love.
Tailored messaging: Overlays deliver relevant messaging to customers at different stages of the buyer funnel. Use this to highlight your USPs, email sign-up list, or include discount incentives.
Providing personalised experiences on-site adds to the value your business can offer it's customers. When shoppers feel a brand understands them and caters to their needs, they're more likely to remember their experience with you. Moments of personalisation throughout the customer journey culminate in working to drive conversions and generate customer loyalty.
5. Retargeting campaigns
Using targeted marketing you can re-introduce shoppers that may have dropped off your site back into the sales funnel. Intelligent CRO solutions allow you to analyse customer behaviour on-site and re-engage them back into the buyer's journey.
Make sure you effectively retarget abandoning customers in your marketing strategies by:
Sending abandoned cart emails: You can recover forgotten baskets and save a sale by sending automated abandoned cart sequences. Review the time frame in which you send your emails to leverage urgency and allow customers to easily pick up where they left off.
Retargeting ads: Use display retargeting to show ads to visitors who have left your site. You can display recently viewed products to try and pull them back to your site and encourage them to complete their purchase.
It's important to make the most of new traffic on your site however, 65% of a company's business comes from existing customers.6
So it is crucial to take steps to re-engage your existing customers by:
Sending re-engagement emails: These can be used to target customers who have already interacted with your brand. Consider reminding them of items they showed interest in or including a discount incentive to prompt them to return back on site.
Retargeting ads for new collections: Utilise ads to showcase your latest collections to existing customers. This could provide a potential greater ROI as your shopper has already bought into your brand before so are more likely to click through to purchase.
Personalised messaging: Use dynamic messaging across ads, web design, and email marketing campaigns to encourage customers to return to your site and explore more of your products.
Suggested reading: Learn more about building a successful email marketing strategy and creating segmented email lists and to target with personalised content in which you can nurture customers into loyal shoppers.
You can gain the competitive advantage with Salesfire
To stand out from your competitors, it is essential to provide a fully optimised eCommerce website.
Salesfire offers intelligent AI-driven solutions that streamline your eCommerce strategy and guide your customer effortlessly through their on-site journey.
By leveraging CRO tactics, you can drive conversions and gain a competitive advantage to see eCommerce success.
If you are interested in implementing CRO on-site, email us at [email protected] or book a free demo.
1 eCommerce Trends 2022: What the future holds | Forbes
268 Useful eCommerce Statistics You Must Know in 2022 | Wp Forms
3Stats roundup: the impact of Covid-19 on eCommerce | Econsultancy
4Generation Z eCommerce: Meet the new generation of online shoppers | Factory
640 Amazing Customer Loyalty Statistics in 2022 | Smallbizgenius