4 Signs Your eCommerce Business Needs CRO Software
By Bethany Llewellyn • Last updated: Monday Aug 21st, 2023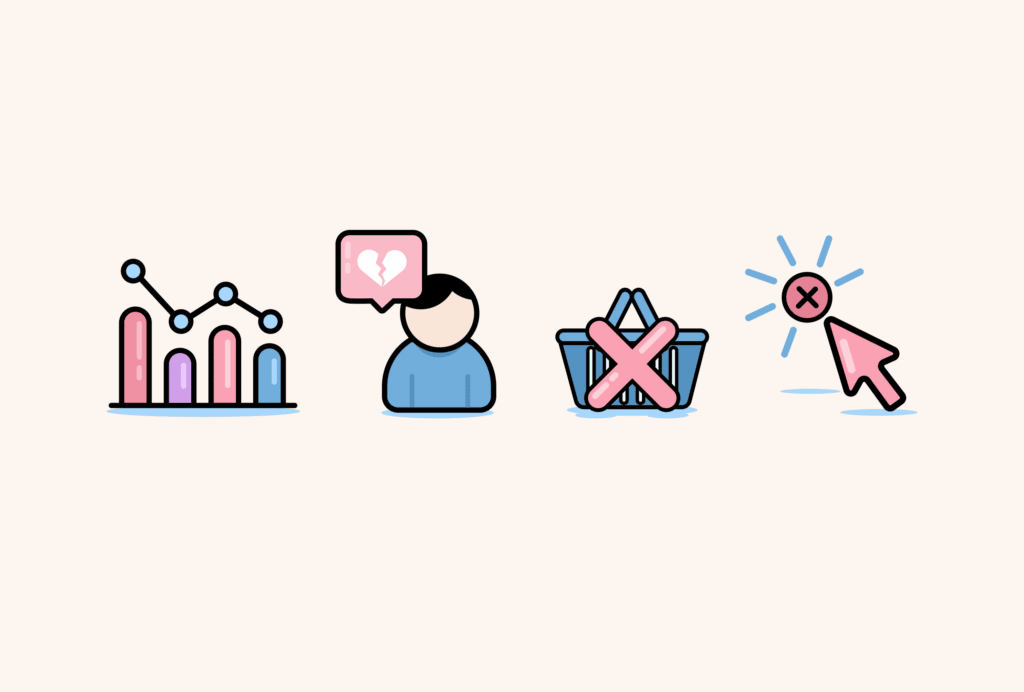 The eCommerce landscape has changed dramatically since the pandemic due to a return to brick-and-mortar stores and a fall in disposable income triggered by rising inflation.
UK consumption is expected to fall by approximately 2.7% from the second quarter of 2022 to the third quarter of 2023, making it even harder for eCommerce businesses to drive conversions.1
In this article, we'll explore how eCommerce businesses benefit from on-site conversion rate optimisation (CRO) software, and how Salesfire's suite of tools makes this technology accessible to companies of all sizes.
Suggested reading: Wondering why CRO is so important? Read our blog, 'A Guide to Conversion Rate Optimisation', to learn more.
4 signs you need to implement conversion tools on your website
Both established eCommerce businesses and those fresh to the industry are finding it increasingly difficult to convert visitors into customers.
This difficulty with conversions has been influenced by the current economic climate, as energy prices and inflation soar while consumer spending decreases.
If you're not seeing the results you want from online sales, it's time to take a look at your conversion rate optimisation strategy, and consider what CRO software you can utilise to drive conversions.
CRO tools can help you identify and address the issues on your site that are preventing users from placing an order. These tools also provide:
Below we dive into four key signs you need conversion tools on your site.
1. Your business is seeing a dip in conversions
Conversion rate optimisation is all about increasing the number of visitors on your website who take the desired action, such as making a purchase or filling out a contact form.
If you have customers coming to your site but not converting, there's a problem.
Although conversion rates can vary hugely between different stores and industries, as a baseline rule online retailers should see conversion rates between 2-3%.2
There are many factors that can contribute to low conversions, such as:
Confusing navigation
Slow search and site speed
Ineffective CTAs and messaging
Poor user experience
You can improve the customer experience with tools such as Overlays, personalised Recommendations and AI-powered Search to guide users through the funnel, remove friction in their path to purchase, and boost conversions.
Pro tip: Try implementing A/B testing on your site. CRO tools allow you to track the results of A/B testing, so that you can see whether changing the messaging on your campaigns will resonate with your audiences and convert more.
Once you determine the strategy that works best for your business and your audience, you are then able to make more informed, data-driven decisions.
Suggested reading: Want to take your conversions further? Check out our article, 'The Ultimate eCommerce CRO Checklist', for a comprehensive guide to improving conversions across the customer journey.
2. You don't get repeat customers
If a customer only purchases on your site once and then never returns, it's a clear indication that your business isn't motivating them to stay loyal.
This could be because of a poor user experience, or maybe they're getting a better deal elsewhere.
Given the current economic climate, implementing strategies that help to boost loyalty with those who have already purchased from your brand will help to provide stability amidst uncertainty.
Chris Fletcher, VP of Operations at Visualsoft, shared some insight:
"Rather than putting campaigns on hold, for many businesses it will be much more effective to update their strategies to focus more on converting existing traffic and previous purchasers.
Customer retention is not only generally cheaper than acquisition, but the results of our recent YouGov survey also suggest that the majority of UK shoppers will be sticking to familiar brands and businesses throughout the cost of living crisis".3
Since the cost of acquiring a new customer is five times higher than retaining an existing one, the effort you put into nurturing your customers will pay off in the long run.4
What you can do: Leverage an email marketing strategy to engage your audience and re-inject them into the sales funnel.
Conversion tools like Digital Assistant allow you to launch data capture campaigns to grow your email newsletter list. You can then nurture these subscribers with personalised emails to strengthen customer loyalty and retention.
3. Your basket abandonment rate is high
Basket abandonment, when a shopper adds items to their cart but leaves the site before they complete the purchase, can be high for a number of reasons.
The average basket abandonment rate currently sits at around 70% for eCommerce stores, so it's vital that you have a strategy in place to encourage customers to fulfil their orders.5
Some common reasons for high basket abandonment rates are:
A lack of confidence in your brand
The shopper has conducted price comparison research
Visitors encounter usability issues on your site
Poor on-site messaging
A high number of basket abandoners is a sure sign that your business needs to invest in CRO software or strategies.
CRO tools like Digital Assistant allow you to launch a variety of campaigns to combat these issues, create urgency and secure more conversions:
Reserve Stock Countdown: Make shoppers aware that items are saved in their basket to create an element of attachment and encourage them to complete their purchase.
Product Views: Showcase the popularity of a product to increase buyer confidence and prompt a quicker purchase.
Delivery Deadline Countdown: Introduce an element of urgency at crucial points in the buyer journey to encourage visitors to add more items to their basket.
Price Match: Highlight your price match guarantee to shoppers when they display signs of heading to a competitor, persuading them to remain on your site.
Site Reviews: Build a customer's trust by promoting the positive experiences shoppers have had on your site, instilling confidence in your brand.
Launching responsive campaigns at the most influential moments in the customer journey supports users through their on-site experience, and offers an extra push to convert.
With 66% of consumers reporting that they have cut back spending on non-essential items, CRO tools are key to getting lower basket abandonment rates.6
What you can do: Create your own Salesfire account and explore the range of free campaigns available to you right now.
With quick and simple integration, it takes a matter of minutes from creating your dashboard to launching an optimised campaign on your website.
4. You're suffering from high bounce rates
Bounce rate refers to the percentage of visitors who leave after viewing only one page on your site.
If you have a high bounce rate, it's a strong indicator that visitors aren't finding what they're looking for, or have experienced some form of friction on your site.
Understanding your bounce rate will help you determine the quality of your traffic. You may realise your ads are bringing an influx of visitors to your site, but these visitors aren't converting into customers.
This doesn't mean your ads are poor, but may indicate that your landing pages aren't engaging users and that you need to take active steps to reduce bounce rates.
Over time, a high bounce rate will lead to you losing thousands of potential customers, missing out on revenue, and wasting valuable time and resources.
Using CRO tools on your landing pages will allow you to guide these shoppers through your website and help them find a product that's perfect for them.
What you can do: Create targeted landing pages based on where the traffic is coming from to ensure your visitors' on-site experience marries up with their journey so far.
For example, you could add product Recommendations displaying your bestsellers or 'new in' products, enticing users to explore your product catalogue.
You can further reduce bounce rates by deploying a 'recently viewed' campaign to returning visitors, allowing them to pick up where they left off. Not only will this help tackle low customer retention, it will also encourage a greater feeling of brand loyalty.
Whether it's changing the messaging on your landing page, colours on your website or tweaking your call-to-actions, there are many actions you can take to reduce bounce rates and encourage higher conversion rates.
Utilise CRO software to drive conversions in 2023
If you're experiencing any of these issues, there's no better time to implement Salesfire's CRO software to optimise your site and drive conversions.
Utilising CRO tools on your site will allow you to get the most out of your current website traffic and turn browsers into buyers.
It doesn't have to break the bank. Whether you're an established business or just starting out in the world of eCommerce, Salesfire's pricing model considers your business metrics to create a package that's tailored to your goals ​​— meaning you won't pay for software you won't use.
1 The outlook for household income and consumption – Office for Budget Responsibility
2 30 eCommerce conversion rate optimisation steps to help boost sales | Big Commerce
4 Customer retention marketing vs. customer acquisition marketing | Outbound Engine
5 48 cart abandonment rate statistics 2023 | Baymard Institution
See how Salesfire can help you optimise your product discovery experience, email one of our experts at [email protected] or book a free demo of our personalisation tools.