Sell more with mobile-first personalisation
Meet your shoppers where they are. Mobile commerce is redefining the eCommerce industry and you don't want to be left behind.
Book a free demo with us to:
Create an engaging customer journey across all devices with tools that convert visitors into customers
Maximise the traffic on your website by optimising each touchpoint with the mobile shopper in mind
Enhance the overall user experience by allowing users to browse and shop the way they want to
By submitting the form you agree to be contacted to arrange a demo and receive marketing communications from Salesfire. You can unsubscribe at any time. See our Privacy Policy for full details.
Future-proof your eCommerce site
Your website traffic is going mobile
60%
Mobile accounts for 60% of total online retail sales.
65%
of consumers use social media for shopping inspiration.
62%
of millennials prefer mobile commerce.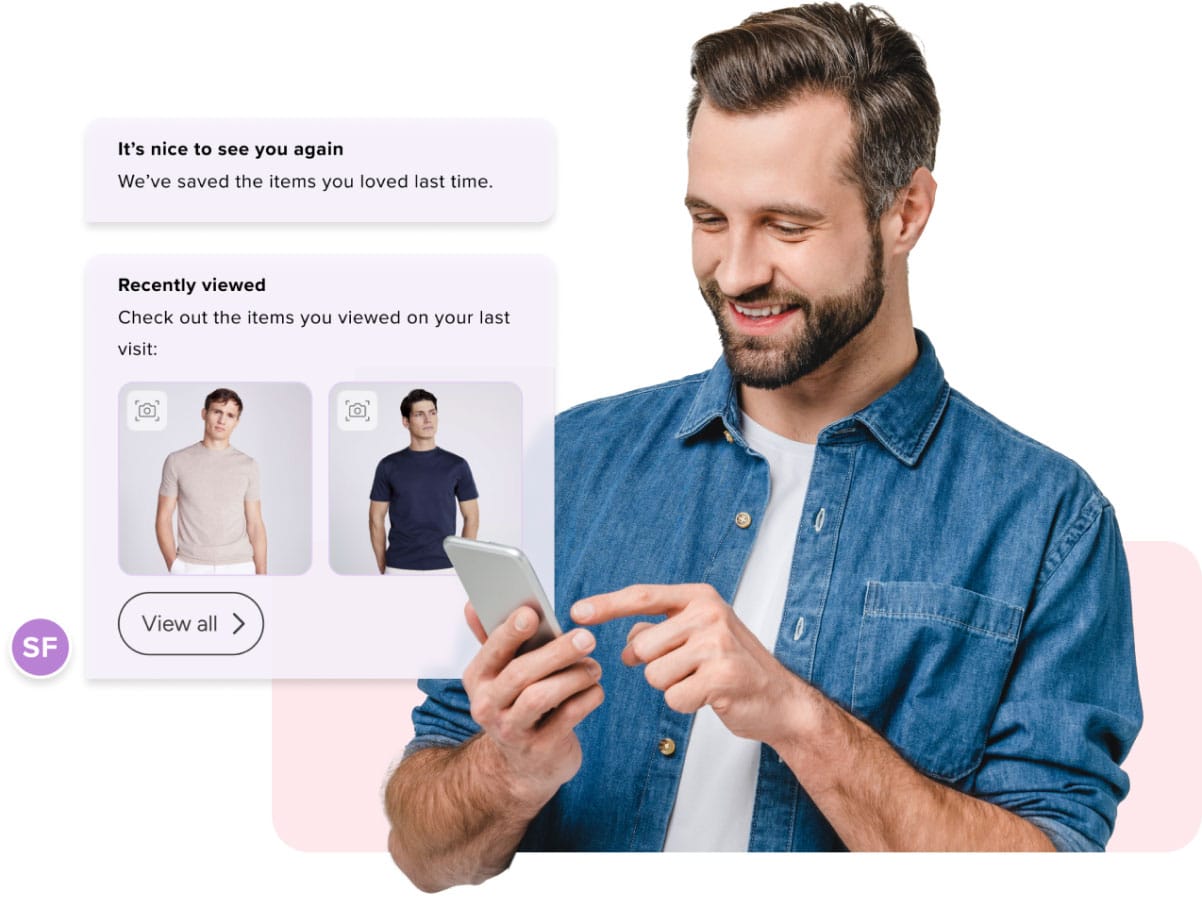 Enhance customer engagement
Personalised on-site experiences are a priority in eCommerce, and your mobile shoppers expect no different.
Create a seamless customer journey with personalised messaging that responds to user behaviour and intuitively adapts to whatever device is visiting your website.
Communicate with your customers in your own words to display key information or direct users to specific sections of your website to generate more revenue.
Ready to optimise your mobile site?
Tools built for every device
Salesfire's tools intuitively adapt to whatever device is accessing it in order to provide the most user-friendly experience.
Quick and easy setup
You can integrate our plug-and-play tools with as little as a single line of code to start converting more today.
Seamless personalisation
Provide unobtrusive support at key touchpoints in the buyer's journey with tailored messaging that encourages more purchases.
Book a demo now and try the Salesfire platform for FREE
One of our eCommerce experts will show you around the platform and discuss how you can enhance your online customer experience.
Boost sales and increase revenue with tools from Salesfire. Turn website traffic into loyal customers.
By submitting the form you agree to be contacted to arrange a demo and receive marketing communications from Salesfire. You can unsubscribe at any time. See our Privacy Policy for full details.
By submitting the form you agree to be contacted to arrange a demo and receive marketing communications from Salesfire. You can unsubscribe at any time. See our Privacy Policy for full details.
Salesfire targets areas of the customer journey that have the greatest influence on revenue and behaviour to empower your visitors and accelerate your conversions.