Maximising on-site engagement and improving conversions.
of revenue influenced through Search
conversion rate through Visually Similar Search
conversion rate through Upload
average order value increase
Established in 1851, Moss is one of the UK's biggest menswear retailers, specialising in smart dress wear for formal occasions. With its sharp collection of suits, alongside popular categories such as shirts, knitwear, overcoats and accessories to complete the look, Moss continues to thrive and be a respected leader in their industry and a standout in the marketplace, both online and across their 100+ stores, to meet the demands of a post-pandemic world.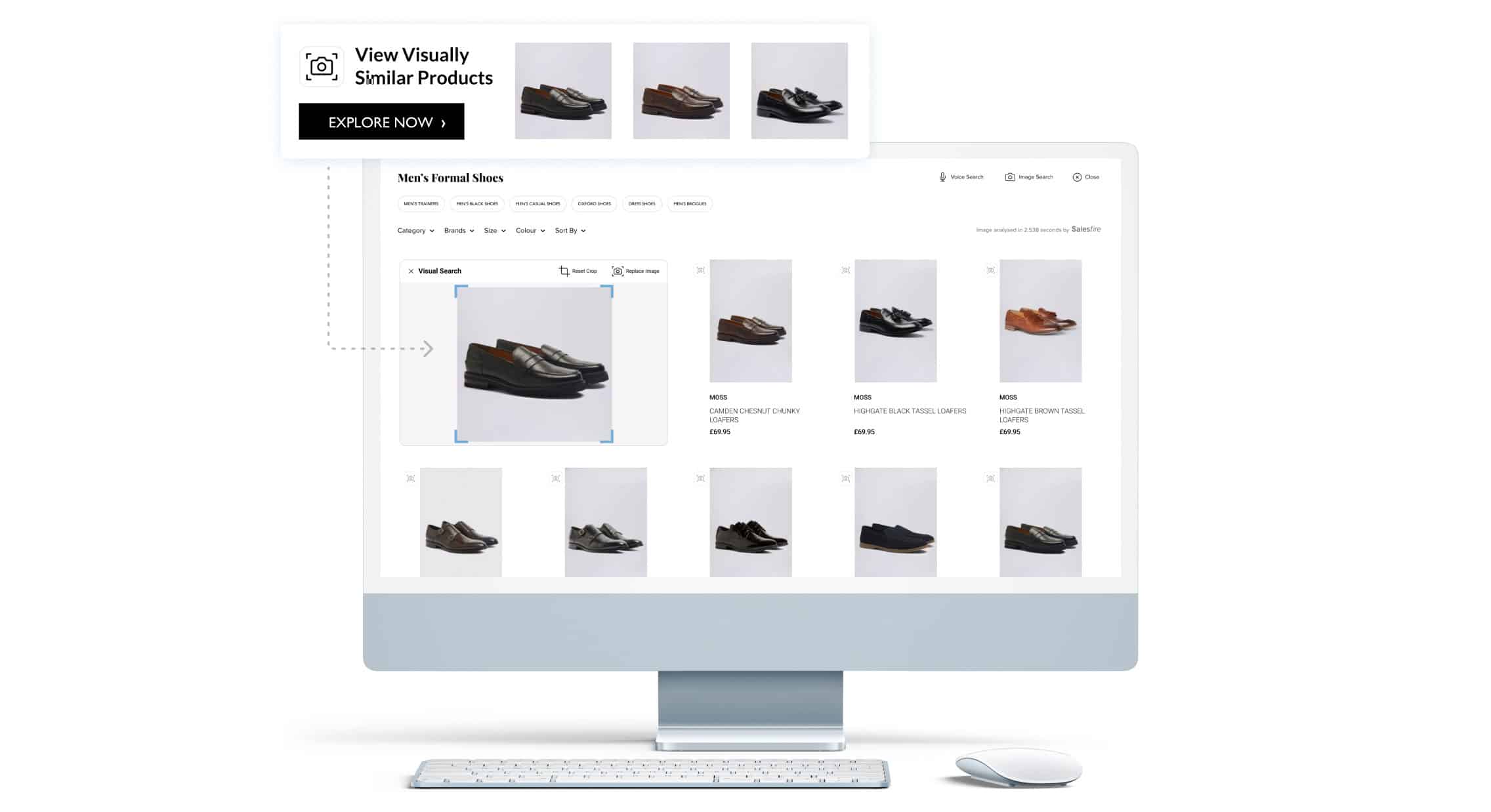 Moss came to Salesfire to maximise their on-site engagement and improve conversions with our AI-powered Search, as well as our hyper-personalised Visually Similar Search, to inspire further product interactions purely through images. Both tools integrate extremely well together, uniting shoppers with their purchases quickly and achieving accurate results through product discovery.
43% of users head straight for a search bar as soon as they land on a website, meaning the user experience needs to be fully optimised.
The search on Moss' site offers their shoppers a variety of choices and personalisation. An attractive bar and ticker text attract their attention, with the Salesfire Search firing after a single click, showing immediate results. Salesfire were able to focus on Moss' appealing product photography and implement a custom CSS to amend the grid structure in the Search and capitalise on this. They also took advantage of the addition of Search Promotions, putting the spotlight on their custom categories, current offerings and services, such as fabric samples and suit hire for special occasions, as well as featuring key customer information like deliveries, returns and styling tips, in a series of quick links.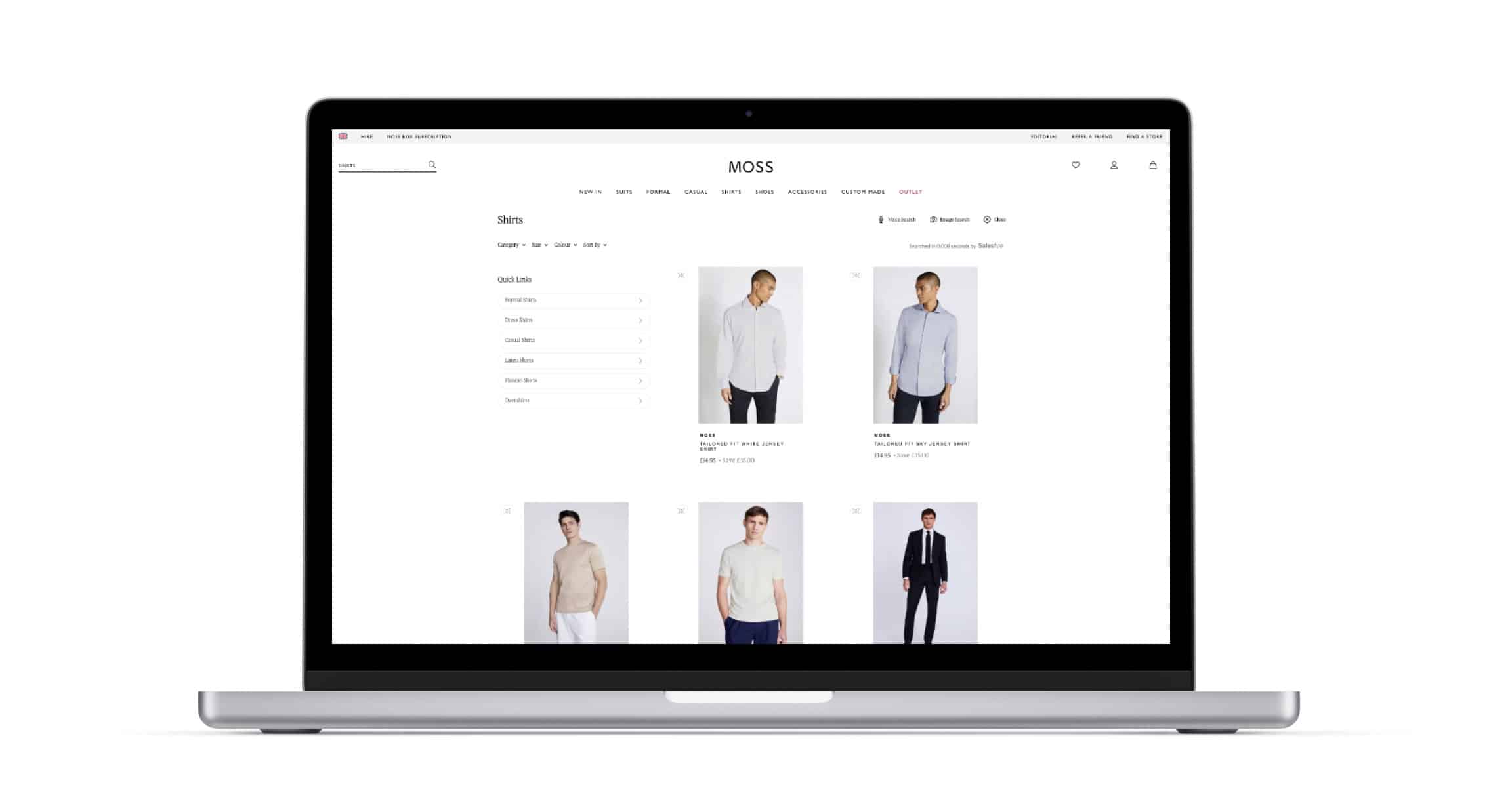 The team at Moss also considered the search queries that may not bring up any results if a customer hits the Enter button. This can be avoided with Redirects, a feature which sends customers to the relevant category, product or landing pages rather than an empty search query.
With the addition of Visually Similar Search, the site boasts a simplified product discovery, improved accuracy and an increase in engagement. The tool allows the visitor to browse similar items to the product they're currently viewing, as well as upload an image to support with the articulation of what they're looking for. The addition of Visually Similar Search can also benefit other practicalities such as boosting profit margins and decreasing bounce rates.
Since joining Salesfire, Moss has recorded a substantial uplift in conversion rate and influenced revenue through the use of our tools.
Search
A 32% uplift in the use of Search contributed to an increase in the overall site conversion.
• 24% of orders influenced through Search.
• 27% of revenue influenced through Search.
• 3.7% average order value increase.
Visually Similar Search
• 16.7% conversion rate through Search.
• 5.7% conversion rate through Upload.
"It's been a pleasure working with Salesfire from the get-go. One of the simplest and most flexible integrations we've completed, and the team have been really hands-on with ensuring we're kept abreast of performance and technical developments. Automated monthly reports keep us informed on-the-go, and ensure we're always on top of moving trends. Not to mention the UX of the tool from both a back-end and front-end perspective is clean and intuitive, and that's allowed us to develop our Search experience at pace. We quickly felt the benefits the Search functionality boasts, and with image searching on the rise; we know we'll continue to feel the gains our partnership with Salesfire brings for years to come."

Bryony Tagg - Senior eCommerce Manager