Driving revenue and
reducing basket abandonment.
average conversion rate for a basket value campaign
conversion rate uplift since partnering with Salesfire
average monthly conversion rate through Overlays
average order value uplift through Overlays
SportsShoes.com is the UK's leading online retailer for running and fitness, aiming to support their customers towards a happier, healthier lifestyle by purchasing the latest footwear and activewear products & technologies, from a huge selection of much-loved brands. SportShoes is a market leader in the online retail experience and regularly challenges other vendors in their field by offering a seamless user experience and expert advice on the site, optimising their customer encounters to its full advantage.
SportsShoes works with Salesfire to drive revenue, reduce basket abandonment and offer effectively-timed incentives through our Overlays. Based purely on customer behaviour, Salesfire has the ability to trigger Overlay campaigns at key points in the site journey, with the aim to send users to the checkout process promptly or to other relevant areas of a site to increase the intent to purchase.
Working closely with their Client Success Manager on our Managed Service offering, SportsShoes put an effective strategy in place across their five international fascias to prompt their visitors to interact with the Overlays using captivating messaging and visuals, taking advantage of the incentives on offer.
SportsShoes started with a basic strategy that mirrored customer behaviour and key traits in how they shop; to prevent competitor comparison, a Title Highlight campaign was inserted to promote SportsShoes' key unique selling points and aims to inspire their visitors to stay and purchase. Two campaigns were created and set up for the Salesfire algorithm to alternate between, meaning that one customer would see one set of messaging, and another customer would see a different set of messaging.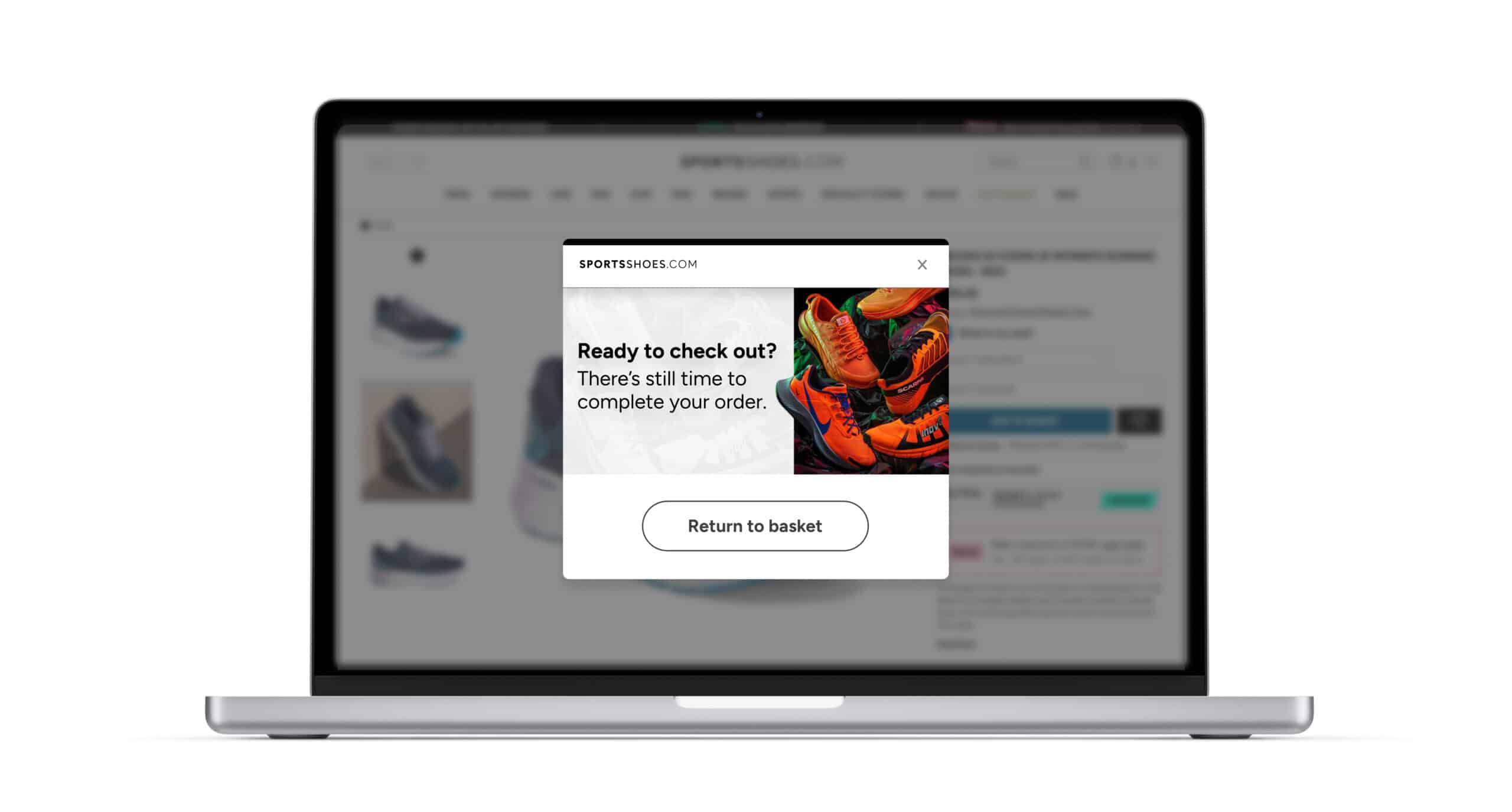 Salesfire also has the ability to detect when a visitor is about to leave a site. 68% of customers abandon an order before they even get to the checkout stage, so with this in mind, two simple but effective Exit Intent strategies were placed to revitalise purchase behaviours at crucial points. Customers without a basket value are shown an Overlay that redirects them to the sale page upon exit, reigniting their interest and attempting to reconnect them with a product they simply can't leave without. On the other hand, shoppers who already have a basket value and a higher intent to purchase are sent to the checkout page to complete their order. Using subtle messaging with a hint of FOMO, the campaign is in place to restore quicker conversions.
Both campaigns have proven to be successful and are the top converters on the UK site, particularly the campaign with a basket value averaging an impressive 36% conversion rate each month.
Furthermore, SportsShoes promote well-timed offers across a number of popular brands through their Overlays and give customers even more reasons to shop with them. Once interacted with, the Overlays provide a hidden discount code incentive for the customer to take advantage of.
Not only does SportsShoes deliver an exceptional online retail model, but they have also been able to make the most of their site traffic by delivering a reflective shopping experience through Salesfire's Overlays.
Since joining Salesfire, SportsShoes has recorded a substantial uplift in conversion rate through the use of our Overlays, seeing their average conversion rate sit at 21% higher than the Running and Outdoor industry average.
• 2.1% overall conversion rate uplift since partnering with Salesfire.
• 3.4% average monthly conversion rate through Overlays
• 7% average order value uplift through overlays
"The Salesfire tech has been a remarkable addition to the SportsShoes site to convert visitors into paid customers. With an Overlay solution that's easy to deploy and that you can do so much with, we've really felt its powerful impact and far-reaching strategy to enhance the user experience. The team is proactive and on our side, supporting and developing ideas from the outset. Salesfire is a great business with big ambitions in the digital space and one to look out for in the future."
Dan Cartner - Head of Marketing