Overlay influenced orders increased by 16% year-on-year
YoY increase in Overlay
influenced revenue
YoY increase in Overlay
influenced orders
Launched in 2015, Justmylook proudly delivers cutting-edge products from leading beauty brands and is committed to providing a hassle-free service.
Carrying over 7,000 products from 300+ prestige brands, including industry icons such as GHD to cult brands like The Ordinary, Justmylook is one of the UK's fastest-growing online beauty retailers.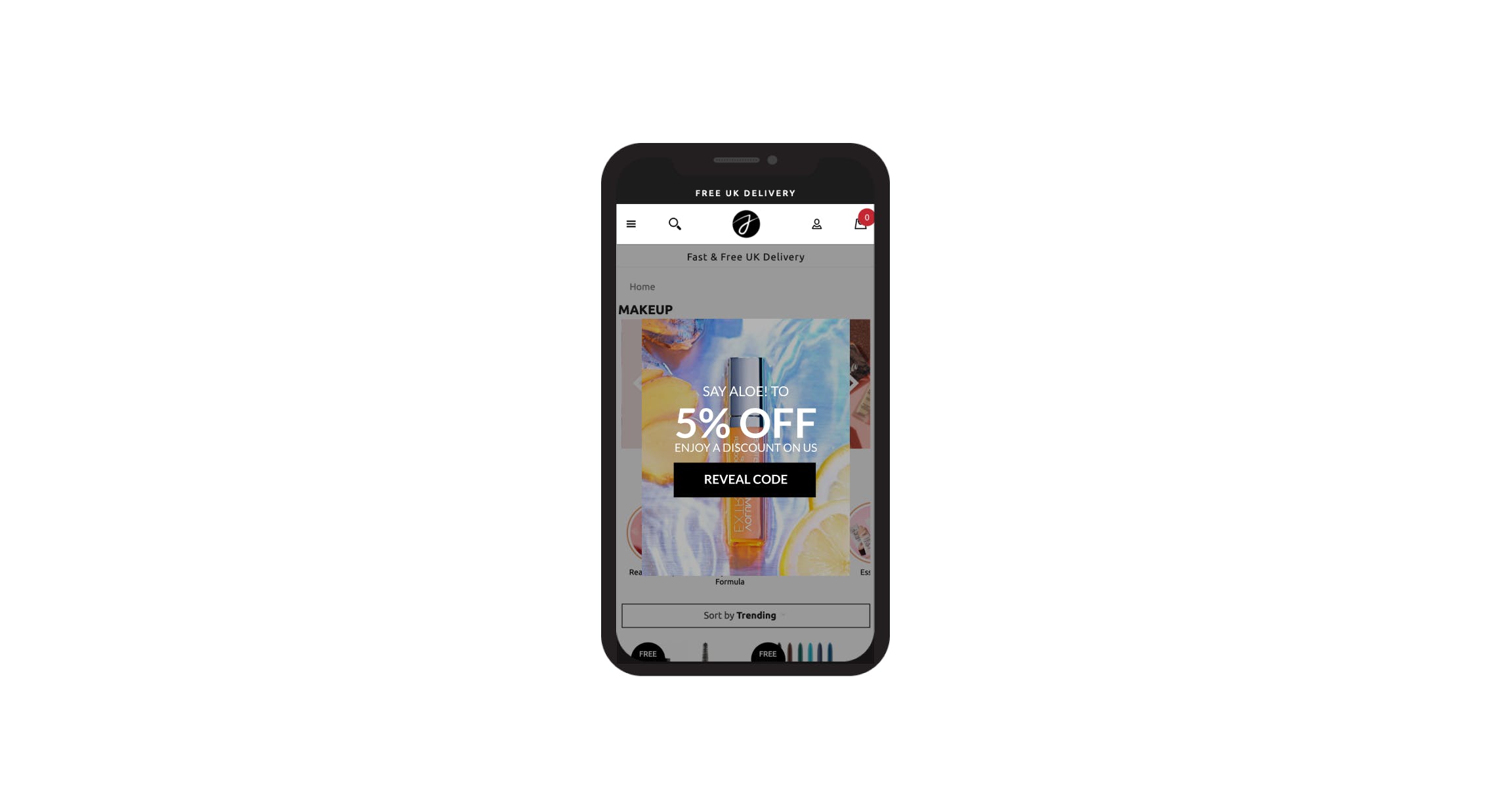 Implementing Managed Service
Justmylook wanted to optimise its Salesfire campaigns for Q4 to make the most of its increased website traffic during the peak season and improve on its performance from the previous year.
To achieve this, the team was seeking expert advice on conversion rate optimisation strategies to maximise the site's potential with the Salesfire platform. With time in short supply during this hectic period, Justmylook was also looking for support with the delivery of campaigns.
To reap the benefits of the Salesfire system and enhance the site's CRO capabilities without taking up too much of their resources, Justmylook chose to upgrade to Managed Service.
Maximising conversions and website potential with Managed Service
Managed Service increased Justmylook's marketing resources by supporting the delivery of campaigns and providing fresh ideas informed by data and trend analysis, to ensure the team got the most out of the Salesfire platform.
As part of the Managed Service offering, Justmylook's Client Strategy Manager proposed Q4 Overlay campaigns for the site which would help the company achieve its eCommerce goals. These campaigns were then created and deployed by Salesfire's in-house design team.
With an efficient setup and expert advice provided by the Client Strategy team, Managed Service helped to improve Justmylook's Overlay performance for this crucial sales period, including Black Friday. The site's Overlay influenced orders increased by 16% YoY, which led to an Overlay influenced revenue increase of 19% YoY.
Providing a quick turnaround from strategy to implementation, Managed Service alleviated the task of creating seasonal promotional materials and helped Justmylook to deliver optimised campaigns with minimal resources required from its team.
"Managed Service really took the stress out of our campaign planning and creation. The quarterly strategy document not only helped to inform our Salesfire campaigns but also gave us an insight into the key upcoming eCommerce dates, events and trends that we could use to inform our wider marketing strategy."
LUKE WILLIAMS, SALES DIRECTOR