The Key to Increasing Urgency on Your eCommerce Site: Using Customer Behaviour
By Bethany Llewellyn • Last updated: Monday Aug 21st, 2023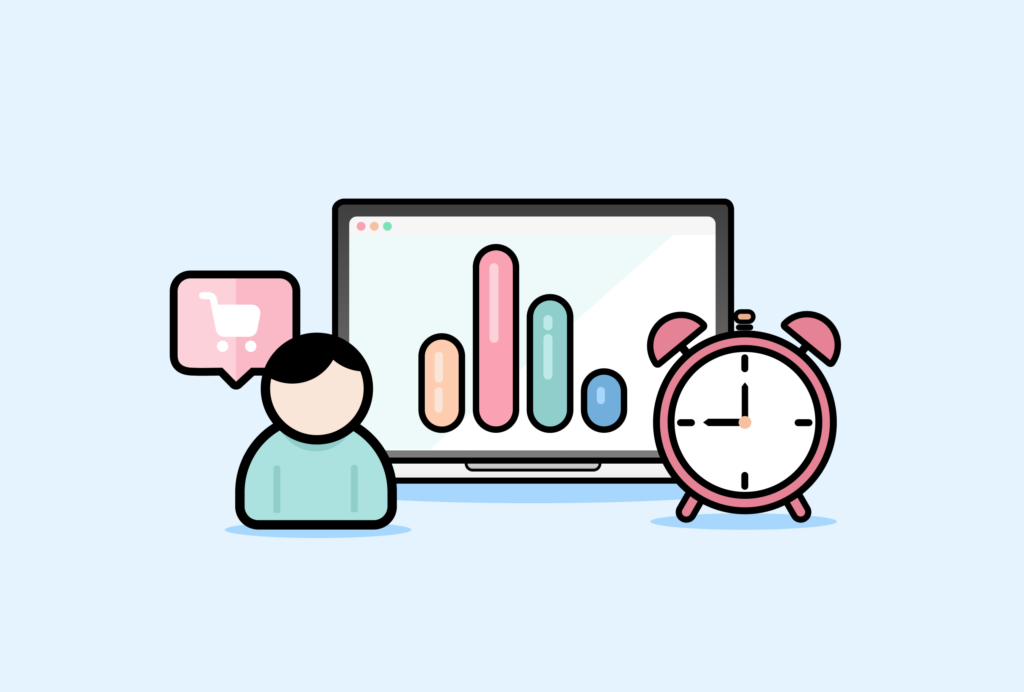 Understanding, using and responding to customer behaviour is becoming increasingly valuable to eCommerce retailers.
Analysing behavioural patterns allows retailers to identify pain points and common drop-off areas, which can then be addressed by implementing tactics that increase urgency in eCommerce and improve conversions.
Demand for behavioural assessment tools has grown rapidly over the last few years — and for good reason. 79% of those who integrated AI into their marketing and sales saw increased business revenue, with enterprises generating an estimated 20% additional revenue due to their AI-based strategies.1
In this blog, we'll highlight how you can use customer behaviour to create effective marketing campaigns that drive urgency and boost conversions.
Suggested reading: Read our report, 'The State of eCommerce in 2022', to discover how customer behaviour analysis has transformed — and continues to transform — the eCommerce space.
How does urgency fit into eCommerce?
Marketers have been using scarcity marketing tactics for decades to create a sense of urgency and encourage shoppers to complete a purchase.
As a consumer, you've probably been subject to these strategies yourself. "While stock lasts", "don't miss out!" and "offer expires soon" are some of the most popular phrases used by retailers both online and in brick-and-mortar stores.
Implementing these urgency and scarcity strategies comes with some benefits:
Prompts shoppers to make quicker purchases: reducing the amount of time spent in the sales funnel can increase business revenue
Simplifies the buying process: shoppers may find it easier to find discounted or sales-related items
Reduce basket abandonment: shoppers will have a greater sense of urgency that encourages them to convert
That being said, as online retailers you don't want your communications to come off as overwhelming or pushy.
The trick to delivering genuinely helpful and relevant communications is to make sure you're responding to how a user is interacting with your site and brand. If you truly understand consumer behaviour, you can provide customers with timely, effective campaigns that supports their sales journey and helps to lead 2023 eCommerce trends.
The importance of understanding eCommerce customer behaviour
Your customer data includes a huge amount of information about which users purchase on your eCommerce website, what their preferences are, and what patterns their behaviour follows.
Nathan Lomax, Co-Founder of Quickfire Digital, shared his insight into the importance of understanding your customers:
"Understanding customer behaviour isn't only valuable to retailers, it's essential. And with so much data at your fingertips, there are no excuses for not having a strong picture of how your customers are interacting with you.
"From information on broad behaviour — such as the products customers buy or what channels drive traffic to your eCommerce site — to specifics around things like what they search for and when they abandon their carts, the data is there to help shape your store and continually look for those incremental gains which are so important."2
In recent years, we've seen a clear shift in consumer behaviour: consumers are now spending more online, with seasonally adjusted internet sales peaking in 2020-21, and remaining high throughout 2022.3 This can be largely attributed to the rise of online shopping, as well as the increased use of innovative eCommerce technologies.
To stay competitive, eCommerce businesses should keep up with changing trends and provide customers with personalised and convenient shopping experiences.
Suggested reading: We've covered everything you need to know about customer data in our blog, 'A Guide to Understanding eCommerce Customer Data – and What It Can Do For You'. 
How to increase sales using urgency
Creating urgency on your site is great for encouraging purchases and ultimately will increase eCommerce sales.
Understanding the way visitors shop online will allow you to create effective campaigns that guide users through the buying journey and towards the checkout.
Driving urgency not only enhances the eCommerce customer experience, but also works to improve brand loyalty and reduce the amount of time and resources you need to spend on ineffective campaigns.
Phoebe Holford, Head of Service Development at Mabo, highlights how optimising on-site customer behaviour is the key to maximising revenue:
"Being able to define and segment key customer behaviours that are happening on site into actionable tactics, such as creating urgency, is a vital mechanism to drive conversions. As a result, mapping out, defining, and optimising on-site behaviours will maximise returns and future-proof your strategy in the fast-paced landscape of eCommerce retailing."4
What you can do: Use Salesfire's Digital Assistant to implement a range of ready-to-use conversion rate optimisation campaigns. These are pre-set with triggers and conditions that will help to drive urgency and engagement across your site, priming you for eCommerce success.
1. Utilise exit intent technology
Almost 70% of online shoppers abandon their shopping cart — that's a large number of people who are interested in your site and products, but don't quite have the motivation to complete a purchase.5 Having an exit intent strategy in place to re-engage these users will help you to recover abandoned carts that would have otherwise been lost.
Overlays work by monitoring consumers' browsing behaviour and identifying when a user is leaving your site. When exit intent is detected, a targeted message can be presented to the shopper to encourage them to stay on the site and complete their purchase.
These kind of AI-driven exit intent strategies are known to:
Improve sales: By offering discounts, free delivery or showcasing limited stock products, you can reinforce urgency and prompt users to make a purchase so they don't miss out. This strategy is also known as the fear of missing out (FOMO), and is popular among online retailers.
Increase customer engagement: Using attention-grabbing keywords on your exit intent Overlays will make users feel they are leaving behind something valuable, prompting them to remain on your site and complete the purchase.
Boost customer loyalty: Presenting a tailored message that displays key information like limited-time offers or discounts when the customer shows intent to leave your site encourages users to stay and seize the opportunity in front of them. This level of eCommerce personalisation will also ensure your customer feels valued, and that they are receiving an offer unique to them.
Capturing abandoning visitors before they leave your site will allow you to retarget and nurture these leads, or collect feedback on why they're leaving in the first place.
2. Create FOMO with reserve stock countdowns
Fear of missing out, or FOMO, is the apprehension surrounding missing out on things like social events, gatherings, or in an eCommerce context, the latest fashion or trending products.
This is especially present in the younger generations like Gen Z and millennials, with historic research showing that 68% of millennials will make a purchase in an effort to not be left behind by their peers.6
As an eCommerce retailer, you can tap into this psychological behaviour by creating effective marketing strategies that boost your brand recognition and drive sales.
Pro tip: Try using a reserve stock countdown to highlight how long a product will be held for a potential customer. This will drive urgency, as customers feel that abandoning their cart will result in that product being snapped up by someone else.
Launching reserve stock countdown campaigns on-site is a great way to:
Replicate the in-store experience: this will emulate the feeling of seeing an item you love, but there is only one available on the shelf. Shoppers are often motivated to buy a product to ensure they don't miss out if it's not restocked.
Prompt quicker purchases: Showing that a product is in limited supply makes it more appealing and desirable. This creates a sense of urgency for shoppers and causes users to purchase more quickly.
Adding a time limit on a user's basket further instils a sense of urgency, resulting in quicker purchases from potentially hesitant shoppers.
Suggested reading: Read more about time-sensitive eCommerce campaigns in our blog, '6 Ways to Use Countdown Timers on Overlays'.
3. Provide 24/7 support
Providing excellent customer support is proven to improve user experiences, increase brand loyalty and drive more conversions. In fact, 93% of customers are more likely to return to a site that offers excellent customer service.7
The Digital Assistant chat feature allows you to offer support around the clock, creating a far richer experience than brick-and-mortar stores are able to.
Allowing customers to communicate with customer service representatives in real-time enables them to get answers to their questions, address potential concerns, and make an informed buying decision much faster.
This chat feature provides customers with a more personalised experience that will ultimately encourage brand loyalty. This, in turn, will help to secure repeat customers and contribute to the creation of brand ambassadors.
4. Highlight the popularity of your products
Following the rise of social media platforms like Tiktok and Instagram, brands have more space than ever to highlight the popularity of their products.
Products go viral on the platform every day, and younger generations often use social media as a launchpad to finding and purchasing new products.
What you can do: Adding a 'product views' counter on your product pages will make these users aware of how in-demand an item is. Like social media marketing, this website view helps to emphasise what is popular and what customers should purchase to stay up-to-date with the latest trends.
Social proof and urgency go hand in hand, and both work to replicate the in-store experience. Highlighting the popularity of a product recreates the feeling of being in a busy store and wanting to ensure you don't miss out on must-have products.
Highlighting the popularity of your products acts as a form of social proofing — the psychological effect that makes potential buyers feel more confident about their purchases. This can:
Increase buyer confidence
Improve customer relationships
Boost your AOV
Things to consider: Digital Assistant's 'Product Purchases' campaign can help drive a sense of urgency on your website. This works by highlighting the number of real-time purchases that are being made, reminding consumers of limited stock levels and making them more likely to buy.
Suggested reading: Get to grips with social proof by reading our article, 'Your eCommerce Site is Using Social Proof All Wrong'.
Increase urgency for your eCommerce business
Consumer behaviour is increasingly shaping the eCommerce industry, and how online stores market their businesses.
By understanding your customer's behaviour, you will be able to plan and launch effective campaigns that create urgency and generate more business revenue.
1 Why Personalisation in 2023 is all about AI – Ecommerce Age
3 How our spending has changed since the end of coronavirus (COVID-19) restrictions – Office for National Statistics
4 Mabo
5 48 cart abandonment rate statistics 2023 | Baymard Institute
6 #Jealous? New report shows Canadian millennials are living large due to FOMO
See how Salesfire can help you optimise your product discovery experience, email one of our experts at [email protected] or book a free demo of our personalisation tools.