The 4 Most Successful Fashion eCommerce Marketing Strategies
By Courtney O'Riordan • Last updated: Tuesday Jul 4th, 2023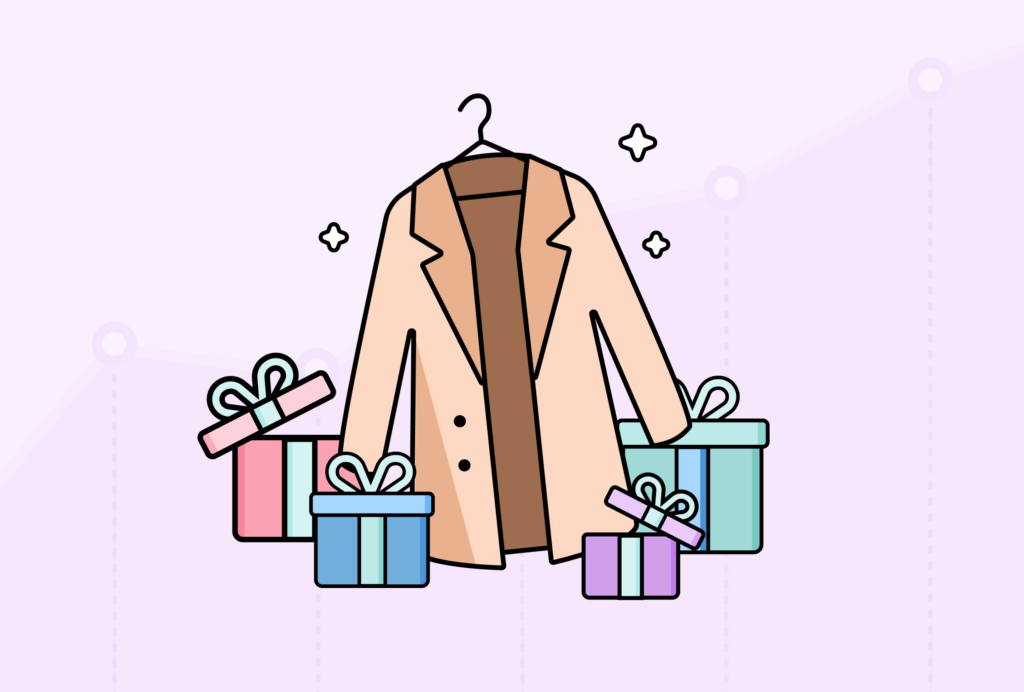 There's no denying that the eCommerce space is dominated by the fashion industry. As the largest B2C eCommerce market, the potential for success in this sector is unparalleled.1
But with success comes competition. For fashion eCommerce brands to navigate the highly competitive eCommerce environment, they will require holistic marketing strategies that make the most of personalisation techniques.
In this article, we uncover these strategies to equip online retailers with the tools to improve conversion rates and sales.

Suggested reading: Discover how fashion brand Stuarts London boosted conversion rates through eCommerce personalisation.
The top challenges within the fashion eCommerce industry
Before we discuss our website-improving marketing strategies, let's outline the challenges you may want to overcome.
Here are a few common pain points currently affecting online fashion retail:
Customer engagement: Your target audience has an average attention span of 8-12 seconds, making it essential to engage as soon as they land on-site.2
Increasing competition: 13 out of the top 20 direct-to-consumer brands are operating in the fashion industry. This illustrates the huge reach of the sector but also alludes to the high levels of competition.3
The return to brick-and-mortar: The need to create a site that instils trust and replicates the in-store experience is more important than ever, as 54% of consumers claim that they are likely to look at a product online and buy it in a physical store.4
Increasing costs: Some 97% of executives forecast that the cost of goods sold and SG&A expenses will increase in 2023.5 Excluding the luxury sector, many fashion businesses may therefore be struggling to achieve significant growth — and may require additional marketing efforts to boost sales.6
Inaccurate search results: 94% of surveyed consumers would quit a shopping session due to inaccurate search results, so integrating an intelligent, accurate search tool should be a priority.7
With the correct tools and strategies at your disposal, it's relatively easy to fix the above pain points and improve eCommerce customer experiences in a way that helps you achieve your goals.
The fashion eCommerce marketing strategies you need
Now that we have a clear vision of what challenges need to be overcome, let's take a look at the strategies that will allow you to do so.
Things to consider: Although the below strategies have been created with all fashion retailers in mind, the best eCommerce marketing strategies will be company-dependent, and will vary based on your existing strategy, profit margins, product categories, and much more. But in an age where speed and efficiency are key, some simple strategies can be employed by most retailers to improve acquisition and retention.
1. Use Overlays to enhance customer engagement
Customers value seamless shopping experiences that cater to their needs, from their first click on a landing page to their last click at checkout.
A powerful way of ensuring your site provides this throughout the user journey is by integrating Overlays.
For example, you can use pop-ups to surface your latest seasonal sale or marketing campaign upon website arrival, recommend a relevant product mid-session or offer a discount code upon exit intent.
Not only is this a refreshing change from generic website banners, but their dynamic nature works to keep a website visitor engaged in their pursuit of making a purchase.
Preventing competitor comparison
Ensure you're capturing the attention of your shoppers by preventing competitor comparison.
We recommend achieving this by introducing an Overlay that appears when a product title is highlighted.
Promoting your USPs at this point is critical when it comes to encouraging a customer to make a purchase as opposed to leaving your site to compare your product with a competitor. Depending on what your Overlay displays, you can use this strategy to:
Create a sense of personalisation.
Promote ongoing market campaigns and core USPs.
Suggested reading: Read our article, 'Pop Ups: The Hidden Key to eCommerce Success', to discover more ways to use Overlays to enhance customer engagement.
2. Improve customer retention through email marketing
Marketing strategies innately work to acquire customers through the promotion of products.
But with almost 7 out of 10 online shoppers abandoning their cart before completing their order, it's becoming increasingly important to focus your marketing efforts on retaining the customers you attract.8
A purposeful email marketing strategy is a great way to support your acquisition efforts by increasing retention, preventing basket abandonment and maximising sales.
A strategy that allows you to achieve these results in a few clicks is Digital Assistant's 'Save My Basket' campaign.
The key to the success of this campaign lies in its collection of email addresses.
When triggered on exit intent, a customer will be asked for their email to save their basket so that they can resume their online shopping journey at a later date.
This opens up the opportunity for you to use this collected data to:
Inform your retargeting techniques based on what each customer looked at previously.
Prevent basket abandonment by reminding customers who may have become distracted that their items are still in a basket, ready for checkout.
Secure sales by reducing the abandonment rate and increasing your base of loyal customers.
In short, optimising your email marketing campaigns to target basket abandoners enables you to retain the customers that you have spent valuable time and money on acquiring.
3. Replicate the social media experience using AI-powered software
This year, 89% of marketers who currently engage in an influencer marketing plan to increase or maintain their investment.9 This illustrates the rapid acceleration we're continuing to see in social media marketing and experiences.
Using social media as a marketing tool offers many benefits to fashion retailers, such as:
With this being said, your efforts will be in vain if your website doesn't support a seamless transition from social media to the site.
What you can do: Replicate the social media experience on your site.
The modern shopper has been conditioned by social platforms to expect nothing less than instant gratification, easy navigation and hyper-personalisation — things an eCommerce site can't offer without the help of a range of on-site solutions.
Integrating an AI-powered Site Search allows you to fulfil consumers' needs in this way whilst bringing them closer to completing a conversion by providing personalised suggestions and immediate results.
Optimise your search engine further by introducing Visually Similar Search to allow social media users to bring their inspiration to your site. Doing so will allow you to:
Direct shoppers towards visually similar own-brand products with higher profit margins.
Simplify the product discovery process for shoppers.
Empower site visitors to view accurate results without text-based searches.
These tools complement one another when it comes to building a customer journey that emulates the speed and customisation of social media feeds.
Pro tip: Read our blog to learn more about how social media has influenced product discovery.
4. Provide personalised experiences
Personalisation is a non-negotiable in the world of fashion eCommerce.
In light of this, Product Recommendations are fast becoming an expectation on all fashion sites.
One of the reasons fashion retailers love this form of personalisation is that it exposes more of their product catalogue to customers at the most influential moments of their on-site journey.
But it's not enough to offer recommendations on product pages that don't align with the behaviour of your individual customers.
Doing this could increase the likelihood of your customers searching for a better user experience with your competitors.
Instead, you want to give shoppers specific recommendations that speak directly to their behaviour on-site by reacting to their browsing history.
You can imitate social media algorithms with a Recommendations tool that creates a sense of familiarity for browsers. As well as meeting your customer personalisation needs, this solution allows you to:
Promote your latest products.
Grow your average order value.
Create upsell opportunities.
From there, you can expect to successfully inspire browsers to become paying customers.
Next steps: Implement strategies that maximise sales
Thriving within the highly saturated and competitive fashion industry is made possible through the deployment of effective marketing strategies. Fashion eCommerce sites need to employ new and innovative techniques to encourage shoppers to stay on their websites and complete their purchases.
At Salesfire, we understand this need.
That's why our CRO experts have created a suite of on-site solutions that support you in maximising sales and improving conversion rates for the long run.
---
1 Fashion eCommerce Report | Statista
2 What do Gen Z shoppers really want? 4 ways retailers can capture the younger generation | Charged
3 The State of the Ecommerce Fashion Industry: Statistics, Trends & Strategies to Use in 2023 | Shopify
4 The State of the Ecommerce Fashion Industry: Statistics, Trends & Strategies to Use in 2023 | Shopify
7 Google releases Retail Search tool to improve shopper discovery | Retail Dive
8 48 Cart Abandonment Rate Statistics 2023 – Cart & Checkout – Baymard Institute
See how Salesfire can help you optimise your product discovery experience, email one of our experts at [email protected] or book a free demo of our personalisation tools.