5 Steps to Providing a Seamless Shopping Experience
By Bethany Llewellyn • Last updated: Tuesday Jun 13th, 2023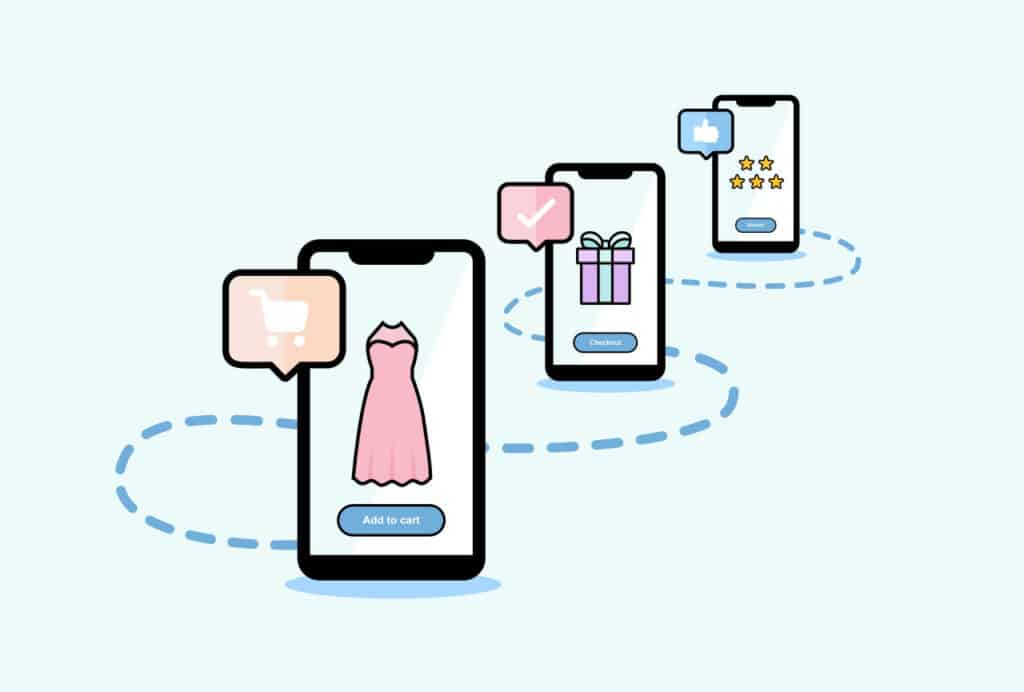 eCommerce consumer expectations are ever-growing as online retailers face increased competition in a saturated market.
As we see an increasing number of brick-and-mortar stores closing their doors and heading online-only, brands are looking for ways they can refine their online presence for a smoother user journey to gain a competitive advantage.
Below, we discuss five ways you can create a seamless shopping experience on your site and the benefits it can have on your business.
The value of a seamless shopping experience for your customers
When customers purchase online from an eCommerce store, they are likely to remember great experiences.
Positive shopping experiences can build customer loyalty, strengthen relationships with customers and increase the likelihood of repeat purchases.
When thinking about your eCommerce strategy, it's crucial to adopt a consistent and cohesive approach across all of your channels to ensure each customer receives the same experience with your brand, no matter where they find you from.
Whether that be through your site, social media, video content or emails, providing an omnichannel experience allows customers to browse without any issues to create that seamless shopping journey.
By optimising each touchpoint throughout the customer journey, you can take the steps to increase eCommerce sales and drive conversions. 
Suggested reading: Read our article to find out Why You Need an Omnichannel Marketing Strategy.
How to streamline your shopping experience to increase sales
Make the on-site process as quick and simple as possible by offering optimised site functionality and great customer service. This can help to provide an unforgettable shopping experience that will keep customers coming back to your site time and time again.
Below, we discuss five ways you can create seamless shopping experiences and the benefits they can have on your business.
1. Optimise your on-site search
When it comes to your site, it's important to address how your core functionality works for your shoppers.
Customers expect seamless experiences free from any friction when they're browsing through your site — and your site search plays a crucial role in this.
If your search has slow load times, inaccurate search results or is hard to find, this can cause customer frustration and lead to missed conversions.
However, retailers of all sizes can now integrate a Search that's underpinned by AI technology to enhance the efficiency of their site navigation, delivering the most relevant products in the blink of an eye.
As well as optimising core Search functionality, retailers can now expand into new possibilities for search such as:
Voice search: 2 in 5 adults perform a Voice Search at least once a day. Cater to this search preference by adopting voice search technology on your site to allow users to articulate their query using speech.
Image search: Allow users to conduct a search based on their own imagery using Visually Similar Search. This allows you to capitalise on the visual nature of social media and the inspiration found on platforms such as Instagram and Pinterest to deliver close matches from your own product catalogue.
Search optimisation is now essential for any eCommerce site looking to keep pace with ever-changing shopping trends. Retailers can now find opportunities to expand the browsing experience to include voice and image searches to enhance customer engagement and reduce bounce rates.
2. Streamline the checkout process
Across eCommerce the average basket abandonment rate is around 70%.1
The checkout process is often identified as a frequent drop-off point for shoppers if it's not optimised for speed and efficiency.
But there are some simple fixes to ensure your checkout is speedy:
Guest checkouts: First things first, nobody likes a long-winded checkout process, so allow for guest checkouts without the need to make an account.
Buy now pay later: Take your checkout one step further and offer 'buy now pay later' options to speed up conversions and allow for the most convenient payment methods.
Auto-fill forms: Retailers can add auto-fill to their checkout forms, so that customer details will be pre-populated, eliminating shopper frustration in filling out repetitive details and creating a quicker checkout.
Taking the steps to streamline the checkout process and make it easier for shoppers at the last hurdle can speed up conversions and increase customer satisfaction.
3. Shopper retargeting strategy
Despite your best on-site re-engagement efforts, it's inevitable that some customers simply won't make a purchase when shopping online.
This could be for a number of reasons, perhaps they're not ready to buy or are still considering their options.
With this in mind, retailers need to adopt a strong retargeting strategy to re-engage users and encourage them to commit to a purchase on your site.
There are a few different ways retailers can think about retargeting within their strategy:
Email retargeting: Utilise your emails to retarget shoppers. Consider sending a basket reminder email, a product email showcasing a shopper's preferences or recommendations to capture their attention and remind them of your brand.
Dynamic ads: Create dynamic ads to retarget shoppers on social media platforms like Facebook or Instagram and remind them of the products they loved from your site, re-injecting them into the buying journey.
Recently viewed to returning customers: Through Digital Assistant, you can remind existing customers of the products they viewed last time they were on-site, seamlessly re-engaging them in their shopping journey and encouraging them to pick up where they left off.
If a shopper has left your site, it doesn't have to mean a lost conversion. Taking action to re-target them with personalised communications based on their browsing behaviour and preferences can allow you to create a cohesive brand experience for your shopper.
4. Optimise your site for any device
Now more than ever, customers are using different devices to browse online stores, whether it be desktops, iPads or mobile phones.
And studies have shown that 42.9% of all eCommerce purchases will be made via a mobile device by 2024.2
Therefore optimisation across all devices is crucial to ensure a great customer experience.
There are a few actionable things you can do to ensure a seamless customer experience across devices:
Clear CTAs: Make sure your CTAs and buttons are bigger for easy use on smartphones. This helps to ensure shoppers can effortlessly navigate through the key areas of your site.
Mobile UX: As mobile browsing continues to grow for eCommerce shoppers, consider taking a mobile-first approach towards design. This can include testing out your site design, emails and landing pages for mobile, to ensure the formatting is correct and user-friendly.
Ensuring your site is fully optimised for mobile means more visitors will clearly see your logo, visuals and CTAs, and improve navigation through your website.
Taking a mobile-first approach may also help you get more online foot traffic as mobile-friendly sites are often favoured by Google rankings assisting with overall SEO efforts.
Optimising your site across devices will increase customer satisfaction and make it easier for them to find what they're looking for.
Suggested reading: Read our article to learn more about the expansion of eCommerce on mobile devices and the '6 Benefits of mCommerce'
5. Showcase an incentive at the right time
Some shoppers might need a final push to complete their order.
Clearly showing incentives at exactly the right time can encourage customers to checkout.
To make use of the strategic incentives you provide, you can use Overlays to display the most relevant messaging at the optimal time in the user journey on your site.
With Overlays you can create campaigns that will encourage conversions and drive sales, such as:
Incentivise Mailing List Sign-Up: Offer an incentive in return for a newsletter sign-up, encouraging users to complete their purchase with the addition of a useful discount code.
Increase order values: If you offer a free shipping threshold on your site, you can utilise this campaign to make shoppers aware of how much they need to add to their basket in order to qualify for your free shipping incentive, effortlessly increasing AOV.
Price match: If your shopper shows intent to compare prices elsewhere, you can display an Overlay with your price match guarantee to promote the value of your products and prevent them from leaving to a competitor's site.
As well as giving shoppers that push to finish their order, you also create personalised experiences and respond to the needs of individual users with targeted Overlays.
Create a seamless on-site experience
As consumer behaviour continues to evolve, eCommerce businesses are forced to continually reassess their approach.
One thing we do know is that retailers must look to provide a seamless brand experience and optimise for a consistent on-site journey.
This ensures you deliver a seamless experience to your customers, new and returning, helping you drive sales in the long run.
1 15 Cart Abandonment Statistics You Must Know in 2023 – Drip
2 Understanding Mobile Commerce:Stats and Trends – Shopify
See how Salesfire can help you optimise your product discovery experience, email one of our experts at [email protected] or book a free demo of our personalisation tools.