Creating Personalised Customer Journeys with Digital Assistant
By Chester Ollivier • Last updated: Monday Aug 21st, 2023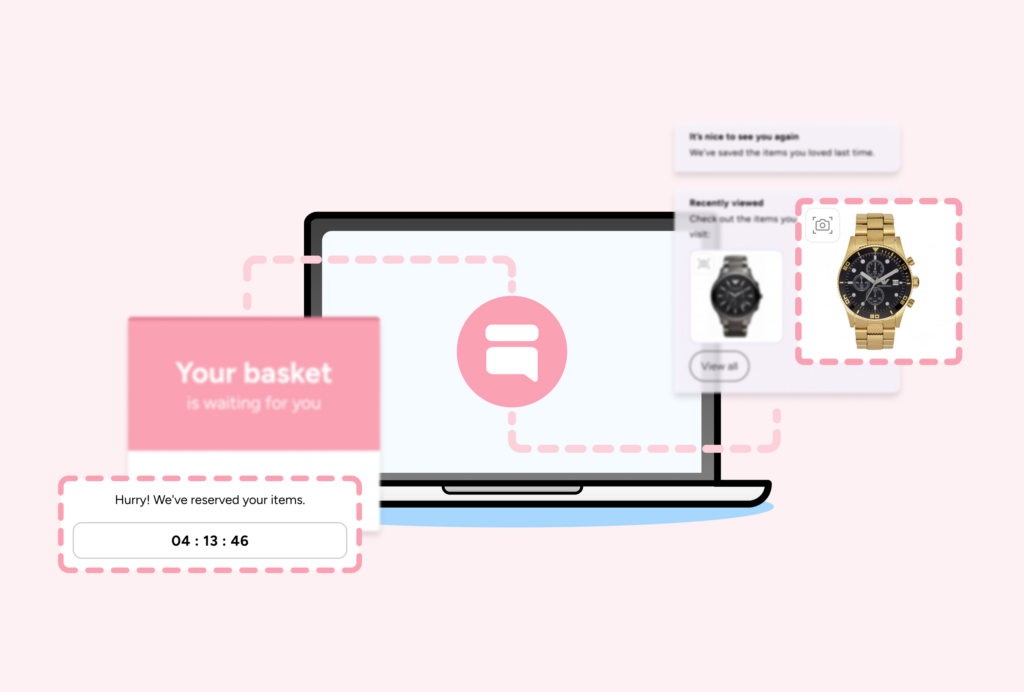 Every customer journey is unique.
From the first visit to that all-important conversion, it's unlikely that two users will take the same route. This means your site needs to be dynamic, tailoring its responses to meet the specific needs of individual users.
A powerful tool to achieve this is Digital Assistant, designed to deliver personalised messaging based on a shopper's position in the customer journey.
With endless use cases and personalisations, let's take a look at the importance of unique customer journeys and the most effective Digital Assistant strategies you could implement on your site.
Why are personalised customer journeys important?
A personalised customer journey is an experience specifically tailored to meet the individual preferences, habits and needs of each customer.
Personalisation paves the way for developing a loyal customer base who appreciate the extra effort retailers put into catering to their unique needs.
Using customer data, retailers can offer relevant content and product recommendations that resonate with their customers. Such experiences can help to:
Keep customers engaged
Boost conversion rates
Enhance customer satisfaction
In an era of digital transformation, customers expect an engagement with your brand that goes beyond the conventional brick-and-mortar experience, and personalised customer journeys are crucial to achieving this.
Suggested reading: Discover why hyper-personalisation is crucial to achieving a strong eCommerce performance in our blog, 'Hyper-Personalisation in Retail is the Key to eCommerce Success | What it is and Why it's Beneficial'.
What is Digital Assistant?
In an online world where personalisation is expected as the standard, you need to adopt the right tools that can help you stand out from the competition and help you convert more of your website traffic into customers.
This is where Digital Assistant shines.
Supporting the most influential areas of the customer journey, Digital Assistant offers a range of ready-to-use campaigns to create urgency, build trust and boost sales.
Some of the key features of Digital Assistant include:
A simplified set-up process: With a single line of code integration and pre-set campaigns primed for eCommerce success, you can have Digital Assistant live on your site in a few simple steps.
Customisable for seamless integration: You can tailor the look and messaging of your Digital Assistant tool to perfectly match your branding and tone of voice.
Campaigns stored for later use: You're able to store your campaigns in the drawer throughout the customer journey. So for those customers who are quick to close down your Overlays with shipping information or discount codes, they can refer back to them later in their journey, resulting in more conversions for businesses.
Freemium campaigns: Digital Assistant comes with a range of free campaigns available to use right away, such as 'Product Views' and 'Free Delivery Countdown'. This means you can get started on increasing conversions today.
What you can do: Create your own dashboard and explore what our innovative personalisation tool, Digital Assistant, has to offer.
Key strategies to increase conversions using Digital Assistant
1. Increase confidence with social proof
Social proof is a powerful marketing strategy that helps online businesses convert more of their website traffic.
With constantly changing consumer behaviour and continued economic uncertainty, it's crucial that eCommerce businesses understand what social proof is and the power it holds.
There are a number of ways you can utilise social proof:
Showcase user reviews: Stats show that 87% of consumers read online reviews, so by showcasing positive feedback on your site, customers are more inclined to buy.1
Share customer social media posts: User-generated content (UGC) is on the rise and campaigns that use it can see a 29% higher conversion rate than those that don't. This is due to the trend towards organic and authentic content that younger generations are driving.2
Gain celebrity endorsements: Influencer marketing is a thing of the 21st century, with 61% of consumers trusting influencer recommendations.3
By introducing these techniques, you could see an increase in conversions and average order value.
What you can do on-site: Utilise Digital Assistant's campaigns to showcase your reviews on REVIEWS.io or Trustpilot to boost shopper confidence.
Displaying customer reviews on your site at key touchpoints will encourage shoppers to purchase while building the credibility of your website. These campaigns are free to use in Digital Assistant, get started now and create your own dashboard.
2. Grow mailing lists with incentivised campaigns
Digital Assistant delivers targeted messaging to guide both new and existing shoppers seamlessly through the customer journey.
With the right campaigns, you can encourage users to subscribe to your email marketing list at various stages of the customer journey, such as the homepage or product page.
You can then retarget these customers with your email campaigns to nurture long-term relationships, with 65% of a company's business coming from existing customers.4
With an Incentivised Mailing List campaign available in Digital Assistant, you can offer an incentive for website visitors to join your mailing list and encourage them to continue shopping with you.
This helps to boost both your mailing list and completed orders.
Advice on the next steps: Growing your mailing list is just the start. Take your re-engagement campaigns to the next level by creating a personalised customer experience that leaves your customers feeling valued.
Whether it's a basket abandonment email campaign or a re-engagement strategy, you can communicate with your audience using relevant content and reinject them back into the sales funnel.
By enhancing the post-purchase experience you will:
Build strong customer relationships: Being able to engage with your audience through your email marketing efforts will make your customers feel valued. Over time, this will strengthen the relationship and lead to additional sales.
Improve customer loyalty and trust: Rewarding your mailing list with discounts, loyalty programmes or exclusive offers is a sure way to boost loyalty. Providing tailored content in email campaigns will show your customers you care about them and ultimately build trust.
Increase repeat business: It's not only discount campaigns that can help draw those first-time purchasers back to your site. Based on the customer data you have, you can tailor content to match each customer's past experience and encourage them to return to your site to purchase again.
Creating personalised retargeting campaigns that are relevant to your audience will keep users engaged and can see an increase in conversion rates in the long term.
3. Create urgency with time-sensitive pop-ups
When a visitor has actively spent time on a site viewing a particular product, naturally you want to encourage them to add it to their basket.
This is where time-sensitive messages, such as a Free Delivery Countdown or Product Views campaigns, come into play. These are especially useful for instilling social proof and creating a sense of urgency.
For example, communicating to customers that they are close to the free delivery threshold will encourage users to add more items to their basket in order to qualify for free delivery.
But is a campaign that advertises free delivery worth it?
Absolutely. Reports show:
90% of customers say that free delivery is their main incentive for shopping online.
84% of customers have specifically made a purchase due to free shipping.
A further 30% say they will always increase the size of their orders if it qualifies them for free delivery.5
So a free delivery threshold campaign could certainly provide the incentive a hesitant customer needs to fill their basket, leading to increases in your AOV.
By capitalising on this sense of FOMO, you can increase sales since customers naturally worry about items running out of stock, especially if they do not know when – or if – they will be restocked.
By playing into this element of urgency, customers are more inclined to impulse buy as well, thus increasing your ROI.
Pro tip: Since customers place a higher value on popular products, you can make shoppers aware of high demand by displaying real-time product views or purchases on your product pages to instil urgency and maximise sales.
You can do this through Digital Assistant's Product Views or Product Purchases campaign to boost shopper confidence.
This will result in quicker purchases from those shoppers who may need a final nudge to complete a purchase. These Digital Assistant campaigns are available to you for free, create your own dashboard now.
4. Deliver comprehensive support with timely messages
One of the best places to implement tailored, targeted messaging is on the basket page.
It gives retailers the opportunity to present personalised recommended products or delivery and shipping information.
Since this is the final stage in the on-site journey, the positive and helpful experience will stick in the customer's mind. An enhanced on-site customer experience is likely to increase loyalty and encourage repeat business by:
Improving customer satisfaction: Providing tailored messaging that is relevant to the user's journey will make your customers feel valued.
Resolving customer queries: If you've identified that you're receiving multiple customer queries on the same topics, utilising a Bespoke Messaging campaign in Digital Assistant to highlight key information on your site, such as shipping and returns information, will allow for better experiences and quicker purchases.
You can leverage customer behaviour to identify when a customer attempts to exit your site to deliver the support they may need as a final push to commit to a purchase.
Providing support through your on-site messaging will help to reduce basket abandonment, create urgency and maximise sales.
Pro tip: Ensuring your FAQs page is up-to-date will likely result in fewer queries through live chat or customer service channels. This allows your customers to easily navigate your site and find the answers they are looking for so they can continue their shopping journey.
Conclusion: Use Digital Assistant to personalise your customer's journey
Digital Assistant is an asset to eCommerce businesses of all sizes.
The ability to create personalised customer journeys for individual visitors, both new and existing, will set you apart from the competition and help your business grow.
Offering tailored interactions from the home page right through to the checkout page, you can harness the power of Digital Assistant to:
Create urgency
Inspire purchases
Increase AOV
With a single line of code integration and optimal pre-set campaigns, you can get Digital Assistant live on your site in just a few simple steps. Create your own dashboard to access free campaigns available to you.
1 Local Consumer Review Survey 2023 | Bright Local
2 User-Generated Content Statistics You Need to Know | Search Logistics
3 28 Essential Influencer Marketing Statistics You Need to Know in 2023 | Social Shepherd
4 40 Amazing Customer Loyalty Statistics in 2023 | Small Biz Genius
5 Shipping is Critical to Keeping Online Shoppers Happy | Forbes
To learn more about how Salesfire can help you optimise your website traffic and for help getting started with Digital Assistant, reach out to one of our experts at [email protected] or book a demonstration to see for yourself.