5 Site Search Features You Need Right Now
By Emma Foster • Last updated: Monday May 15th, 2023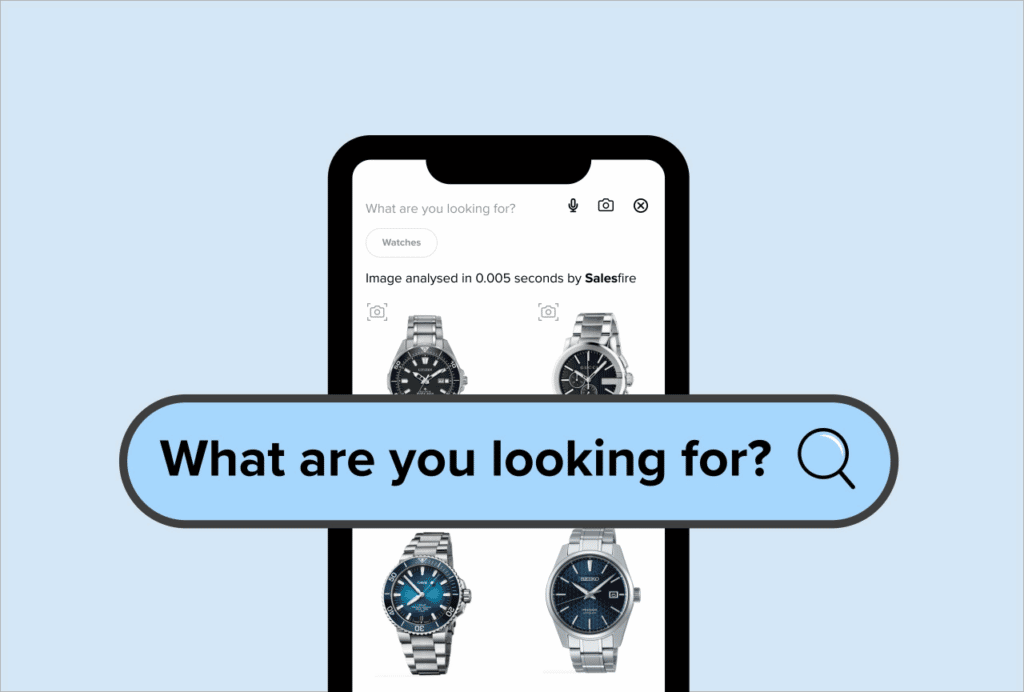 Innovation and eCommerce now go hand in hand.
Retailers who innovatively develop their site for the ease of their users increase customer loyalty and encourage engagement with their brand.
With that said, on-site search tools are a crucial part of any thriving eCommerce website.
Shopping online often starts with a Google search, so why should searching for a specific item on your site be any different?
Shoppers are 2.5 times more likely to purchase through site search interactions.
People don't want to spend time trawling through your whole site when they could use a site search function to find relevant results in seconds.
Let's take a look at five features of an internal search that any forward thinking-retailer should be implementing on their site.
Discover the fundamentals of site search: what it is, why it matters, how it benefits eCommerce sites and how to choose a search solution.
5 eCommerce Site Search Features You Need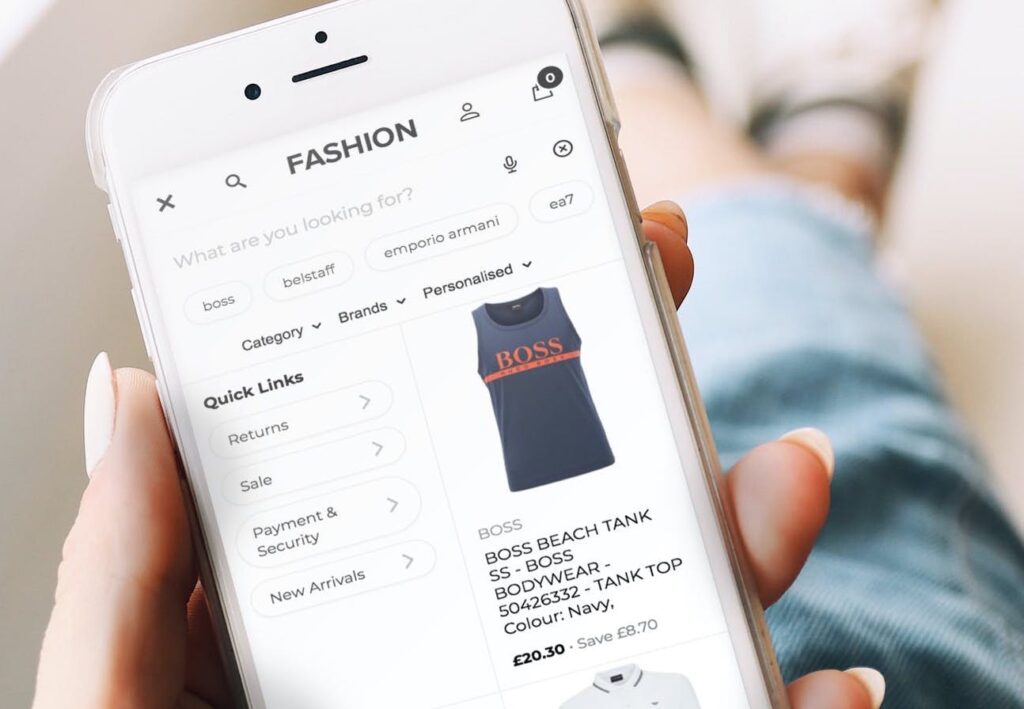 1. Voice recognition
The majority of people can verbally ask a question faster than they can type it.
In fact, the average person can only type about 40 words per minute but can speak around 150 words per minute.
This gives voice search a massive advantage when it comes to efficiency and ease of use, especially on mobile devices.
Voice search empowers shoppers to quickly communicate exactly what they're looking for and get the rapid results they need.
With voice-assisted shopping projected to grow to $40 billion annually by 2022, adopting this technology now will give your site an edge over your competitors to make sure you stay ahead of the game.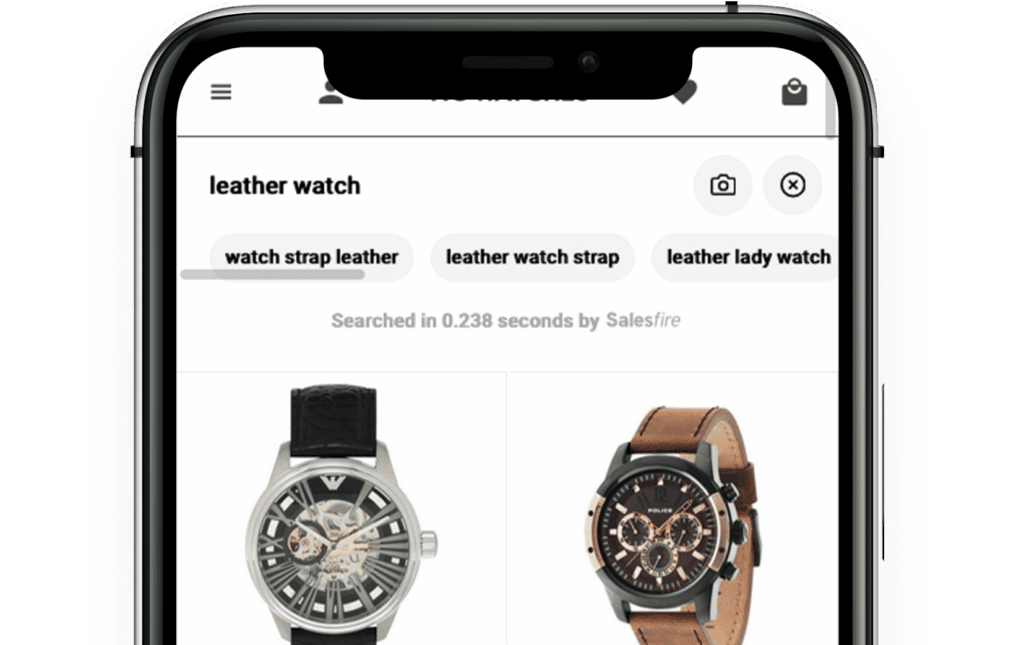 2. Visual search
Consumers want a personalised shopping experience tailored to their fast-paced lifestyles.
If they find a product image on Instagram or Pinterest, they don't want to have to try and translate what they're looking at into words for a traditional search.
An easy-to-use image search embedded in your search tool's user interface will help shoppers find and buy items that perfectly match their vision – be that an item in a specific colour or a particular model.
Not only will enabling an image search satisfy your customers, but it will also make your site stand out in your industry when it comes to user experience.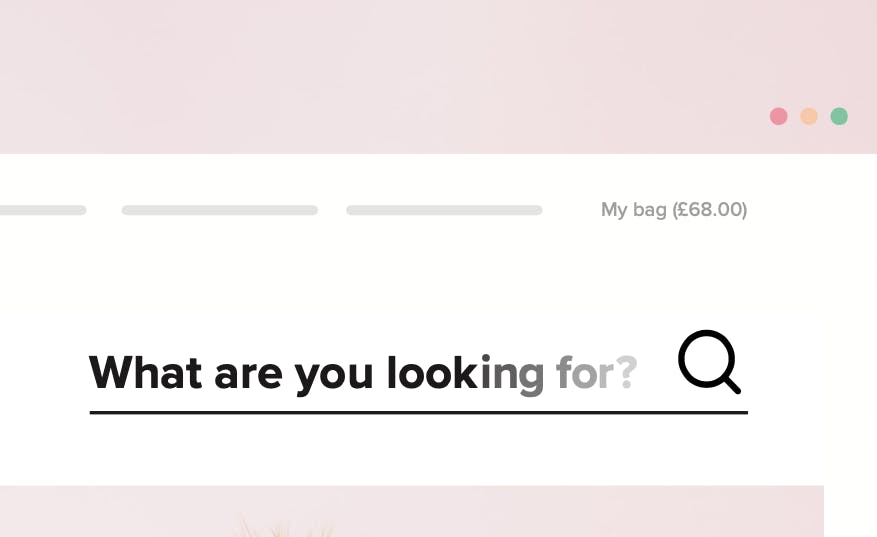 3. Animated placeholder text

We've all been drawn in by moving text on websites.
It's a sure-fire way of catching a customer's attention – so why not use it to your advantage in your search bar?
The fact is, customers are 1.94% more likely to interact with a search engine if the text is animated.
This is a simple way to immediately enhance your customers' search experience and drive queries and revenue.
You could prompt queries with a question, such as 'What are you looking for?', or inspire a users' search with custom text prompts and search suggestions.
Whatever your tactic, animated search bar text guides your visitors through the shopping experience towards checkout by increasing the chance of a customer proactively searching for the products they want to buy.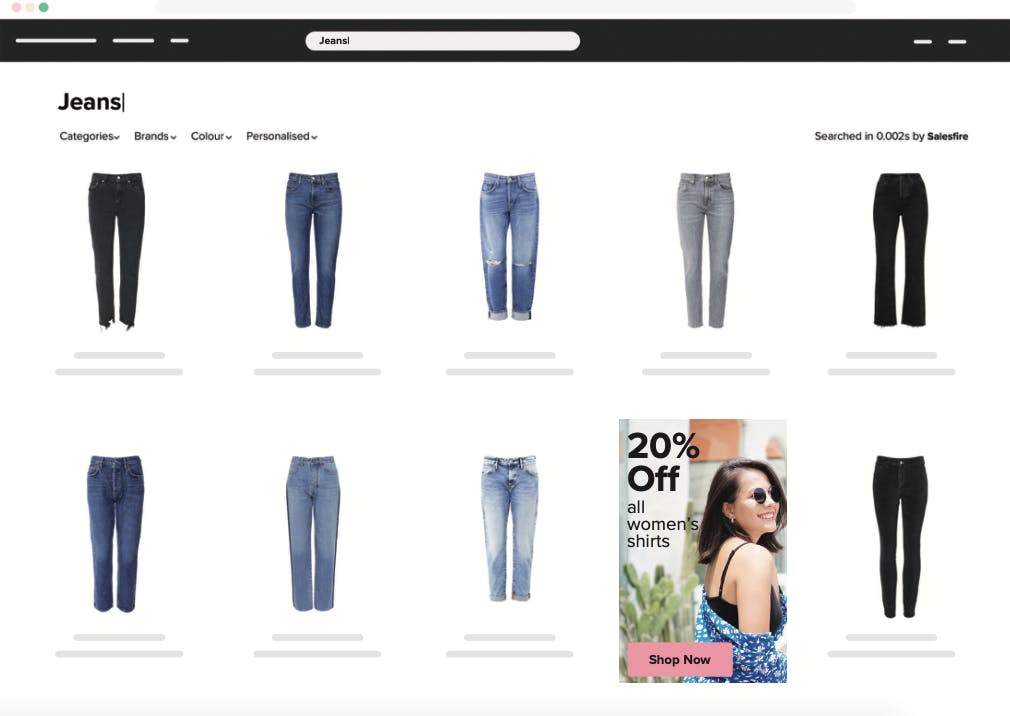 4. Search promotions
Successful conversion rate optimisation strategies maximise every opportunity to communicate with customers – including in the search box itself.
With so much traffic going through your on-site search, it makes sense to use this tool to your full advantage.
Shoppers who interact with your search function are engaged with your website and actively seeking products.
This makes them a key audience to target with your latest promotions and offers.
Adding custom promotional units into your search results allows you to push new stock, best sellers or move visitors through an even more controlled user journey.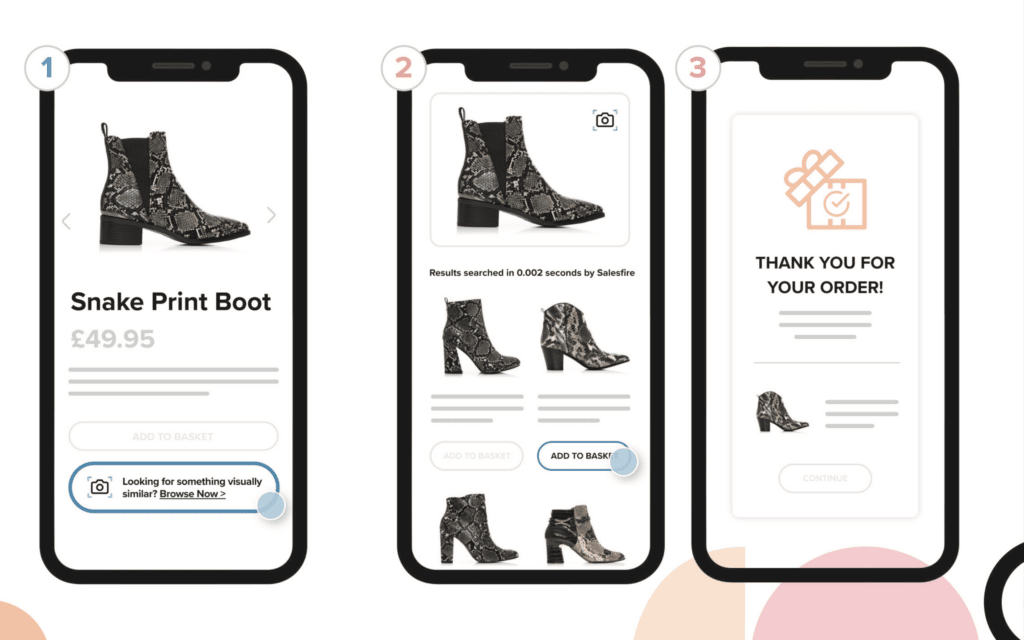 5. Visually similar search
If a customer lands on one of your product pages, but the item they're viewing just isn't quite right, don't let that be the end of their journey.
Whereas visual search uses a customer's image as the search query, Visually Similar Search takes your product image as the search query to return similar items you have in stock.
Allowing users to search either the whole image or just a section enables them to discover your other products with a specific pattern, style or shape and encourages them to remain on your site and continue their journey to the checkout page.
Don't neglect one of the most crucial tools on your site.
With most customers using a site search solution to navigate their visual search eCommerce journey, it's a no-brainer to optimise this hardworking tool. 
After years of extensive research in AI, personalisation and buying behaviour, we've poured everything we've learned into developing a brand new way of looking at on-site search.
Our Site Search returns results in milliseconds to provide an uncompromising user experience.
See how Salesfire can help you optimise your product discovery experience, email one of our experts at [email protected] or book a free demo of our personalisation tools.