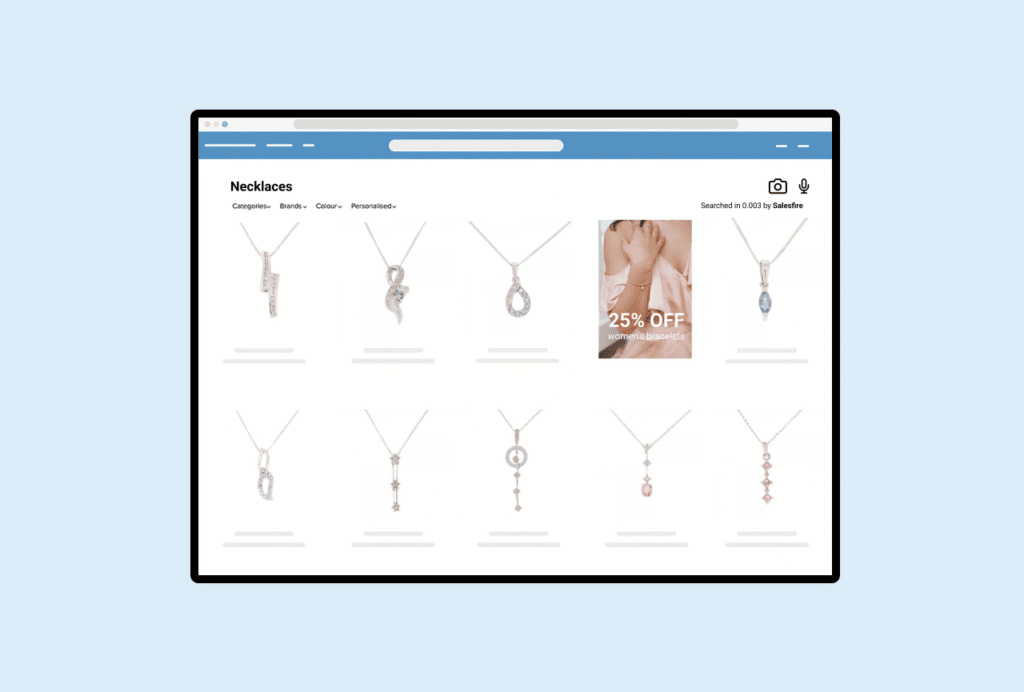 30% of shoppers interact with an onsite search (Moz, 2017), yet many eCommerce sites take this hard-working tool for granted.
An optimised Search enhances the eCommerce experience by empowering users to quickly and easily find the exact products they're looking for, reducing bounce rates and increasing conversions.
With this in mind, it makes sense to review your search experience and identify opportunities for improvement that will deliver more accurate, rapid and personalised results to ensure users return to your site time and again.
But we're getting ahead of ourselves.
First, let's take a look at the fundamentals of site search: what it is, why it matters, how it benefits eCommerce sites and how to choose a search solution.
What is site search?
Google has become synonymous with searching – it's most people's default search engine with an 86% market share.
So much so that 'Google' is now used interchangeably with 'search' in everyday conversations – just think how many times you've been told to 'try Googling it'.
We're a nation of searchers with all the answers we need at our fingertips and you can be sure that extends beyond Google and other popular search engines into all online interactions, including your eCommerce store.
Whereas Google searches the entire web, site search sifts through a store's products to pull items in response to a customer's search terms.
Commonly positioned in the top right-hand corner of a site, searching is becoming a pivotal part of the online shopping experience, often seen as a deal-breaker when it comes to customers purchasing or leaving your site.
Why does site search matter in eCommerce?
Just as most web browsing sessions start with a Google search, the majority of shopping journeys start in the search bar.
Users who come to your site with an exact item in mind are as good as converted – all you need to do is connect them to their purchase.
Sounds simple, right?
But with continuously growing product catalogues, not every user will have the time or patience to sift through pages upon pages of products and categories to find what they're looking for.
Shoppers don't want to spend a lot of time fumbling around a site trying to find a specific product. They want to know instantly whether you have it and if they should bother hanging around on your site.
To do this, they'll use your internal search.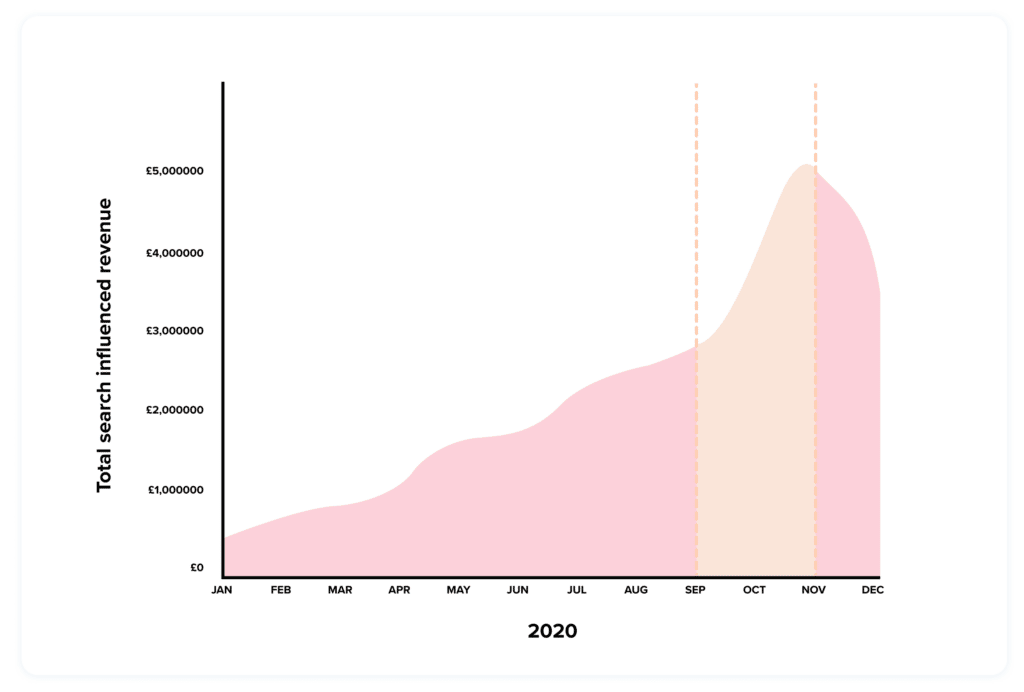 2020 was a year of unprecedented growth for search as a revenue driver in eCommerce.
As the above Trends graph illustrates, the holiday season fueled a huge spike in search revenue as users looked to search tools for gifting inspiration.
Learn more about the year search dominated eCommerce.
With such high levels of revenue flowing through an optimised search function, can you afford to ignore this vital tool?
What are the benefits of an optimised site search?
When users can quickly and easily find exactly what they're looking for, they will be engaged, happier and more likely to return time and again.
But that can be true of any eCommerce tool.
Let's delve into internal site search and learn about the specific benefits it can offer.
1. Facilitate product discovery
At one time or another, we've all been guilty of visiting a site for one specific product and then leaving with that plus another five items.
Not so great when you're the buyer, but an amazing result for the retailer and one you no doubt want to replicate.
When a user interacts with your search box, they are open to browsing the products on the search result page.
Essentially, think of a shopper in a retail store rooting through the rails of clothes. These shoppers may be on a mission to find something specific but could stumble upon other gems in their search.
Ideally, this is the experience you want to recreate with your website search engine – connect a customer with the exact product they're looking for quickly and easily, but leave a little room for product discovery.
2. Keep users on your site
Have you ever visited a site, tried to find the search bar to no success and left?
You're not alone.
With time a precious commodity to the twenty-first century online shopper, they're unlikely to hang around and sift through menus and sub-menus, no matter how aesthetically appealing you may have made them.
Engaging shoppers with a search bar is the first step towards reducing your bounce rate.
If a shopper sees an opportunity to type exactly what they're looking for, they'll take it.
And even if you can't deliver an exact match, they'll be exposed to your products and relevant content in the search pages that will persuade them to take a look around anyway.
After that, you're a click away from reducing your bounce rate.
3. Convert more visitors into customers
In theory, it's simple. Connect customers to the products they want to buy and your conversion rate will soar.
And with an optimised search, it's that simple in reality too.
Your website search tool acts like an in-store retail assistant, pointing shoppers in the right direction and suggesting products they're going to love.
With accurate, rapid search results, your customers find the product they're looking for and you get the conversions you want.
4. Create an uncompromising user experience
Successfully moving users through the customer journey relies on creating a seamless user experience.
And when users have grown accustomed to the speed and accuracy of Google's search experience, the bar for your eCommerce onsite search engine is set pretty high.
Generating fast, relevant results will increase customer confidence in your site and encourage them to purchase.
Just as users avoid sites where they've had a bad experience in the past, they'll remember if their purchasing from your site was easy breezy, and will be more likely to return time and again.
5. Gain customer insights
It's easy to think that an on-site search engine is solely a customer-centric tool.
However, you may be surprised to learn that your site search analytics can provide unparalleled access to your shoppers' needs and behaviour.
When a user types a query into the search bar, they are literally telling you what they're looking for.
By collecting this data, you can align your eCommerce strategy with what your customers actually want.
This way you'll be sure to cater to customer demand, reduce bounce rates and drive conversions.
Find out more about how you can use your search analytics.
What do I need to look for when choosing a site search tool?
Not all site search solutions are made equal.
You'd be forgiven for thinking that so long as your site has a search function, then that's enough.
But when it comes to search, user experience is crucial.
You want to make it as simple as possible for shoppers to use your site and find their perfect products.
This means that you need to offer features that will not only set your search experience apart from your competitors' but will also maximise your revenue and sales.
Key features of an optimised site search
1. Speed
In today's fast-paced world, everything seems to need to be faster than the blink of an eye.
And when it comes to search, speed is crucial to your performance.
The main purpose of this tool is to help users find the products they're looking for. The faster and more accurate the results, the less likely customers will lose interest.
This will lead to reduced bounce rates and stronger customer engagement with your products.
Whether results load on each keystroke as users narrow down their search query, or you use an AI-powered search to make intuitive predictions based on habitual user behaviour, delivering rapid results is the foundation of any successful search tool.
2. Accuracy
There's nothing more frustrating as a customer than knowing exactly what you want to buy and typing it into a search bar only to receive completely irrelevant results.
Not only will this put users off converting, but they'll also be unlikely to return to your site in the future.
Many accuracy issues stem from problems with product feeds and naming conventions.
If your search demands search queries to be identical to the name in a product feed, you're going to encounter problems with spelling mistakes, plurals and colloquialisms.
Choosing a search tool that accounts for variations in spelling and phrasing will improve query scope to ensure shoppers are united with their purchases.
Of course, you could also integrate an image search tool that relinquishes the worry of naming conventions altogether by relying instead on visual cues.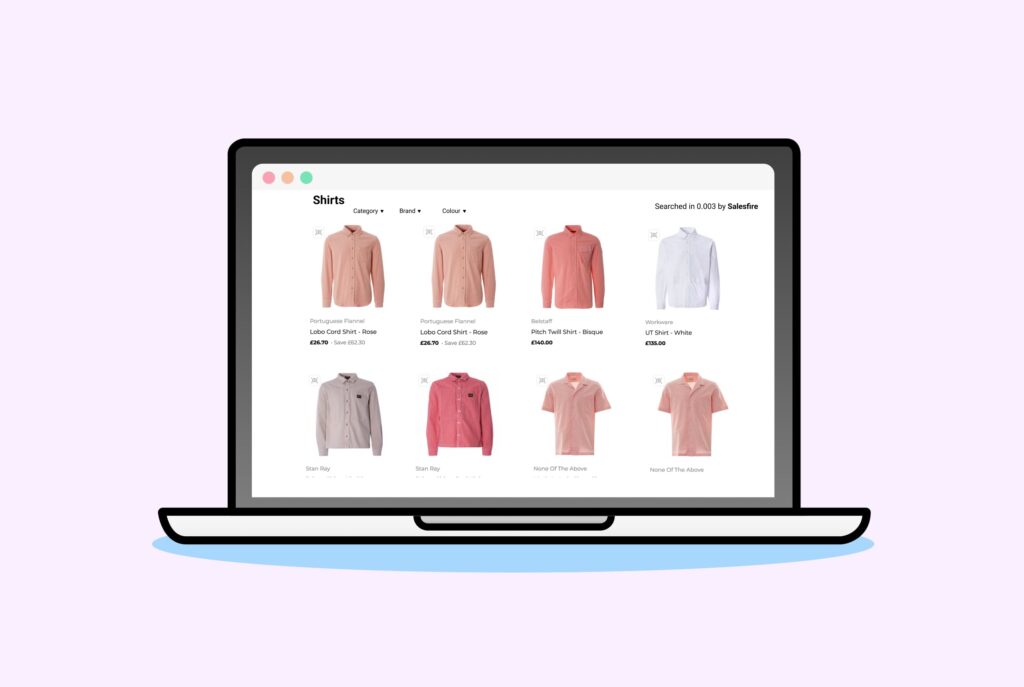 3. Image search
A text-based search alone just isn't going to cut it anymore.
Now that savvy shoppers are taking inspiration from across the web, they don't want to have to translate a picture from Pinterest into words.
Give them the option to use an image as a search query and boost search efficiency.
But don't just stop there.
Encouraging users to explore Visually Similar products to the item they're currently viewing to inspire purchases and keep users on your site.
Not only will these features put you ahead of your competitors, but they will also speed up the search process and in turn, drive revenue and boost your conversion rate.
4. The power of data
Your search tool is the one place on your site where customers can tell you exactly what they're looking for.
Surely you're not going to ignore this invaluable data?
Opting for a search tool that allows you to pull analytics and reports will provide an insight into customer behaviour.
This will bolster your site reports from Google Analytics and allow you to discover the items shoppers are coming to your site for and whether or not you are fulfilling their demand.
Using this data, you can address your purchasing behaviour and re-evaluate your strategy to either refocus your product range or reimagine your marketing and sales approach to better align the perception of your products.
5. User-friendly interface
Don't make life hard for your customers.
When it comes to the look and functionality of your site search, making sure it is easy-to-use, clean and aesthetically pleasing will go a long way with your users.
No one wants to be confronted with countless search options and settings. A simple user interface will make users more likely to interact.
And once your customers start searching, they're more likely to convert, so attracting them to the tool in the first instance is of vital importance.
Find out more about the features that will set your site experience apart from your competitors.
Before you go
We hope you've gleaned some valuable insights from our deep dive into all things site search.
As eCommerce continues to evolve and product catalogues expand, there is no question that this hard-working tool will become the key path to purchase for the majority of customers.
Choosing to optimise your search now will put you ahead of your rivals and help create a loyal following of customers who return to purchase again and again.
After extensive research in AI, personalisation and buying behaviour, we developed a brand new way of looking at site search.
Search by Salesfire delivers genuinely relevant, accurate results instantly to encourage product discovery and drive revenue.
Find out how Search influenced a 24.4% uplift in overall conversions for one online retailer.
Offering image search, voice search and visually similar search functionality, our Search system uses AI and machine learning to deliver an enhanced search experience.
Find more information in the webinar below:
If you're ready to optimise your search, our team will be more than happy to discuss our AI-driven search engine with you and run through a one-to-one demonstration. Simply email us at [email protected] or book a demo.