Visual Search: The Tool That's Transforming eCommerce
By Laura Taylor • Last updated: Monday Jan 30th, 2023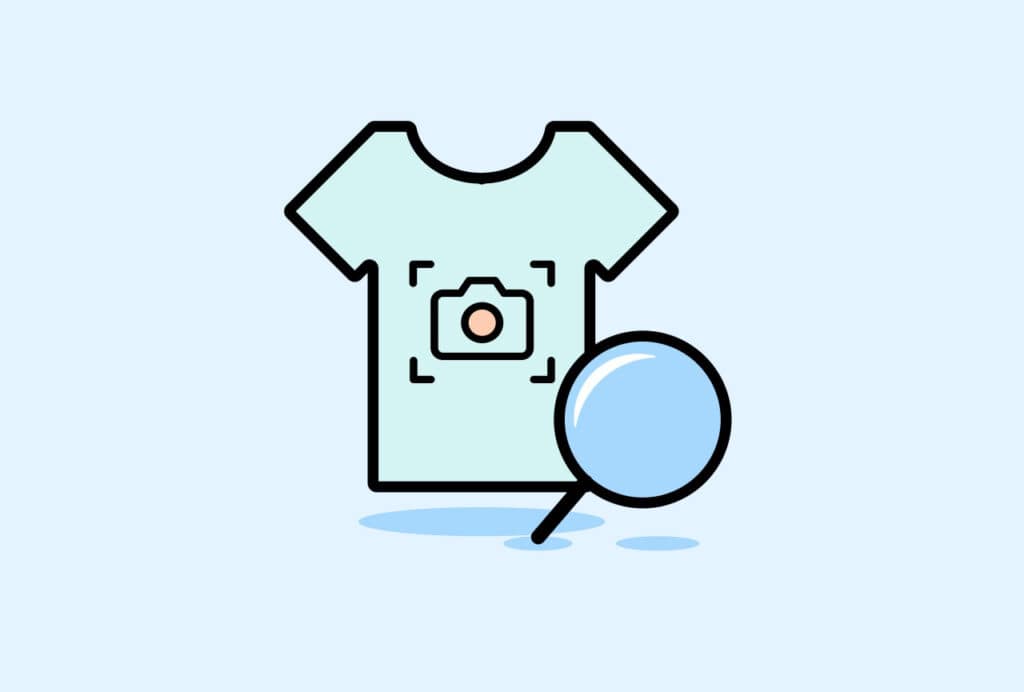 We've all heard it before – a picture is worth a thousand words.
But it's an adage that actually holds up.
As a visual species, we find it easier to process images than text.1
We can see examples of this everywhere in the real world, from road signs and iconography to logos and – you guessed it – eCommerce.
Online retailers rely on visual cues to communicate and sell, whilst eCommerce shoppers gain inspiration from imagery.
To take your site to the next level of eCommerce functionality, a visual search tool allows you to capitalise on the shift to visual.
Driving 6.4% of eCommerce revenue, visual search software is no longer a 'nice to have' – it's a must for retailers looking to maximise eCommerce revenue and improve conversion rates.2
Related: Discover the fundamentals of an efficient search: what it is, why it matters and how it benefits eCommerce sites.
How does visual search work?
Visual search enables users to search using an image instead of a text-based query.
Rather than having to describe something that you've seen, you can simply snap a quick picture or share an image from social media, upload it to a visual search engine and find similar products.
Visual search technology expands the possibilities of search by:
Simplifying the query process: Removing the guesswork of text-based searches, visual search empowers users to articulate exactly what they're looking for via images.
Improving the accuracy of search results: Analysing images using AI-powered visual search enhances the accuracy of search results compared to text-led queries.
Speeding up the customer journey: Instantly returning relevant search results helps customers find their ideal purchase faster for quicker conversions.
The evolution of visual search
Before there was visual search, there was image search.
The original photo lookup tool, image search allows users to input text-based queries to find images.
An example you've no doubt used many times is Google's current image search functionality.
In this case, searchers type in a description of the image they're looking for and Google will search any text associated with an image to find the best results.
This involves a lot of trial and error to predict the terms in an image's alt text, caption or file name, leading to increased search times and frustrated users.
To improve accuracy and reduce search times, image recognition in the form of visual search came along to advance searching capabilities.
Visual search engines use artificial intelligence to analyse an image, where they can recognise shapes, colours, and details to find similar products.
This reduces the reliance on text and naming conditions in search queries or results and removes the need to translate pictures into search words.
What is driving the visual search revolution in eCommerce?
Searching by image is reimagining the eCommerce experience but what is the driving force behind the need for this technology?
Adapting to the needs of modern shoppers: Customers are interested in new technology and on-site features that contribute to a simplified shopping experience.
The influence of social media: Increased social media usage is exposing shoppers to platforms that offer an array of visual inspiration for consumers, and they're wanting to continue this experience on-site.
A new generation of shoppers: 62% of Gen Z and Millennial consumers said they would want to have visual search capabilities on-site, and their increased spending power makes them a vital audience for most online businesses.3
With multiple opportunities for online retail to use this technology, eCommerce is perfectly positioned to capitalise on the shift to visuals.
One avenue worth exploring is getting listed in visual search results on Google Lens, Pinterest Lens, Bing Visual Search or the many mobile apps that allow for image search.
To make sure your products appear when users search by an image. Be sure to assess your images' SEO and use only high-quality, uncluttered product imagery with appropriate file names.
Or you can remove the uncertainty of being listed on other visual searches by implementing visual search functionality on your site.
Some of the leading tech companies have already invested in visual search tools, as well as eCommerce giants such as ASOS and Wayfair, and now you can too.4
Benefits of an internal visual search for eCommerce businesses
You're probably thinking this new technology is all well and good but what value will it bring to my online business?
Visual search can have a real positive impact on the things that matter to you: your conversion rate, revenue and customer loyalty.
1. Encourage customer loyalty
Customers remember anything that makes their lives easier.
And with so many online retailers in all sectors competing for customer loyalty, any tools you can integrate to make the shopping experience faster and more convenient will keep shoppers coming back to your online store.
Offering a visual search tool that simplifies the buying experience and cuts down search times will help to retain customers and put you ahead of your competition.
2. A smoother user experience
Visual search provides a smoother way for your customers to navigate through your site and product catalogue based on their own visual inspiration.
Searching by image returns hyper-personalised results, making visitors feel their user journey is fully catered to how they want to explore your website and products.
Visual search results also give customers full access to a variety of your products that are relevant to their query, creating an engaging product discovery experience that drives conversions.
3. Reduce bounce rates by improving customer engagement
When customers are engaged in a shopping experience, they're more likely to stay on your site and continue their product discovery journey.
By providing exact matches or visually similar alternatives to a shopper's query, a visual search inspires users by allowing them to browse close matches to their search query, discovering close variations they didn't know existed or realise they wanted.
Increasing product exposure, visual search will help to reduce bounce rates and guide customers to the checkout page by enhancing customer engagement with your products and site.
4. Increase sales and conversion rates
Customers using visual search know exactly what they want – they're literally showing you a picture of the item they're ready to purchase.
If you can deliver that product to them immediately, it's a surefire sale.
In the same vein, this will also encourage impulse buys. With instantly returned, genuinely relevant recommendations based on visual cues, you can convert more customers more quickly.
5. Boost AOV
By displaying visually similar images, users are exposed to similar products from all price ranges.
When confronted with viable options at all price points, it's unlikely they'll choose the cheapest option, which might have been the case had they sorted a product page from lowest to highest price.
Acting as a form of upselling, visual search will encourage users to consider items from higher price ranges, this can work to boost your AOV.
Visually Similar Search: The next generation of visual search
With many eCommerce sites now entering the visual search world, making sure you're staying one step ahead will put your site above the competition.
So while the traditional visual search is still relatively new, the next evolution of search is coming in the form of our Visually Similar Search. Built on the success of our super-fast Search, Salesfire is one of the first companies to bring this technology to the market.
Our Visually Similar uses AI and machine learning to connect users with items they're searching for instantly.
To further tailor the search query, shoppers can crop an image to select a certain shape, colour or pattern to discover products recommended just for them.
By facilitating product discovery, using visually similar search can create an inspiring shopping experience that seamlessly guides users through your product catalogue, straight to their next purchase.
Examples to consider: Stuarts London saw an 8.19% increase in conversions through Salesfire Visually Similar Search.
Learn more about the future of visual search.
So, what now?
Visual search technology is only set to improve and become an even more prominent aspect of eCommerce.
You can set your eCommerce site apart from your competitors by being among the first sites to implement advanced visual search functionality.
By increasing search accuracy, you can guide customers through your sales funnel faster, enabling you to enhance customer engagement and secure that all-important conversion.
To discover more about Visual Search, we hosted a whole webinar delving into the inner workings of visual search. Watch it on-demand below.
If you're ready to optimise your search, book a demo and our team will be more than happy to discuss our search tools with you and run through a one-to-one demonstration.
1 Humans Process Visual Data Better- Thermopylae
2 Visual Search- Images and Seo – The Pineapple Agency
3 Visual search in 2020: Where it stands and where it's headed – Retail customer experience