The Next Step in Website Personalisation
By Kelly Aitkin • Last updated: Wednesday Feb 1st, 2023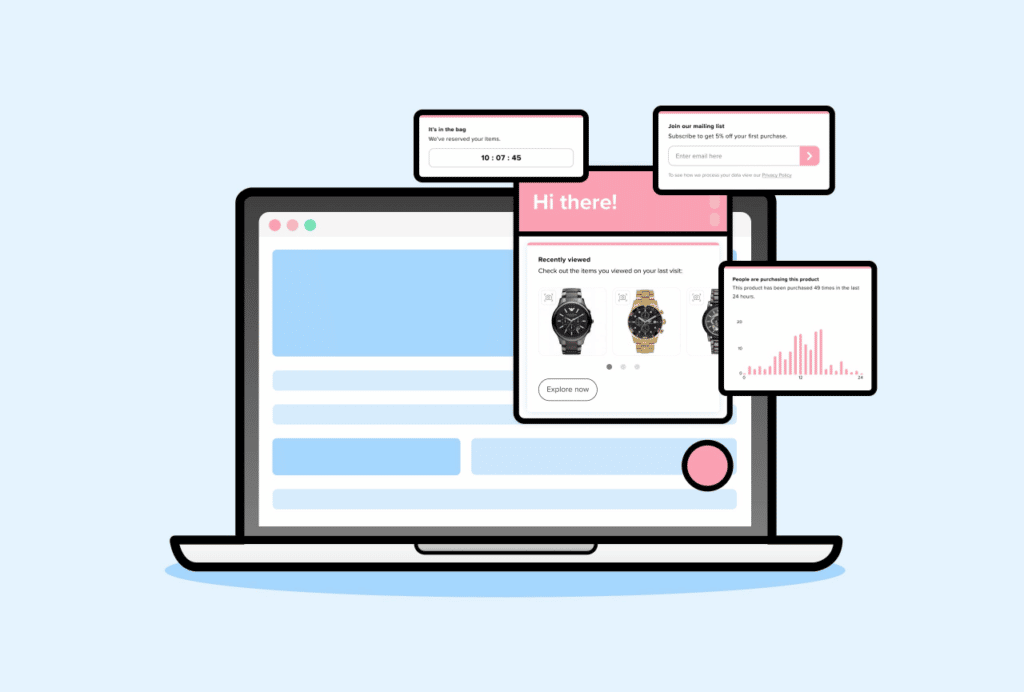 Personalisation is leading the way in the world of eCommerce.
What shoppers mean by 'personalisation' has evolved over the years. From all-encompassing strategies like omnichannel marketing to innovations such as visual search, personalisation has been an intrinsic part of the online shopping experience for some time now.
With 80% of customers more likely to purchase from a brand that provides personalised experiences, you can't afford to not pay attention to this side of your website.
Particularly when the time has come for personalisation to go even further; customers are expecting more from eCommerce stores.
This is where innovative personalisation tools come in.
The evolution of website personalisation
Personalisation has always been an integral part of the shopping process.
The traditional in-store experience allowed shopping assistants to help customers find exactly what they were looking for as well as giving the store the chance to upsell and cross-sell and ultimately personalise the shopping journey to that specific shopper.
As customers turned their attention to the online sphere though, so did marketers and the need to offer personalised experiences to each individual became apparent.
First came email marketing, adding a personalised name field to an email was a powerful way to increase open rates.
Then machine learning empowered eCommerce stores to utilise data to present shoppers with relevant recommendations.
eCommerce giants that began to offer these experiences set the standard for customers, and brands that ignored the importance of personalisation were set to suffer.
A study by Adobe found that 66% of consumers won't purchase from a site that doesn't speak to them directly, with 42% admitting that a lack of personalisation from brands actively annoys them.
So, what are shoppers expecting from eCommerce personalisation now? How can retailers go that step further?
The next generation of personalisation
With a variety of eCommerce and conversion optimisation tools available retailers are able to push their websites to the next level.
This provides shoppers with the experiences they want to improve everything from product discovery to brand loyalty and of course conversions.
The personalisation strategy that you implement needs to offer more and ensure it covers the following areas for shoppers.
Every step of the way
From first landing on your website to completing checkout and beyond, customers expect personalisation at every touchpoint.
Shoppers may have seen an item they liked or an offer they wanted to use, but have continued through their site journey and lost these incentives and their ideal purchase.
Having to search for your delivery information or a previously seen incentive could be the difference between a conversion or a customer abandoning your site.
Research shows the collective global attention span is shortening, this means your personalisation strategy should be working harder to be there to support the customer exactly when they need it.
Your website can offer 24/7 support with an on-site assistant such as Salesfire's Digital Assistant that displays and stores conversion rate optimisation (CRO) campaigns such as newsletter collection, countdown timers and free delivery incentives for a customer to visit at any time.
This works to maximise sales and personalise the on-site experience by storing campaigns that are genuinely relevant to a customer.
Offer unobtrusive support
Your shoppers may want personalisation, but that doesn't mean they want a website full of distractions that take away from the overall user experience on your site.
38% of online shoppers will leave a website if they find the design to be unattractive.
Consider the overall journey a user may take through your site. Your CRO tools should be subtle, appearing at the exact touchpoints they're needed and fitting seamlessly in with the branding of your marketing channels and website to create an omnichannel experience.
Be sure your campaigns display for just the right amount of time, working to capture attention but not interrupt the customer journey and cause the visitor to abandon your site.
In the new age of personalisation, you can reimagine the way you display your CRO campaigns, from Overlays to Recommendations, ensuring they display in the best possible place on your website to support your customers without interruption.
Learn more about why you need an omnichannel marketing strategy for your eCommerce business here.
Taking it one step further
With all the data insights and information available to retailers now, it is a natural progression for customers to expect hyper-personalisation.
Hyper-personalisation goes beyond name and search history and instead ingrains real-time data such as device usage, browsing behaviour, purchase history and engagement to inform the personalisation strategy and offer the customer targeted products, resulting in more sales for your site.
83% of consumers are willing to share their data to create a more personalised experience.
Using data in your CRO strategy doesn't have to be difficult, technology means it can be as simple as integrating a single line of code on your website which will begin using machine learning to offer your customers personalised Recommendations that help your website to upsell and cross-sell.
If your customers are agreeing to your cookie policies you should be using this information to offer them data-driven experiences that will work to make their experience simpler and benefit your business too.
Enhance product discovery
No two customers will take the same journey on your website.
Every shopper has different needs, so how do you personalise for thousands of site visitors?
Customers who know what they're looking for will head straight to your on-site search, this provides the perfect opportunity to personalise product discovery on your site.
Some searches, such as Salesfire's Site Search, allow you to weight the search algorithm to boost relevant products to the top of your results, guiding attention to the products you want to promote.
Shoppers can also search your website with their own inspiration. A visual search tool allows your customers to instantly communicate the exact product they're after with their own imagery.
Gone are the days of matching a search query to an item when you can improve product discovery to match exactly what a customer has in mind.
Simplifying the shopping experience to connect a shopper to the right product at the right time is the key to driving interest and ultimately a purchase.
Read more on how you can drive sales with a personalised product discovery experience.
Keep them coming back
Whilst attracting new customers to your site is always going to be your main focus, bringing them back and building customer loyalty is just as important.
With it costing five times more to obtain new customers, it quite literally pays to focus on getting customers to return to your site.
The sum of all of your efforts, from user experience to product discovery, is what makes your site worth revisiting time and time again for a shopper.
Digital Assistant allows your website to stand out from your competitors, making the shopping experience easier and triggering campaigns based on a shoppers' place in the buyers funnel.
They will remember the ease of their experience, ultimately the more you personalise your site to the individual based on their data the more they will keep coming back.
Conclusion
We're now in the new age of hyper-personalisation.
Customers are expecting your site to take their experience even further than they're used to, to simplify their journey and make finding their ideal purchase even easier.
Your sales are only going to improve along with the next step of eCommerce and by staying ahead you won't miss out.