Salesfire Updates: Take control of the customer journey with new Search features
By Kelly Aitkin • Last updated: Tuesday Oct 17th, 2023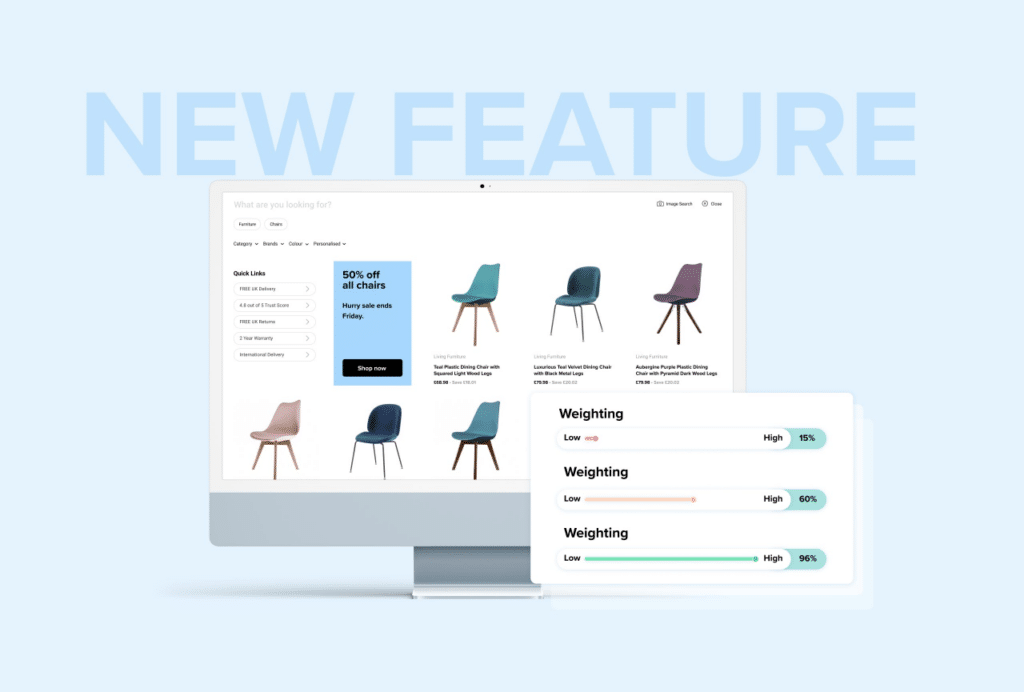 The latest Salesfire Search updates are here.
Taking control of the customer journey and enhancing the product discovery experience has never been easier.
Our developers have been hard at work on the latest Search updates throughout February and now they're live in your dashboard ready to implement and start driving conversions straight away.
Guiding shoppers through the on-site journey and maximising opportunities for product discovery not only reduces bounce rates but also drives conversions and elevates the customer experience.
With every update, we aim to help you generate more sales and optimise your site even further for your customers.
The choice is yours with Keyword Boost
Want to boost specific products to the top of your search results?
Perhaps you're pushing seasonal items during the holiday period or you're wanting to showcase your own brand products directly to customers?
Our newest feature update, Keyword Boost, now enables you to control which products appear first in your search results.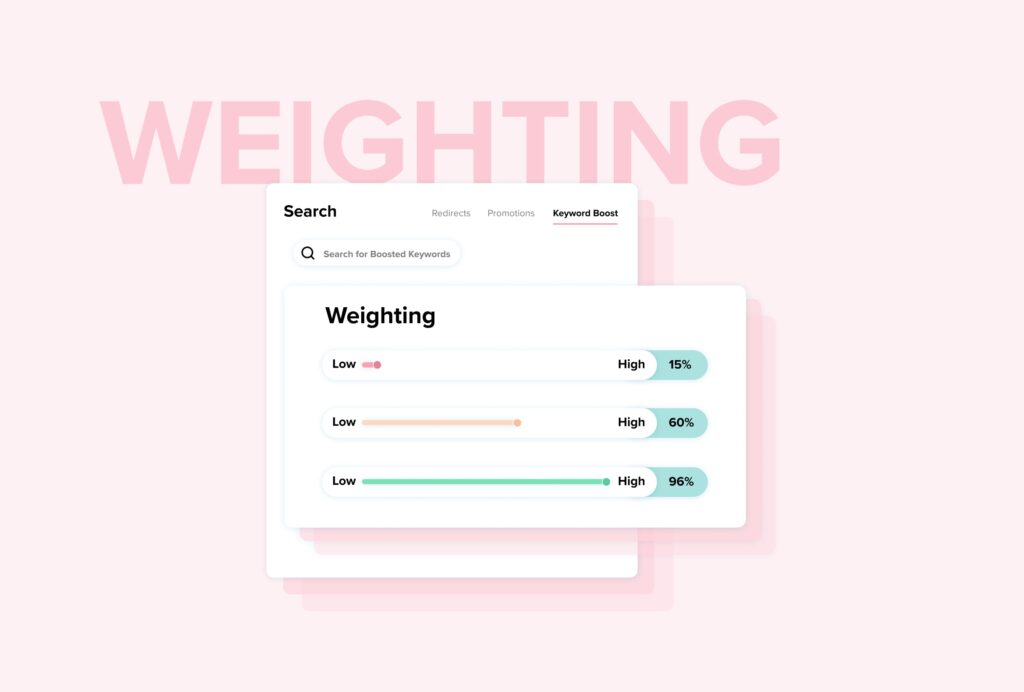 Control the customer journey
Previously, the search algorithm would select the first loading results purely based on the most popular products.
But now you can control the first items users see.
Boost products into the initial selection of bestsellers that display when a shopper first clicks into search or boost items to appear at the top of search results when your selected keywords match a customer's query.
The ability to choose the weighting of your keywords on a scale of 0-100% gives you the power to decide which items you would like to appear first and in what order.
Influencing the products that first appear when a customer performs a search works well to drive them towards a specific range or your own brand.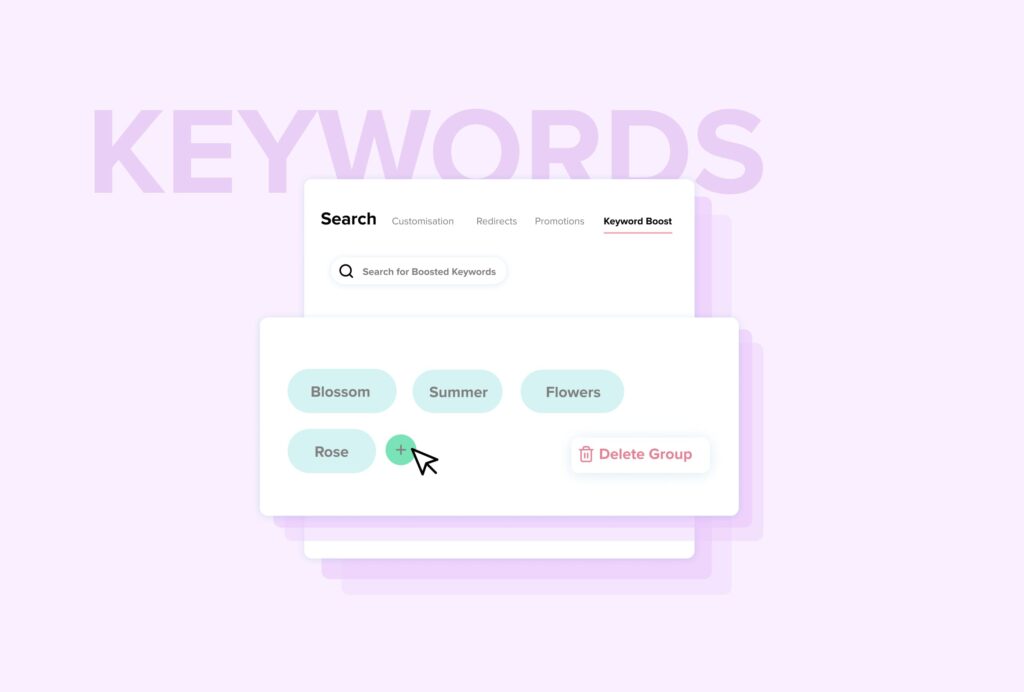 Develop your search strategy
You can now take full control of the customer journey and set up multiple groups of keywords that share the same weighting to optimise your search strategy.
Want to launch a campaign around a specific holiday but there are a variety of queries your customer can search for?
Add numerous keywords per group and set one specific weighting to push these to the top of your search results as part of your strategy around a wider campaign.
Results will then appear when a customer's search meets the keywords you have boosted, working to ensure the accuracy of your search results aren't interrupted.
Add multiple keywords in Search Promotions
Our latest Search Promotions update continues to expand on the way you can control the customer journey through Search.
Want a Search Promotion to appear for multiple keywords and phrases? There's no need to duplicate your promotions per phrase anymore with our latest feature update, making product discovery simpler than ever.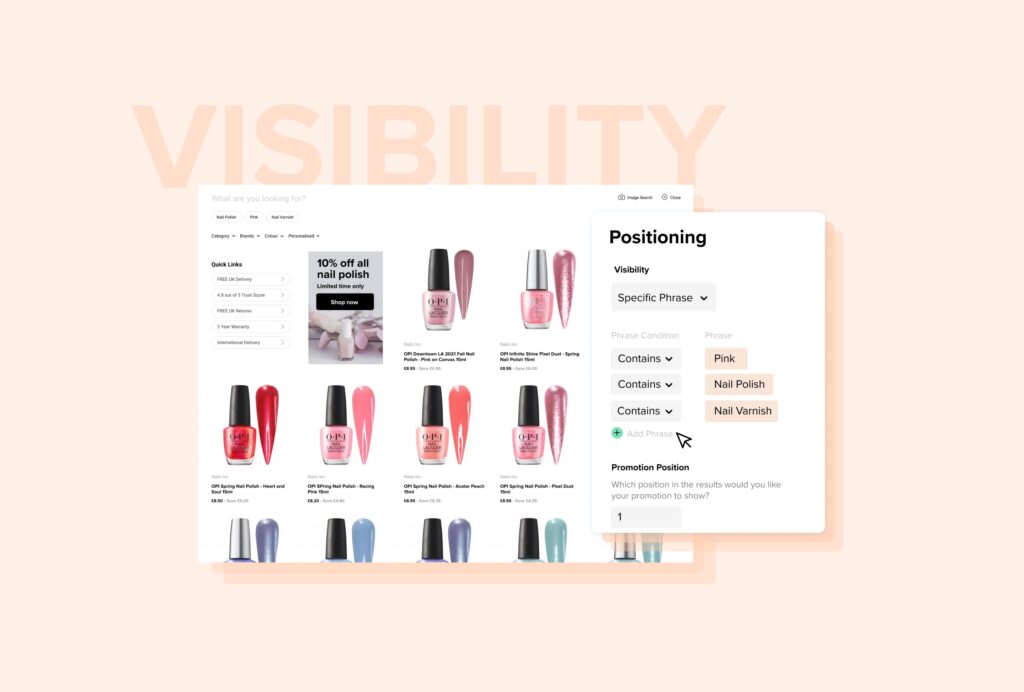 Expand your search campaigns
With the ability to add multiple keywords to each unit, you can now tie up to 20 key phrases to one Search Promotion, streamlining the ability to incorporate Search into the implementation of the CRO campaigns you are running on your site.
Your promotions can now show customers the offers, products and messages you want them to focus on for multiple key phrases.
Simply head to 'Positioning' and 'Add phrase' under the Search Promotions tab to input your key phrases. The possibilities are endless.
You can access your new Search features through your dashboard now.
See how Salesfire can help you optimise your product discovery experience, email one of our experts at [email protected] or book a free demo of our personalisation tools.