How to Drive More Conversions Without Relying on Discounting
By Chester Ollivier • Last updated: Monday Aug 21st, 2023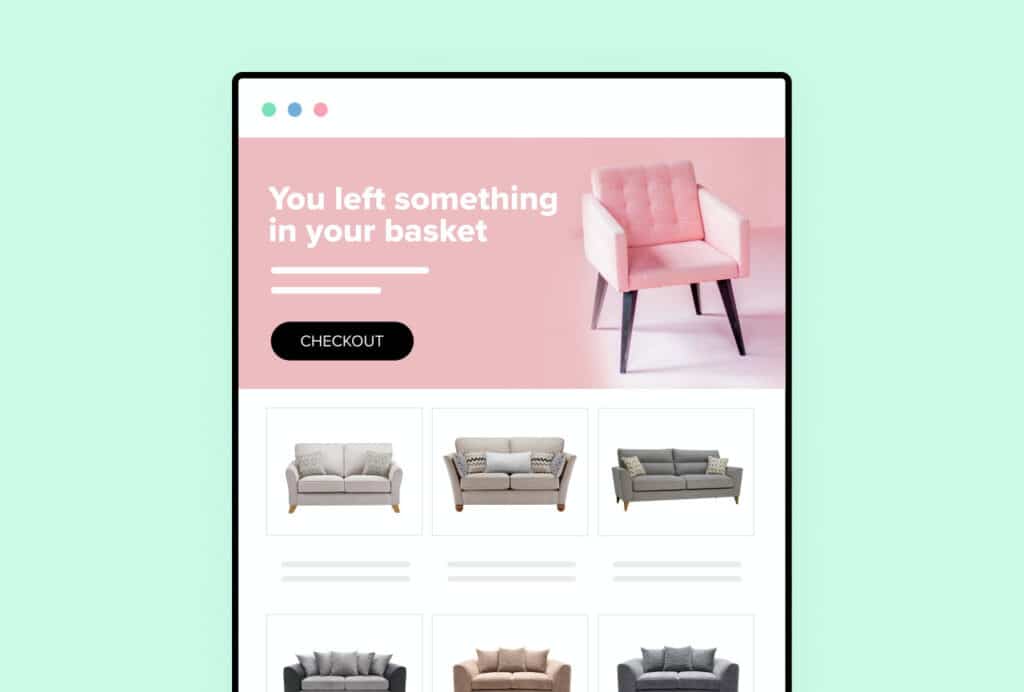 Offering discounts is a great way to encourage customers to purchase from your site – everybody loves a bargain after all.
However, there are other ways in which you can attract customers and push them through the final stage of the sales funnel to complete their purchases without having to discount items.
Discussed below are 5 alternative techniques you can use to drive conversions and increase AOV and revenue.
5 strategies to drive conversions that don't rely on discounting alone
1. Encouraging customers to return to site
Rather than discounting products to attract customers who have abandoned their baskets or left your site, you can attract them back via email retargeting.
The content of an email is important – customers are buying your product, not any memes or gifs or graphics that you may put in your email to make it attractive. The product has to be front and centre of every email in a retargeting campaign.
On average, email marketing generates an average ROI of 38:1, which demonstrates how important it is to ensure that you offer successful email retargeting to customers in order to help them complete purchases.
An advantage of email retargeting is that you can promote your USPs and values within the emails, thus encouraging customers to buy from you over your competitors.
2. Instilling urgency
Offering Prompts on your site can act as a little nudge to customers who are slightly unsure of a product or service that you offer.
In particular, view prompts can instil urgency – which is essential in order to drive conversions – and does not require a discount to be offered.
For instance, a customer can be encouraged to buy a product if they know '25 people have purchased this item in the last hour!'.
This creates a sense of FOMO and encourages the customer to buy the product rather than hesitate any longer, in case they miss out on it.
3. Offering free delivery
Offering free delivery is just about essential on any eCommerce site to overcome a rival who does not offer free delivery.
It is so important, in fact, that 90% of people who shop online say free delivery is their main incentive for doing so.
But offering free delivery does not mean you are losing out on money via shipping costs, as you can choose a free delivery threshold.
You can use a Prompt or an Overlay to let the customer know that in order for them to qualify for free delivery, they have to spend over £100, for example.
Not only does this encourage the customer to fill their basket in order to qualify for free delivery, but it also increases the AOV across your site.
4. Promoting your reviews
How often do you check the reviews before buying a product?
Reviews are a great way to increase your social proofing and give customers a chance to express their opinions about your site to other users.
If you openly display your reviews, you are much more likely to boost customer loyalty and increase sales, with research suggesting that displaying just five reviews of a product can boost conversions by 270%.
This means that they are a key asset to promote throughout the customer journey, and another alternative to discount codes that can attract customers to purchase.
5. Emphasising the search bar
One of the most overlooked aspects of converting customers without discount codes is to ensure they can find their ideal purchase in the first place.
Ensuring that you have a well-positioned and well-designed search box is hugely important for driving conversions on your site.
For instance, 43% of users on retail sites already go directly to the search bar when they have a query or an item in mind that they want to purchase.
Therefore, positioning your search bar in the right area of your site saves customers the job of looking for where it is, which will likely leave them frustrated and ultimately they will leave your site.
Putting animated text in the search box, such as 'What are you looking for?' will prompt customers to search, as visuals – including animations – are processed 60,000 times faster than text by the human brain.
And once customers have clicked on your search bar and entered their query, they are already halfway through the conversion process, before the items have even been displayed.
Conclusions
Discounts are undoubtedly a great way to attract customers to your site, but it is important to remember that there are many more alternatives that do not rely on you slashing the prices of your products for the chance of making a sale.
See how Salesfire can help you optimise your product discovery experience, email one of our experts at [email protected] or book a free demo of our personalisation tools.