What are Gen Z's Biggest eCommerce Personalisation Needs?
By Kelly Aitkin • Last updated: Monday Jul 3rd, 2023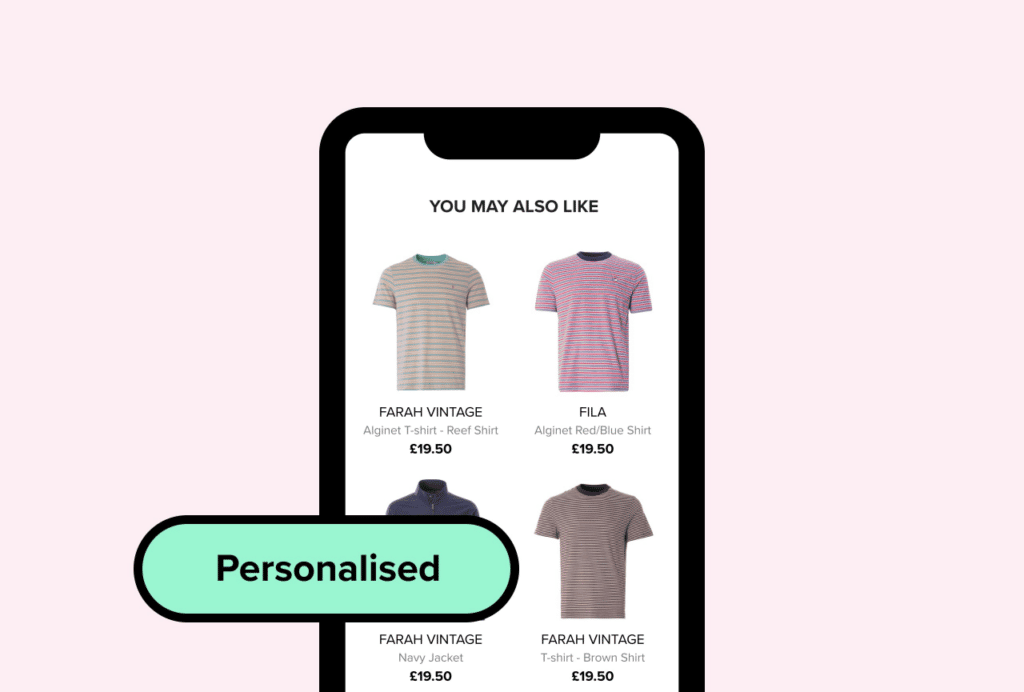 As a rapidly changing industry, eCommerce businesses are constantly on the lookout for the major needs of their customers.
At the forefront of these rapid changes is Generation Z, the digital natives born between 1997-2012 with increasing spending power and decreasing brand loyalty.
With over 40% of Gen Zers currently purchasing more than half of their clothing and electronic items online, this generation is breaking away from the traditional brick-and-mortar shopping experiences and is helping to shape modern shopping habits.1
eCommerce is more important than ever, and retailers must look for new ways to optimise their offering to appeal to a digitally native generation.
Personalisation is driving the on-site experience
One of the ways retailers can accomplish next level optimisation for Gen Z shoppers is by harnessing the power of eCommerce personalisation.
Personalisation works to build loyalty amongst shoppers, encourage conversions and influence purchasing decisions, with research finding that 80% of consumers are more likely to make a purchase when brands offer personalised experiences.2
Personalisation is no longer just nice to have, but it now plays an essential part in successful eCommerce strategies.
Let's take a look at some of the ways you can personalise your eCommerce business for Gen Z shoppers.
Pro tip: Learn how to optimise your eCommerce site for Gen Z in our on-demand webinar.
How to market your site to Gen Z
Personalise with Overlays
The good news is that you can utilise real-time behavioural data to display targeted Overlays, and personalise the buying journey.
Gen Z consumers are traditionally speedier buyers, looking for faster online shopping experiences. This means it's essential to ensure useful information is readily available, optimise each touchpoint for increased conversions and capture their attention in an instant with personalised messaging.
This type of targeted messaging effortlessly speeds up conversions and streamlines the eCommerce experience.
You can also leverage your incentives using personalised Overlays and take action to re-engage users at exactly the right time.
Some Overlay campaigns you can use in your eCommerce strategy include:
Increase order values: 54% of Gen Z customers abandon their shopping carts due to high shipping costs and 38% abandon when free shipping is not offered.3 This campaign makes your customers aware of how much more they need to spend in order to qualify for your free shipping incentive and encourages them to meet the threshold.
Promotions: You can direct shoppers to key content and information, such as your bestsellers or blog posts, to help users discover more of your content.
Mailing List Sign-Up: Whilst you have your shopper on-site and engaged in their browsing journey, take the steps to capture their email address with an Overlay, helping to build up a high-quality email list and opening the opportunity to interact with customers at a later date.
Overlays deliver timely incentives and relevant information to appeal to shoppers with the right messaging and secure the conversion.
Veering to visual
Generation Z responds better to visual stimuli.
This is evident through this age group's use of social media platforms, with 49% of Gen Z looking for inspiration on social and favouring Snapchat and Tik Tok over other non-visual apps.4
And this new social media usage coincides with a new way of discovering products for many modern consumers, with studies showing that 61% of TikTokers tend to purchase products advertised by brands on TikTok.5
Consequently, influencer marketing and social media advertising are continuing to grow and are allowing brands to expand their reach to engaged audiences.
In response to this social-first generation, online retailers are now looking at the ways they can capitalise on this new form of product discovery.
That's where Visually Similar Search comes in.
By offering a visual search tool on your website, you can effortlessly upgrade your search functionality and empower consumers to find exactly what they're looking for.
Enabling users to upload screenshots from social media or search using a photo they've taken on their mobile device allows them to seamlessly navigate through your product catalogue based on their own inspiration.
The benefits that visual search tools provide include:
Delivering hyper-personalised results: Provide a tailored experience and deliver personalised results that will meet the needs of your shopper.
Engaging customers in the on-site journey: Shoppers look forward to using the latest functionalities that will make for effortless browsing and on-site navigation.
Removing the guesswork: Traditional eCommerce search leaves a lot of room for inefficiencies to occur. Allowing users to search using an image rather than trying to find the exact search terms helps to quickly connect them to the product they're looking for.
Inspiring purchases: With the help of visual search, you can encourage shoppers to explore your product catalogue to find their ideal products, and seamlessly accelerate sales.
Visual search can catapult the efficiency of your on-site search functionality and make for effortless browsing experiences that will speed up conversions.
Suggested reading: It's clear to see the role that social media plays for Gen Z shoppers, so don't forget to create a robust social strategy that includes social commerce to allow your Gen Z shoppers to purchase products or services on platforms such as Instagram or TikTok.Read our article to learn why you should upgrade your eCommerce social media strategy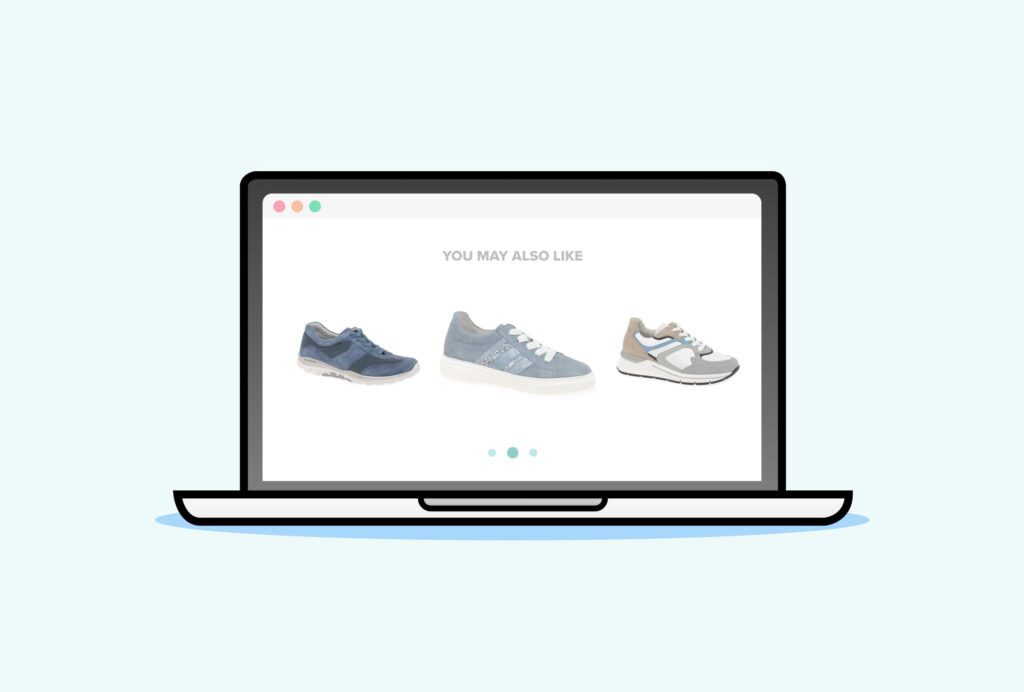 Anticipating your shoppers' needs
From the moment that a shopper lands on your site, their browsing journey is unique to them.
One of the ways you can make use of the data collected from individual users to personalise their experience is by integrating AI-driven Recommendations.
Basing product recommendations on an individual's browsing history helps to present highly relevant products to the customer at multiple touchpoints.
Studies show that 75% of customers are more likely to buy based on personalised recommendations.6
With brand loyalty traditionally harder to come by in a competitive eCommerce market, brands have to work harder to prevent shoppers from leaving their site. With this in mind, recommendations can help you capture the attention of users and engage them by showcasing products you know they will love.
Displaying personalised, genuinely relevant content on-site reassures customers that your brand can anticipate their needs and builds a sense of loyalty, which will keep them coming back to your site time and time again.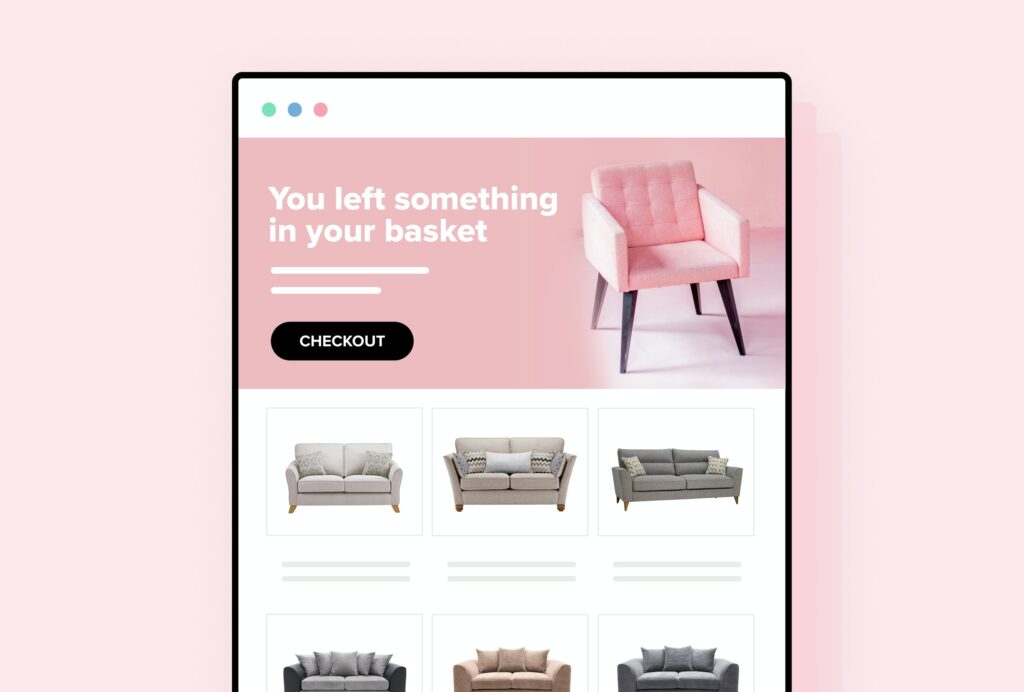 Personalise your email marketing
Another way to personalise an eCommerce experience is to build up the customer relationship over time through email marketing, as 49% of consumers saying that they would like to receive promotional emails from their favourite brands on a weekly basis.7
These regular touchpoints through email marketing allow retailers to build up a stronger relationship with their customers, and personalisation within email content can take this one step further.
You can create engaging, personalised email marketing campaigns by:
Addressing your user by name: Emails with personalised subject lines generate 50% higher open rates.8 Including a user's name in subject lines or email content will help capture their attention and allow them to feel like your brand knows them.
Send personalised recommendations: Based on their browsing behaviour, send personalised recommendations directly to their inbox, taking the opportunity to upsell and inspire their next purchase
Remind them of the products they love: Send them a reminder if a product they loved is back in stock or remind them to return back to your site and complete their purchase.
Personalisation can be used offline in the form of your email marketing campaigns to allow brands to directly appeal to the needs of individual consumers. You can reap the benefits of higher click rates, more engaged consumers and enhanced sales with personalised email content that's aligned with user behaviour and purchasing history. 
Meeting the needs of your Gen Z shoppers
Gen Z is shaping the future of online shopping, which means retailers need to look at how they can deliver the eCommerce experiences that will win over their loyalty.
Through personalised campaigns, targeted messaging and the latest AI solutions, you can enhance on-site efficiency and secure conversions from tech-savvy Gen Z shoppers.
1 Generation Z to Switch The Majority Of Purchases | Accenture
2 Personalised Experiences | Epsilon
3 3 tips for pleasing the demanding Gen Z online shopper | Digital Commerce
4 Gen Z holds the key to the eCommerce future | Wunderman Thompson
5 How TikTok is changing Gen Z shopping habits | MG Empower
6 The importance of Cross Selling and eCommerce Product Recommendations | Statistics and Trends
7 10 Email Marketing Statistic | Oberlo
8 10 Email Marketing Statistic | Oberlo
See how Salesfire can help you optimise your product discovery experience, email one of our experts at [email protected] or book a free demo of our personalisation tools.