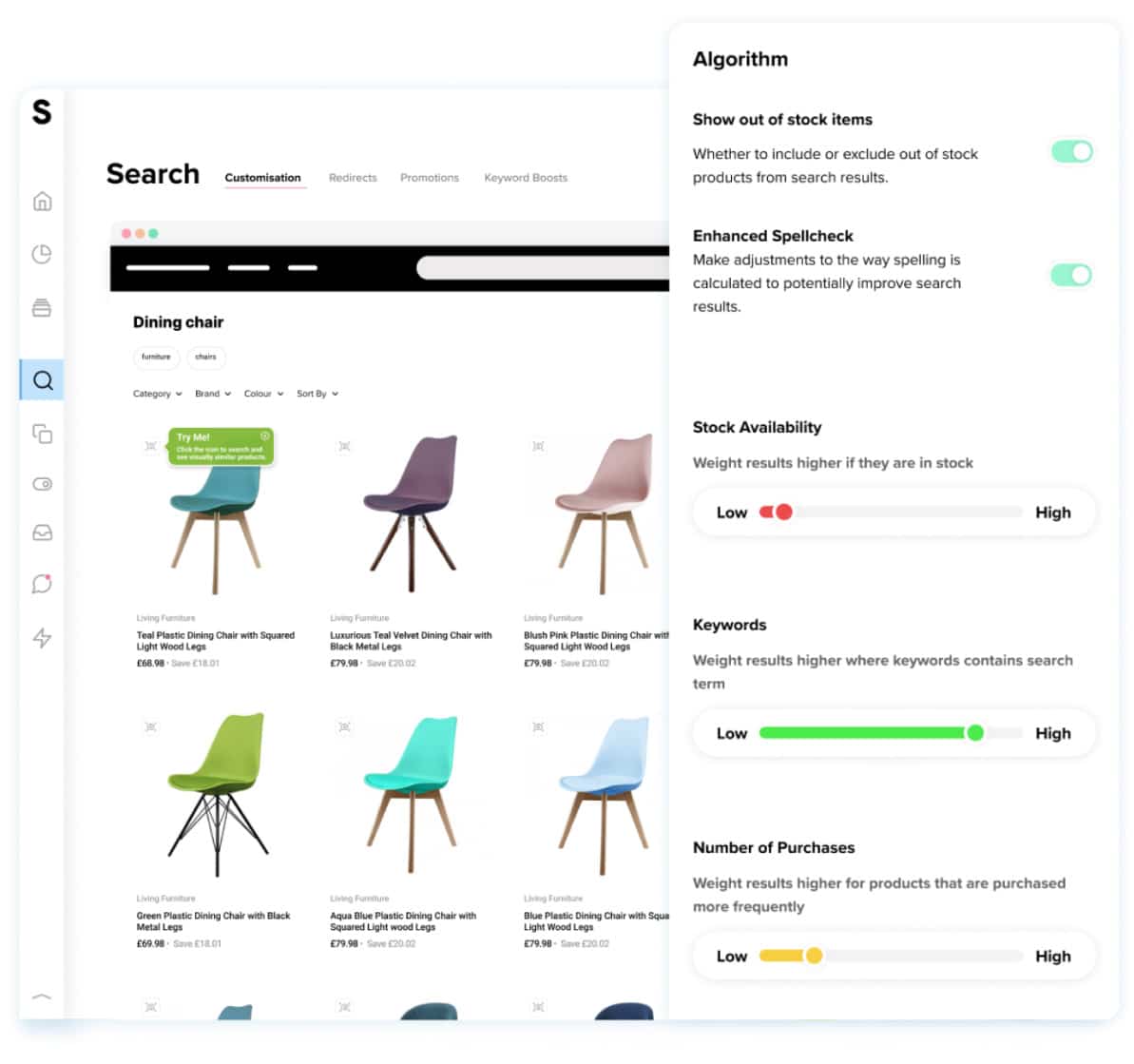 Easy setup, complete control
Salesfire's intelligent algorithms make it easy for you to control the product discovery journey. Weight your search results based on factors such as price and popularity or boost keywords to showcase particular products first in your search results.
Through years of research, Search has been designed to replicate the experience of an in-store sales assistant, online. Connect new and existing customers to relevant product results in an instant to maximise on-site engagement and improve conversion rates.
2.5x
Visitors are 2.5x more likely to convert into customers if they have used a search bar.
+21.9%
Average order values are 21.9% higher when users interact with Salesfire's Search.
12%
12% of users will bounce to a competitor's site after an unsatisfactory search.
A product discovery experience that engages
Connecting customers with the products they're looking for is just the beginning.
Increase engagement with animated search bar text, inspire with query suggestions and promote key campaigns with Search Promotions to enrich the purchase process.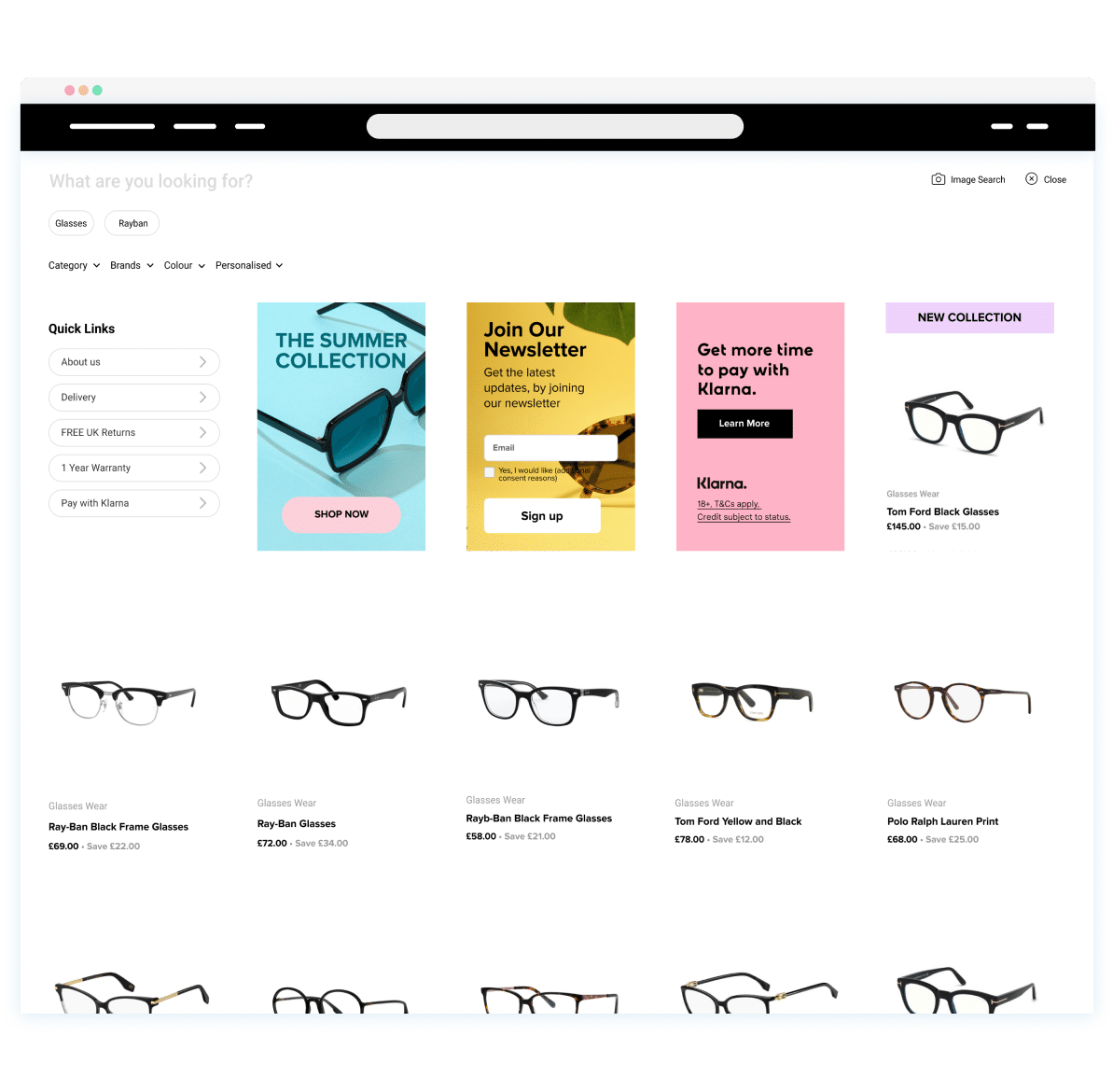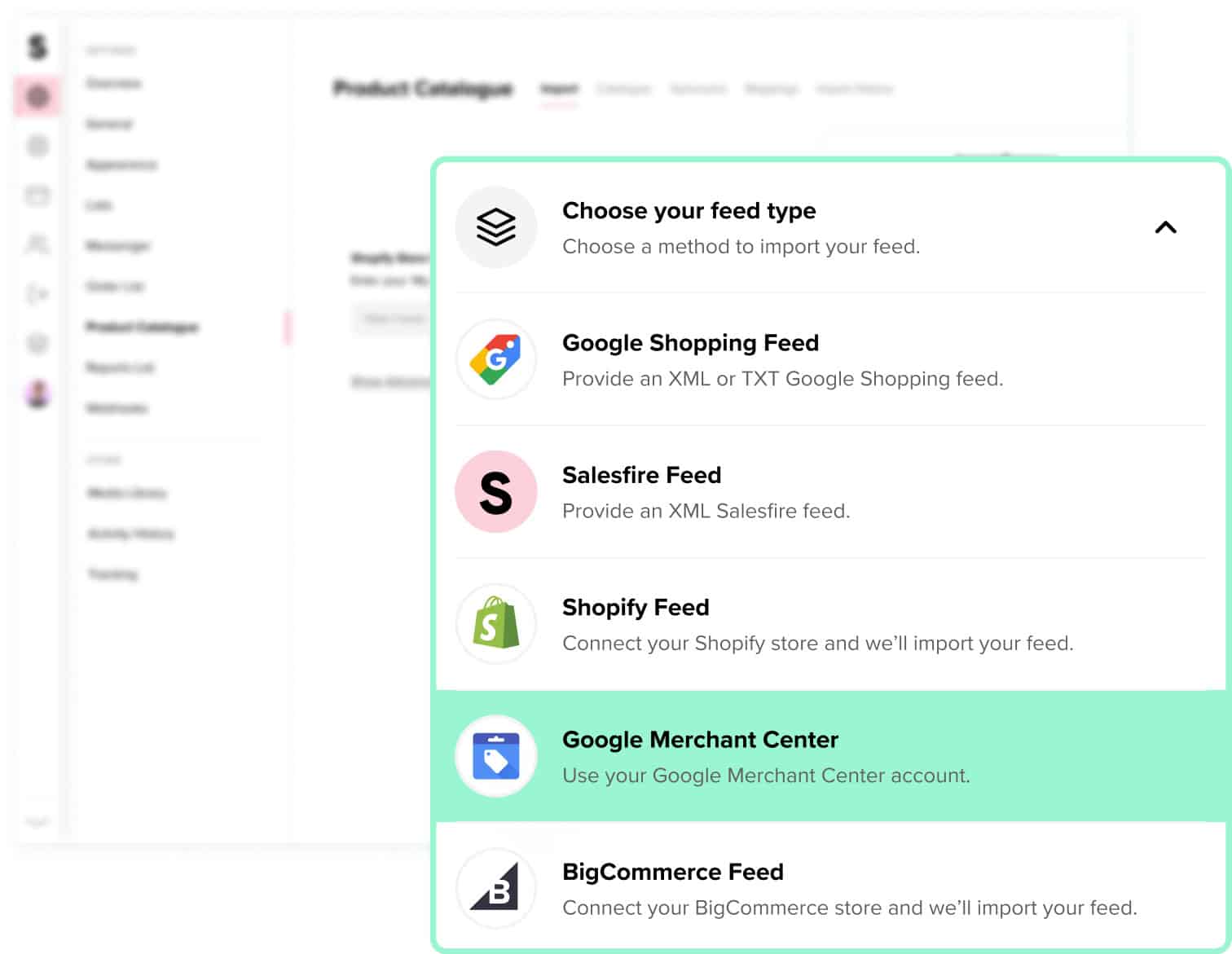 Results without complication
Your site search doesn't have to require a full-time team of developers. That's why we created a plug-and-play Search that eCommerce teams can use with ease.
You've only just touched the surface
Connect new and existing customers to relevant product results in an instant to maximise on-site engagement and improve conversion rate.
AI technology
Underpinned by AI technology, Search offers visitors more choice, personalised suggestions and immediate results - straight out of the box.
Ticker Text
Shoppers who interact with a search bar are more likely to convert. Attract their attention using animated text.
Redirects
Prevent a search query with no results from displaying an empty page by setting up redirects to a category, product or landing page of your choice.
Auto query suggestions
Inspire searches with suggested terms based on a customer's current query to quickly connect shoppers to their perfect product.
Keyword boost
Control which products are shown first in search results by applying boosts when selected keywords match a customer's query.
Voice Search
With 2 in 5 adults performing a voice search at least once a day, you can harness the popularity of this AI-driven technology through Search to boost site revenue.
Moss came to Salesfire to maximise their on-site engagement and improve conversions with our AI-powered Search.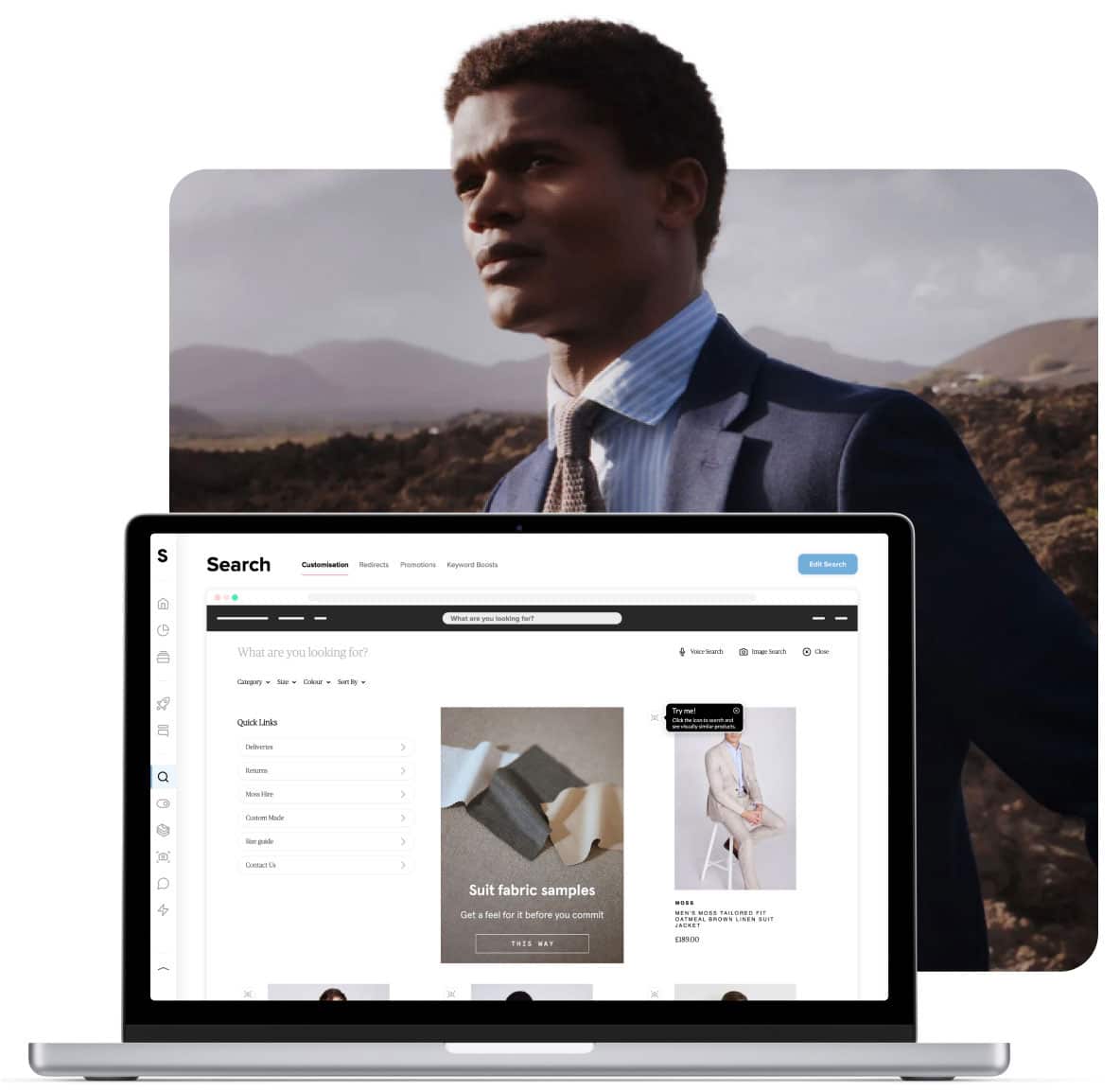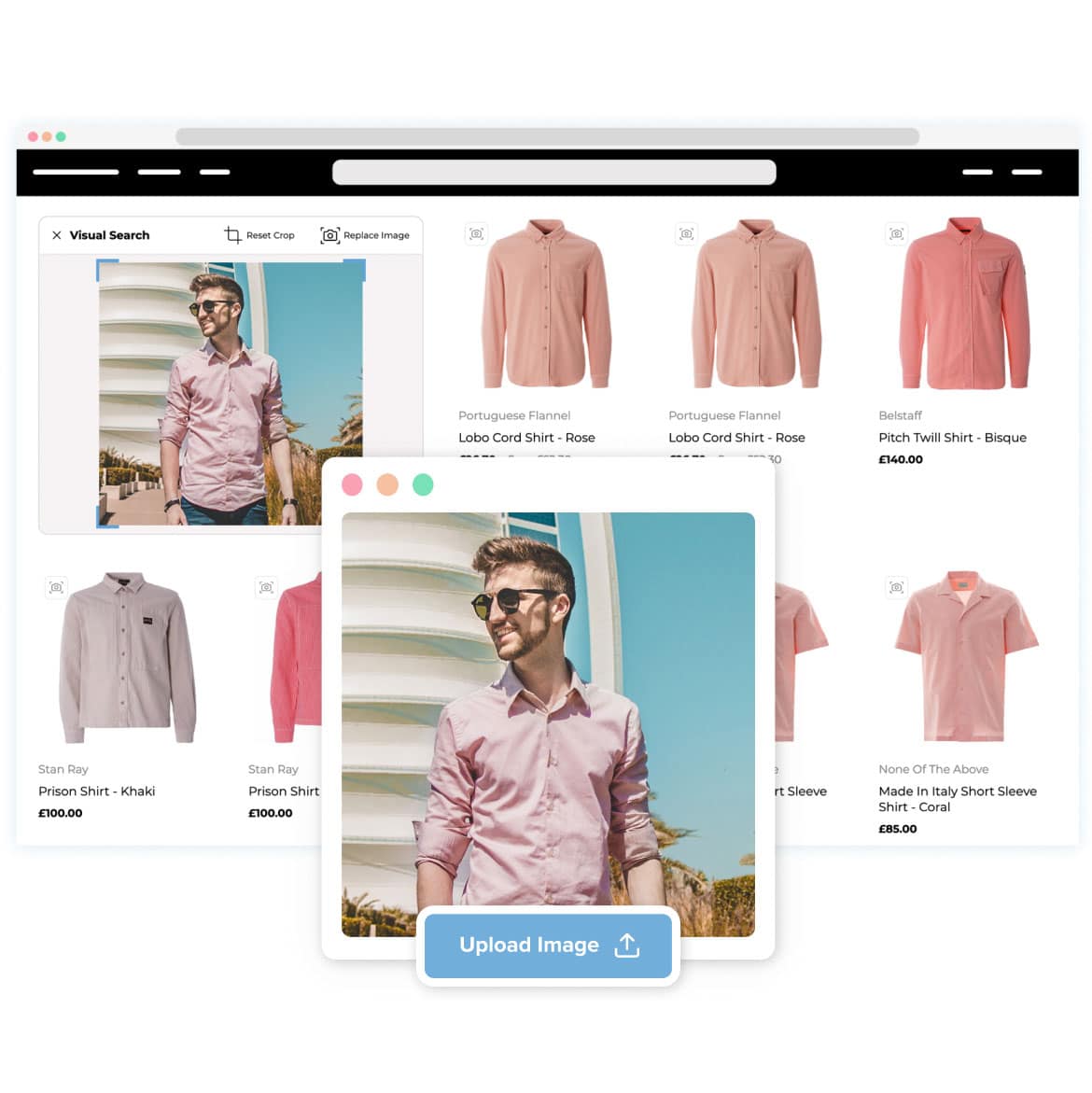 Take a look at the bigger picture
Provide browsers with an additional way of searching with Visually Similar Search. Complement text-based searches by allowing customers to upload their own shopping inspiration straight from their camera roll.
Book a demo of Search now
One of our eCommerce experts will show you around Search and discuss how you can enhance your online customer experience.
Boost sales and increase revenue with tools from Salesfire. Turn website traffic into loyal customers.
By submitting the form you agree to be contacted to arrange a demo and receive marketing communications from Salesfire. You can unsubscribe at any time. See our Privacy Policy for full details.
By submitting the form you agree to be contacted to arrange a demo and receive marketing communications from Salesfire. You can unsubscribe at any time. See our Privacy Policy for full details.
Live on your site in minutes
Integrate Salesfire solutions directly into your site with as little as one line of code. We'll collaborate closely and work alongside you every step of the way to ensure you're getting the very best of the Salesfire, whatever your platform.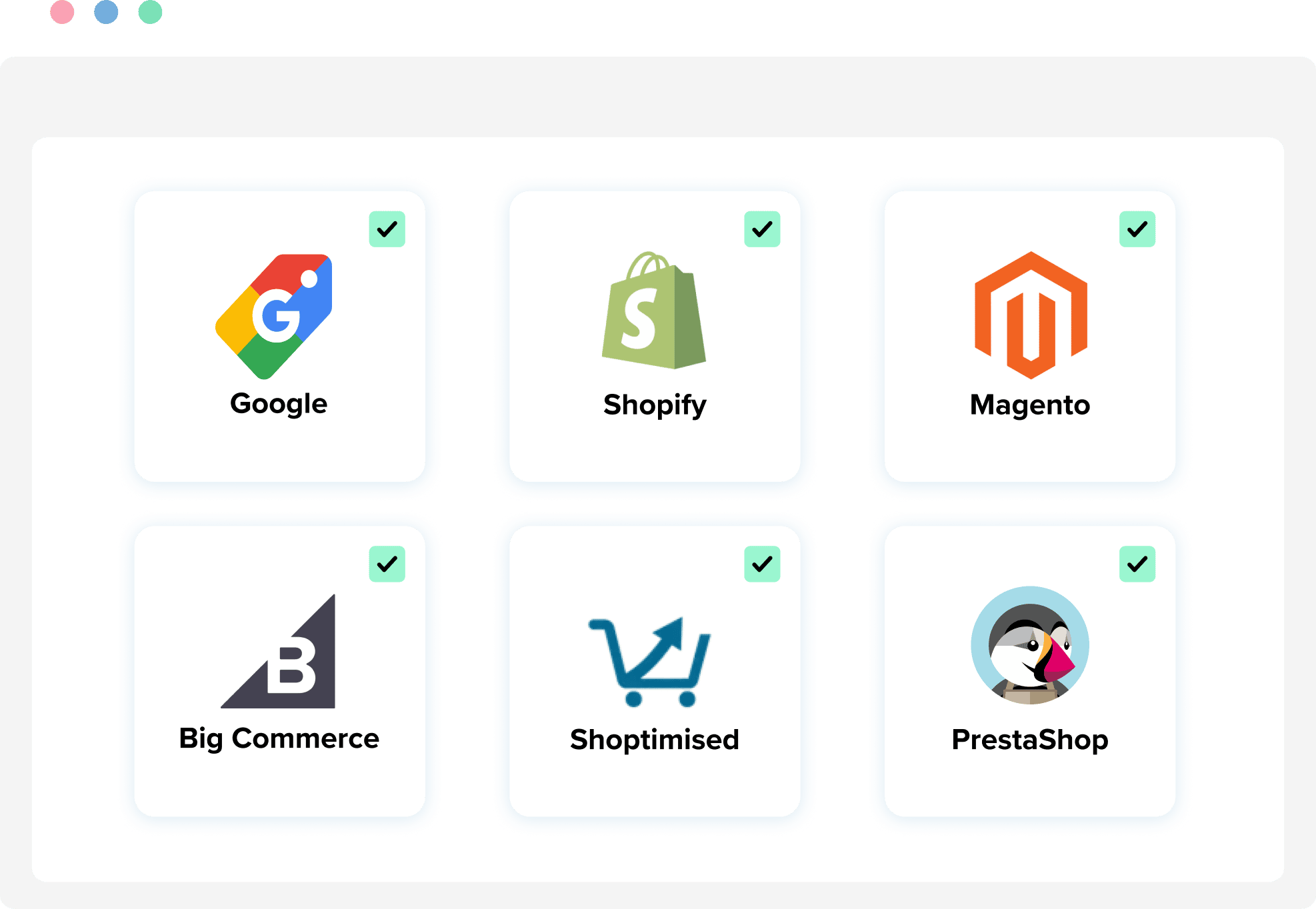 Salesfire targets areas of the customer journey that have the greatest influence on revenue and behaviour to empower your visitors and accelerate your conversions.