How Visual Search is Transforming the Home & Furniture Industry
By Chester Ollivier • Last updated: Monday May 15th, 2023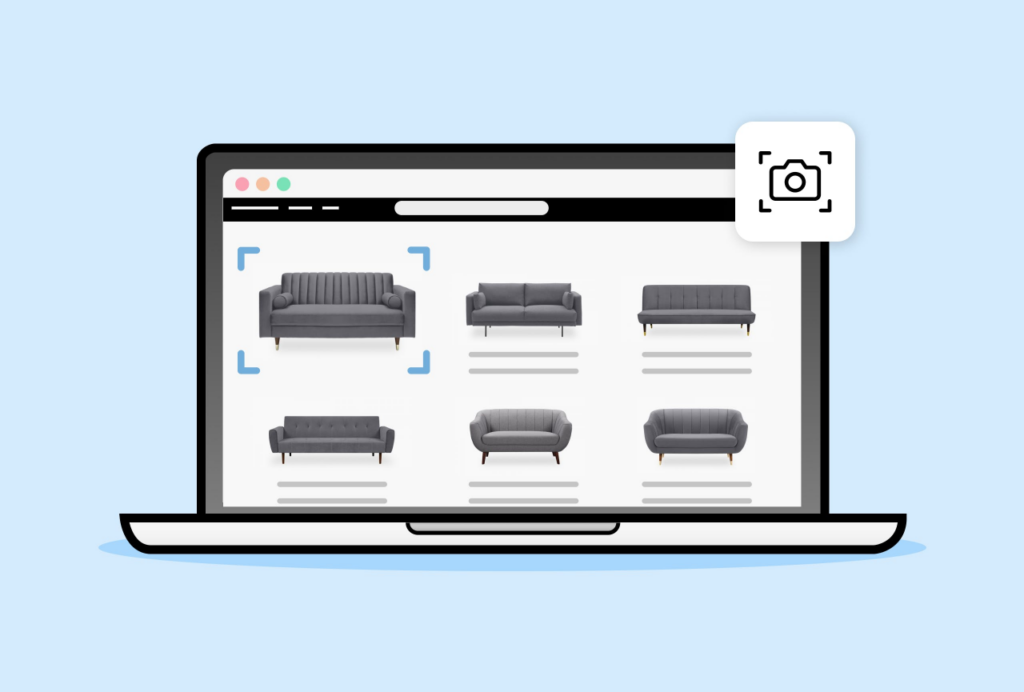 By 2023, the furniture and home furnishings market is expected to account for 14.4% of total retail eCommerce sales.
The COVID-19 pandemic has undoubtedly accelerated this, as the closure of physical retail stores means that people have had to become comfortable with purchasing high-value, big ticket items online.
Despite the re-opening of retail, many people will be unlikely to change this behaviour because they have gotten used to the convenience and choice from shopping online compared to visiting physical stores.
To cater towards this increase in online sales and make it as easy as possible for customers to purchase, furniture retailers must optimise every aspect of their sites – one way to do that is by upgrading your search functionality.
The furniture industry came second in the top 5 categories where visual search was used, with 85% of users using visual search to find furniture they like.
We're going to look at why home and furniture retailers should invest in visual search eCommerce.
Related: Discover visual search – the tool that's transforming eCommerce.
Create a hyper-personalised search experience
It's much easier to articulate styles, colours and designs visually – hence the need for visual search on a home and furniture site.
For instance, being able to search for a particular piece of furniture with the aid of a visual search enables customers to communicate more clearly for what they would like.
People want their experience to be more personalised: not only do they want to view their home furnishings visually and how they would look in their homes, but they also want relevant results delivered when they undertake a search.
This is where typed searches fall down as users may not find exactly what they are looking for, whereas with a visual search they have a much higher chance of finding what they are looking for.
Think of it this way – a customer wants to search for a brown leather sofa. They type into the search box "brown leather sofa" and some results are returned.
With visual search, they can search for other results in the same shade of brown, or they could upload an image of their own choice and see which other visually similar results are returned by doing so.
By giving customers the option to conduct a search how they like, you are offering them a much more personalised shopping experience, making them more likely to convert.
Building bigger baskets to increase AOV
Visual search can help recommend visually similar items for customers, and it works in exactly the same way as mock-ups do in a furniture store
For example, if a customer sees a light cream coloured sofa, they can crop the image to select the colour or pattern.
From there, visual search will recommend items of similar colours – such as a set of drawers, a cupboard, or cushions.
This can act as a cross-sell or an upsell of the existing item – the customer can add the cushions (for example) to their basket and grow their order value.
With more people using visual search to purchase larger and more expensive items, you can increase your AOV by optimising your site to support visual search if you sell those products.
Catering for Millennials and Gen Z
It is also important to tailor your site to those customers who are most likely to be purchasing furniture – such as those who are Millennials or Gen Z and are moving into their first homes and have more spending power than before.
49% of Gen Z search for their inspiration on social media platforms, so by giving them the option of uploading their own images from screenshots they have taken on Instagram, Snapchat and TikTok, you can remove the hassle of them having to search via a text-based query, and save them time as well.
When asked about visual search, Mark Steel, Digital Director of Argos, mentioned how customers are using social media platforms such as Pinterest and Instagram as an inspiration to purchase products, "so visual search has the potential to transform how we shop for the home."
Sites such as Pinterest have been using visual cues to inspire purchases for years, and especially in the home furnishing sector: 60% of users have made decisions on home decor purchases, with 11 billion saved (or pinned) home decor pins on the site.
By ensuring that your site has the latest visual search technology on, you can attract a multi-generational demographic.
Replacing the in-store assistant
In-store shopping has seen a huge decrease over the past year, largely due to the COVID-19 pandemic.
With more people shopping online, replicating the in-store experience online is hugely important in order for customers to stay on your site and complete their purchases.
Customer service is a huge part of furniture shopping, and this is where visual search comes in and plays the role of the in-store assistant, online.
For instance, if a product is out of stock, or the wait time is too long for a customer, then visual search can suggest visually similar products which are either in stock or available sooner.
By doing this, the customer has a positive experience online and then they are more likely to return and purchase again.
Conclusions
Visual Search can be used in many industries, but one of the most successful uses of it is in the furniture industry.
By offering this latest advancement in technology, you are not only putting yourself ahead of your competitors, but you are catering your site for the next generation of homeowners, who prefer to use visual search over text-based queries.
See how Salesfire can help you optimise your product discovery experience, email one of our experts at [email protected] or book a free demo of our personalisation tools.