Exploring the power of site search and AI technology
increase in average order value from Instant Search
increase in conversions from Instant Search
of interactions with Instant Search resulted in a sale
Return on Investment through Instant Search
Tic Watches is a family run UK business that has been selling designer watches through their site since it launched in 2007. As official stockists of major brands such as Armani, Barbour, Casio, Michael Kors and Seiko (to name a few) their product range is constantly evolving alongside an ever-growing online market. Tic Watches pride themselves in offering industry best service and have developed their business into a successful stockist of the most on-trend watches across the UK and the rest of the world. Salesfire has a long-standing relationship with Tic Watches and has worked to become an integral part of their eCommerce strategy for the past few years. With on-site user experience at the forefront of their marketing strategy, Tic Watches were eager to see the benefits of Salesfire's personalisation.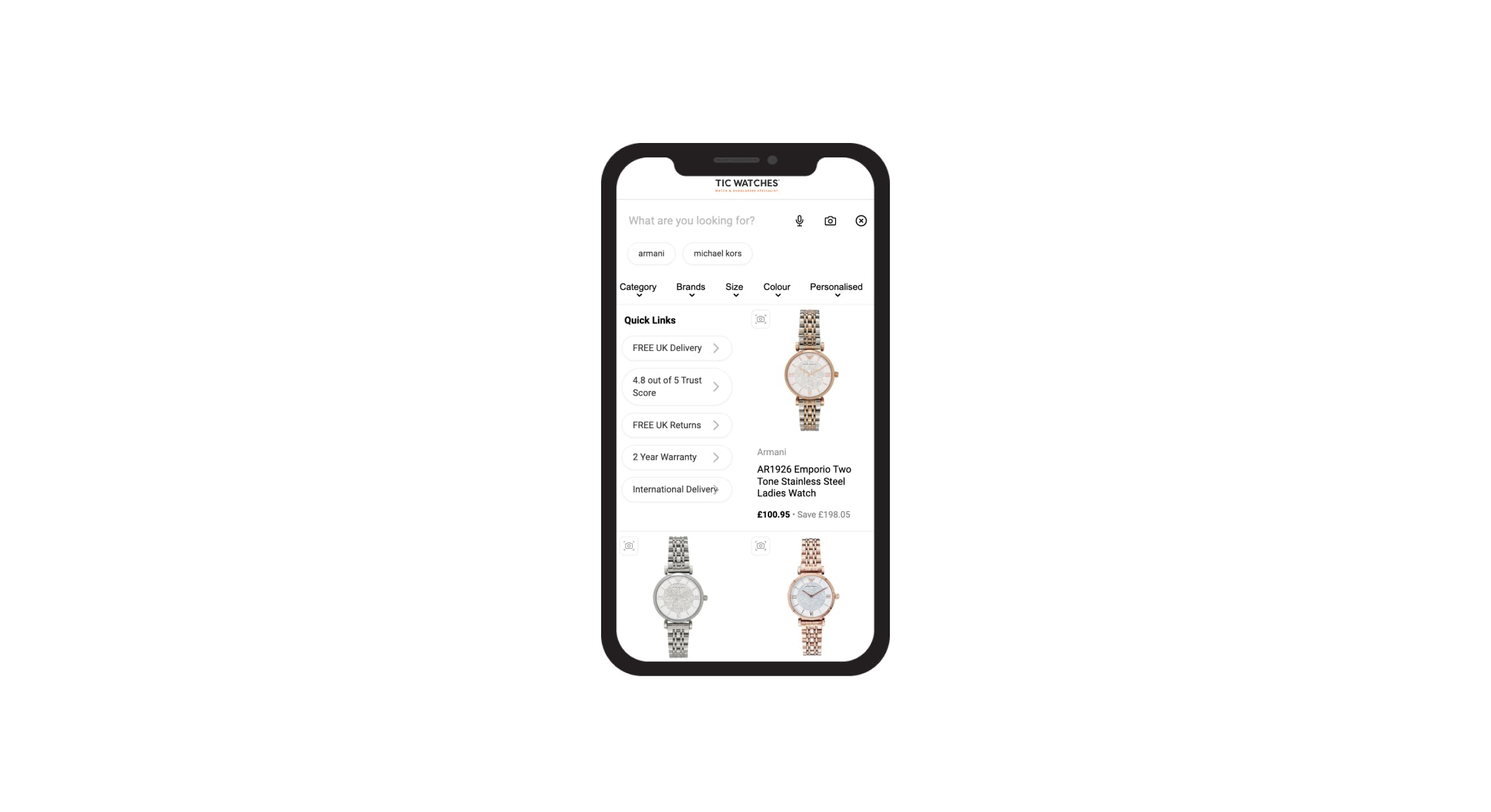 Increasing AOV with a personalised site search experience
Tic Watches pride themselves in delivering a seamless user experience, alongside a clean-cut, easy to use site, which was taken into consideration when implementing Salesfire's CRO solutions. Salesfire's Site Search was effortlessly integrated into Tic Watches site, enabling them to gain optimum results from website visitors wanting to find specific products. Salesfire's Site Search uses machine learning to optimise the results returned for shoppers. The product generated strong results for Tic Watches from the outset, showing an uplift of 24.4% in overall conversions.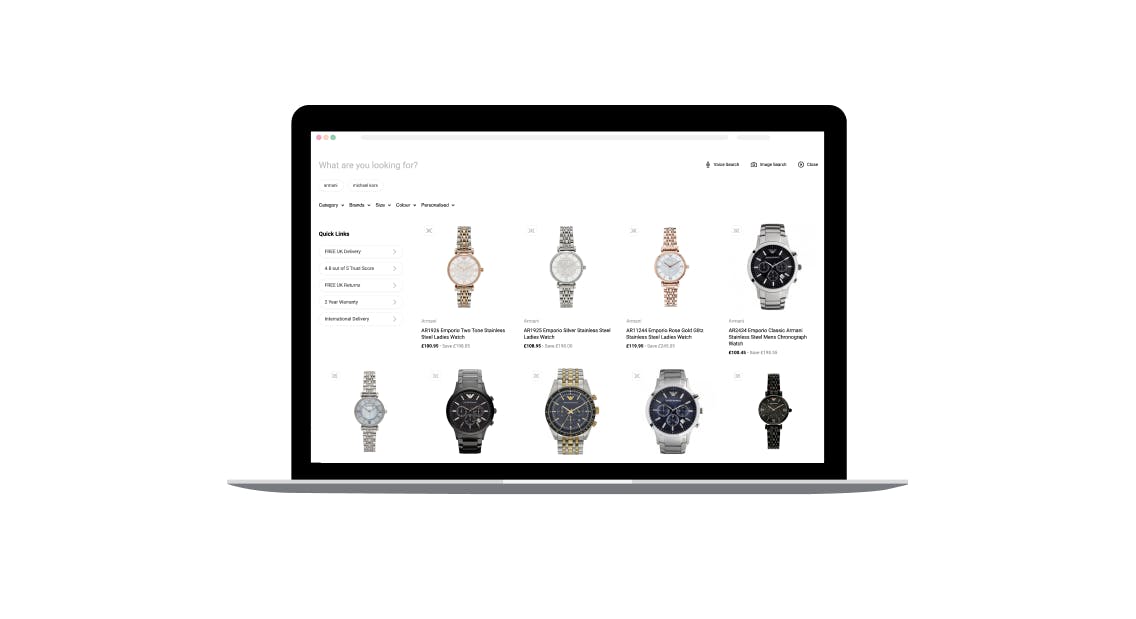 Utilising Animated Placeholder Text
With Site Search running on their site, Tic Watches wanted to make the most of the technology available and make their AI bolstered search bar more prominent. By implementing animated placeholder text in the search bar, a series of messages appear in the search bar automatically, as though someone else is typing. It has been found that this small attention to detail can draw in the customer's attention and make them more likely to engage in the possibilities of searching for products. Along with increasing their conversion rate and encouraging more customer engagement, Tic Watches wanted to increase their average order value. To ensure a customer can browse the site with ease and complete a successful purchase, it is imperative they can find what they are looking for with as little effort as possible. It has been found that shoppers are 2.5 times more likely to purchase through a site search interaction and factoring in the influence of our intelligent search solution, Tic Watches saw a 61% increase in AOV compared to purchases with no search interaction.
Retargeting customers with personalised products
Alongside Salesfire Site Search, Tic Watches utilised our Product Recommendations feature in their retargeting emails, to encourage customers to complete their order and increase the potential of matching the customer with their perfect product. Tic Watches used Salesfire's machine learning to follow up visitor browsing sessions with emails promoting products. This produced an incredible 22.7% increase in average order value, with 13.19% of clicks resulting in an order.
Tic Watches wanted to explore the possibilities of Salesfire's Machine Learning, focussing on their customers' buying behaviour and the promotion of relevant products, personalised to that specific user. By leveraging this technology both on-site and through email retargeting, Tic Watches saw a 317:1 return on investment, with 39% of their overall monthly revenue being influenced by Salesfire.
"Site Search is an essential tool when it comes to maximising our revenue, so we didn't want to compromise. Salesfire's Site Search offers our customers more choice, personalised suggestions along with immediate results, and we have seen a massive return on investment from the product."
DANIEL RICHMOND, DIRECTOR AT TIC WATCHES