How Your Website's Search Bar Became its Most Important Feature in 2020
By Calum Ridley • Last updated: Wednesday Feb 1st, 2023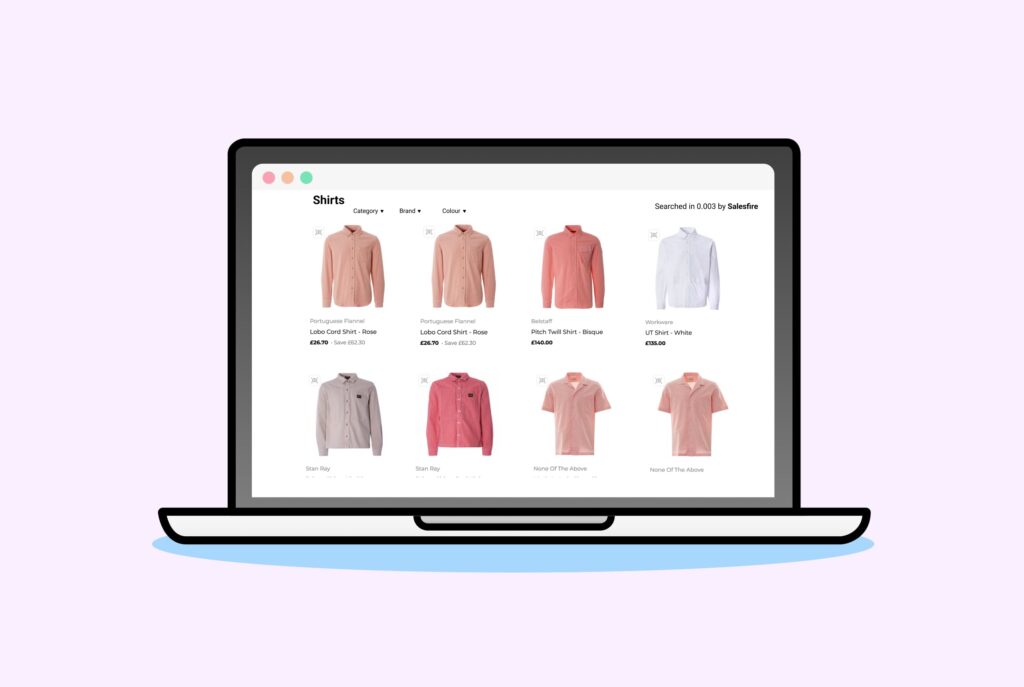 2020 was a year of rapid eCommerce growth and constantly evolving trends.
For our first Trends webinar, we studied over three million data points to provide a complete view of what actually happened in 2020.
From the (virtual) piles of data, trends and behaviour analysis, a critical insight we uncovered was a rapid growth in search revenue.
As shoppers were forced to take to the internet for everything from their weekly food shop to new loungewear, Trends discovered that customers increasingly sought out the search bar to find exactly what they were looking for.
But how did search volume change over the year? What were the trends fuelling it? And how can you use this information to inform your 2021 eCommerce strategy?
Fear not – we've got you covered.
Discover the fundamentals of site search: what it is, why it matters and how it benefits eCommerce sites.
Diving into the data
From sales data to online behaviours – we've analysed everything that happened in 2020. And we mean everything.
But the consistent growth of site search as a contributor to eCommerce revenue emerged as an extremely interesting trend in need of further scrutiny.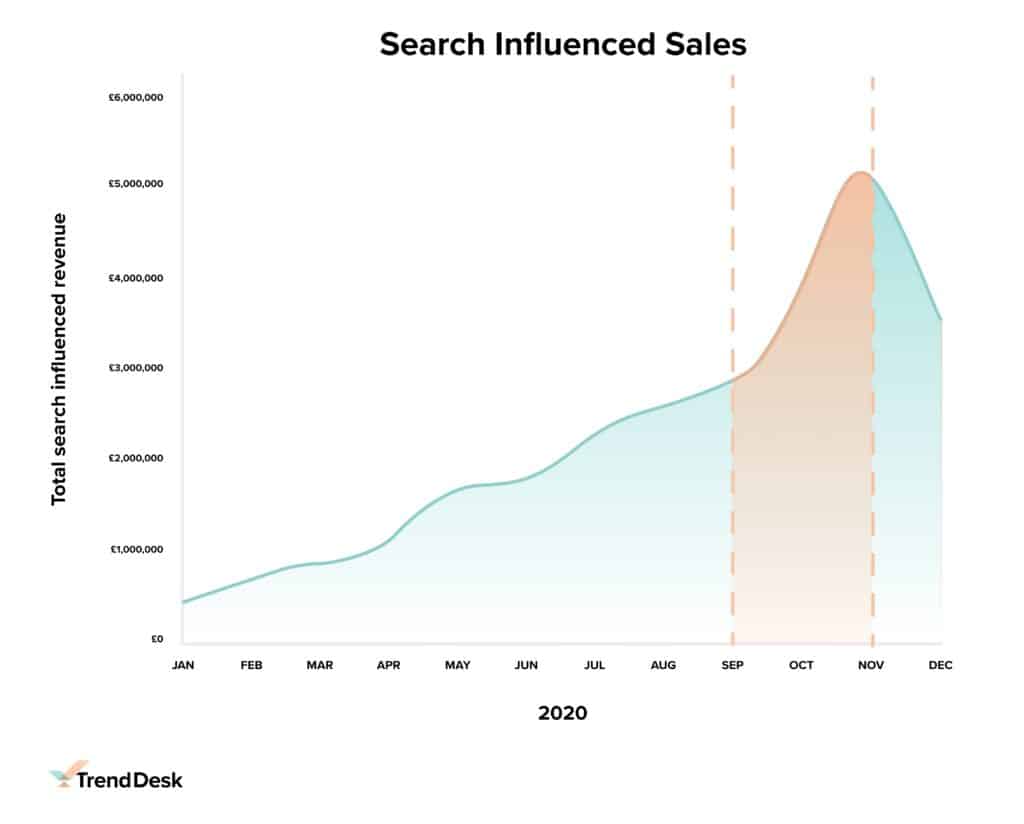 As demonstrated by the increases in monthly revenue driven by search – 2020 was a year of unprecedented growth for search within eCommerce.
Consumers' use of site search grew consistently throughout the year but peaked in November when sales driven through search channels were 90% higher than they were in September.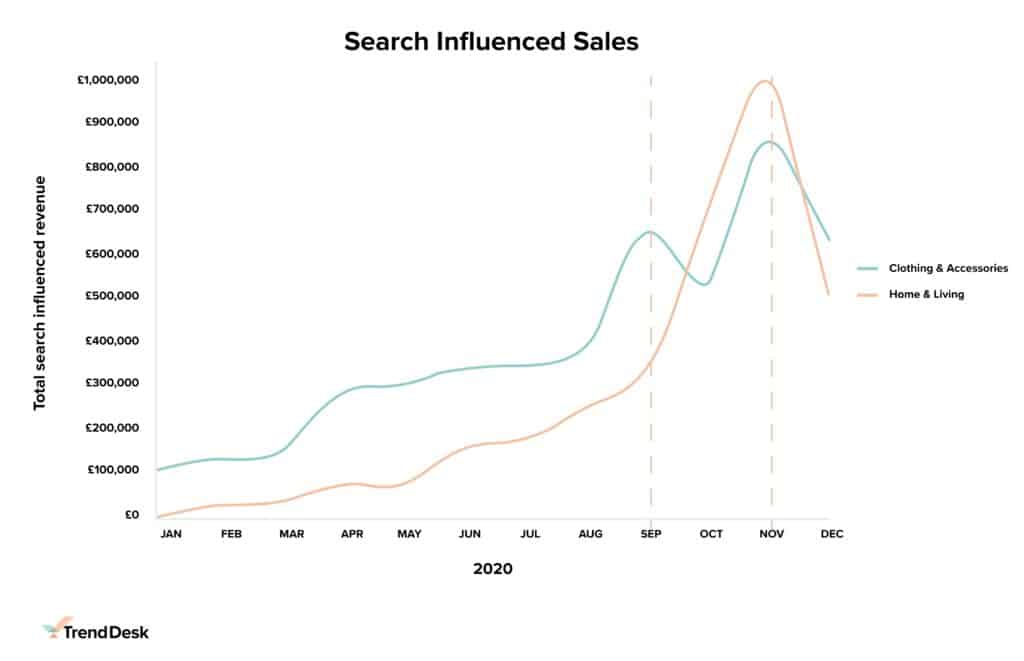 Two of the largest revenue-driving industries, Clothing & Accessories and Home & Living, were the main protagonists in this trend.
The graph above shows how these two industries utilised Search throughout the year. Usage of Search in the Clothing & Accessories industry slowly and consistently grew throughout the year showing an increased familiarity with this eCommerce tool.
Although Home & Living grew consistently too, we see faster growth in the second half of the year and revenues actually overtaking Clothing & Accessories in October and November.
Much of this will be of course due to a higher AOV sitting in the Home & Living industry, however with consumers proving they are just as comfortable utilising the search function for big-ticket items as well as everyday shopping, this trend is likely to impact every industry regardless of size and order value.
Factors driving the surge in Search revenue
The November peak in Search revenue will have been driven by many variables.
One place we could start to look for an explanation is with the events and external factors occurring at the time.
On November 5th we were met with a second national lockdown which once again forced shoppers online.
This digital exclusive Black Friday and Cyber Monday caused November 2020 to be the highest-grossing month in eCommerce we've ever witnessed.
During this busiest quarter of the year, stressed shoppers will have looked to on-site search to speed up their purchases and take the hassle out of the shopping experience.
Search tools that have facilitated product discovery with intuitive recommendations and accurate results have far outperformed standard search functions as customers seek inspiration and speed in their purchase journeys.
November is a consistently high-performing month for eCommerce but, as we identified in a previous article, Trends data demonstrated a double peak in November caused by Single's Day on November 11th which will also have contributed to our record-breaking figures.
Originating in China, 2020 marked the significant arrival of Single's Day to UK eCommerce. Powered predominantly by the clothing and accessories sector, you can find out more about eCommerce's newest event for your diary in our round-up of the four trends that shaped 2020.
Combining our data on Search revenue with the events occurring during November, we can confidently announce that Search was pivotal to driving revenue during the leading eCommerce events of the year.
That's something that can't be ignored.
So, what should you do now?
We anticipate that this explosion in site search will continue to accelerate to see it become the primary feature in the customer journey and the key path to purchase for customers.
This needs to be exploited in 2021 by ensuring you have a rapid and fully optimised search function – you can no longer afford anything less.
Today's consumer wants to be able to find everything they need within the search bar of your site.
Whether that's finding a product from a picture snapped somewhere else, or browsing visually similar products to the one they see in front of them.
Speed, flexibility and convenience within search functions are going to improve conversion and retention rates.
Discover the five features you need to maximise the potential of your site.
You can catch up on our The Year the World Turned Digital webinar whenever you like below.
Ready to get started with a BlastAI-powered site search tool?