Four Trends That Shaped 2020
By Courtney O'Riordan • Last updated: Tuesday Jan 31st, 2023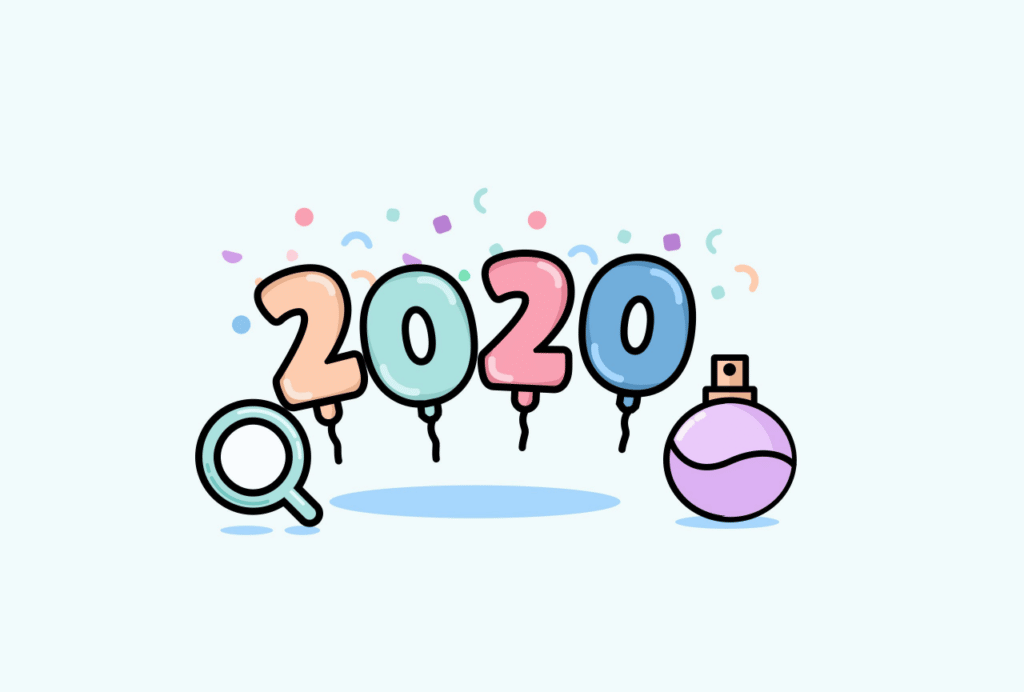 2020 was an unforgettable year for many reasons.
A year where bedrooms became offices, delivery drivers were seen more than family and words like "social distancing" and "lockdown" became part of our daily vocabulary – 2020 was like no other.
Commerce has been no less affected by the abrupt changes that a global pandemic has caused.
Positioned in the engine room of hundreds of clients from travel to fashion, electronics to home, Salesfire has been able to witness first hand how purchasing behaviours have changed.
As the year is approaching its terminal and the curtain finally draws shut, we look back on the four trends that shaped 2020.
Quarter by quarter, we delve into our Trends insights and retail performance data to review a year like no other.
Quarter 1 – The quarter that set the trends for 2020.
With the first lockdown starting in March, the early signs of trends that would be prevalent across the whole of 2020 were beginning to take shape.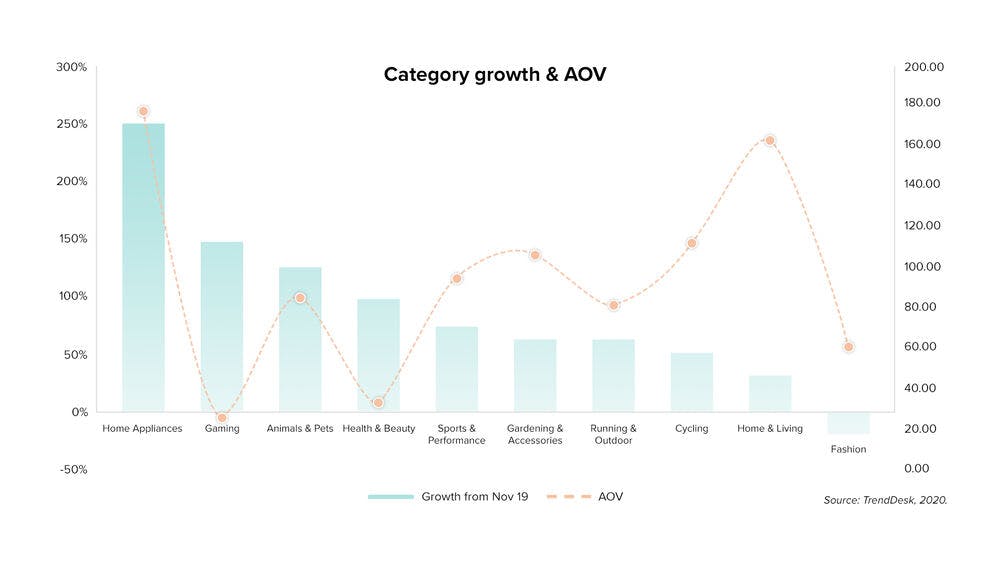 As highlighted in the chart above, many categories were seeing large and unusual growth for the first quarter of the year.
Key growth categories such as home appliances, gaming, sports & performance and home & living were early beneficiaries of lockdown behaviours.
As people were bracing for life indoors, many invested in things to make that more comfortable such as home gym equipment and appliances.
Average order value reflects this trend. Large value orders were placed in home & living as people turned their homes into offices and invested in the places they would spend the majority of the upcoming year in.
Fashion and clothing were the early casualties. As office working, hospitality and entertainment were put on pause, so too was the need to purchase new clothing for a large proportion of the country.
Quarter 2 – The quarter where commerce went online.
Q2 saw months of sustained lockdown – with only a few retail outlets such as supermarkets and convenience stores open for trade.
A combination of this and increased confidence in delivery services saw a rapid acceleration in eCommerce growth.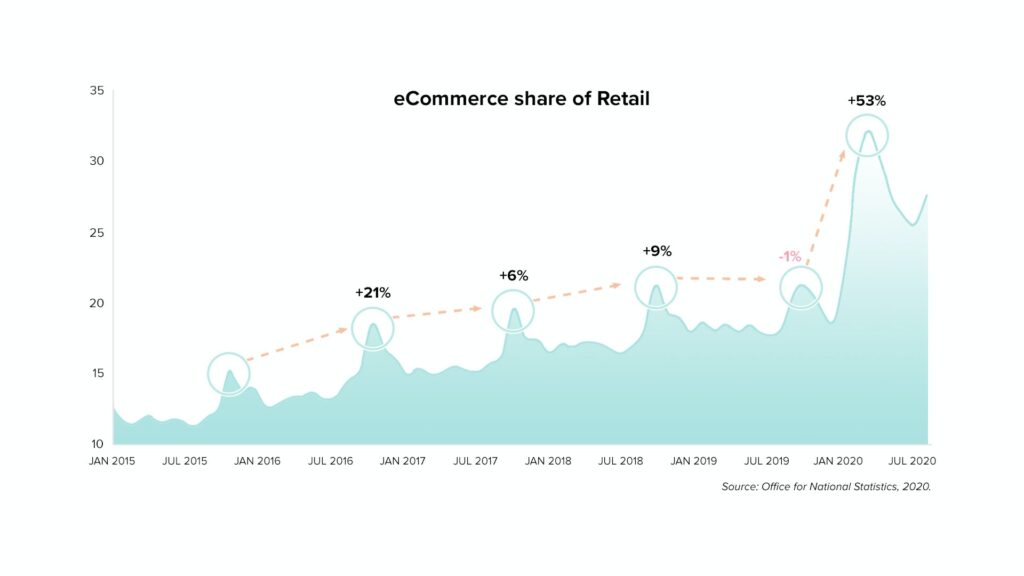 eCommerce experienced the fastest rate of growth in Q2 ever since ONS records began in 2006. Back in 2006, online accounted for 2.6% of all retail sales.
In the second quarter of 2020, ⅓ of all retail was through online channels.
This meteoric rise was 70% higher than Q2 2019 and meant that brands with a mature online presence and a delivery infrastructure in place were set to capitalise.
With job security low and eCommerce booming, a study into how our search behaviours changed is revealed on Google Trends.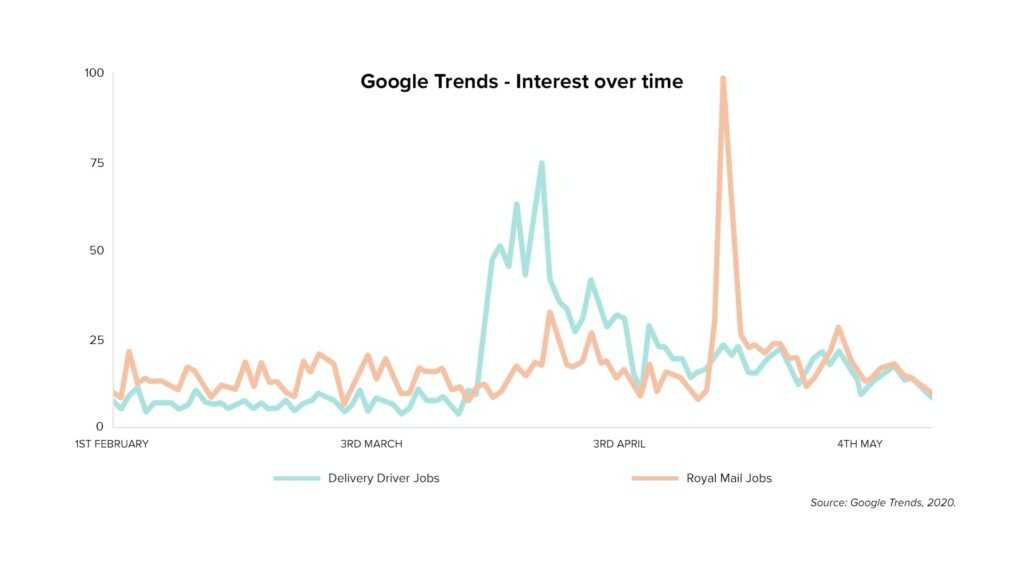 Major growth in searches for "delivery driver jobs" and "royal mail jobs" reflects the combination of more online shopping with people out of work looking to capitalise on added demand.
Quarter 3 – The quarter where people tried to repair local damage.
After three months of staying indoors and with infection rates looking positive, the UK government embarked on a strategy to kickstart the economy.
Schemes like 'Eat Out to Help Out' and 'Shop Local week' were introduced to aid a much damaged local economy.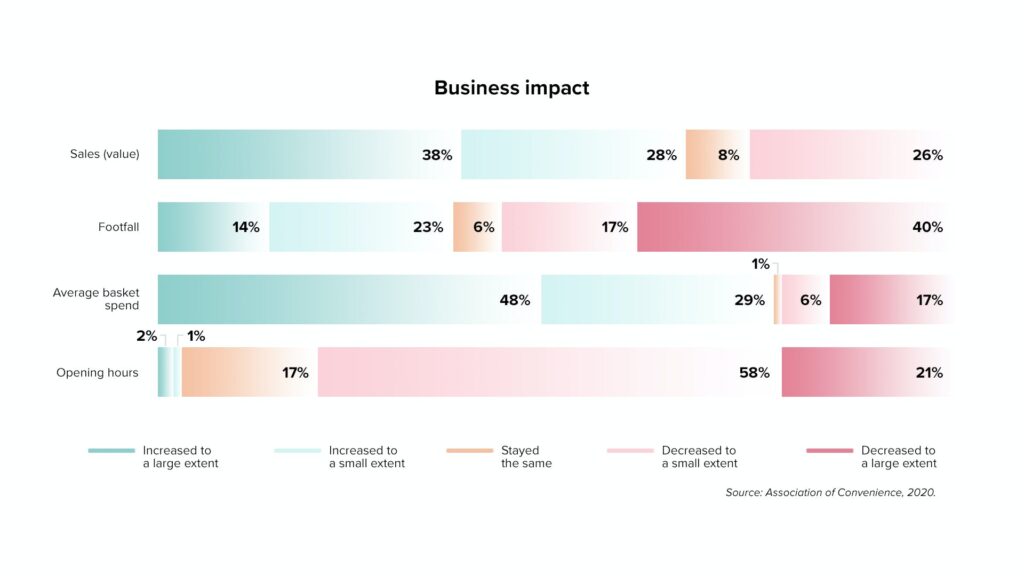 Local and independent stores saw the benefit of this – with research from the Association of Convenience Stores showing that ⅔ of local shops saw an increase in sales in Q3 as a response to Covid.
A further 77% saw an increase in average order value in Q3, suggesting that local communities used their wallets to repair the lockdown damages.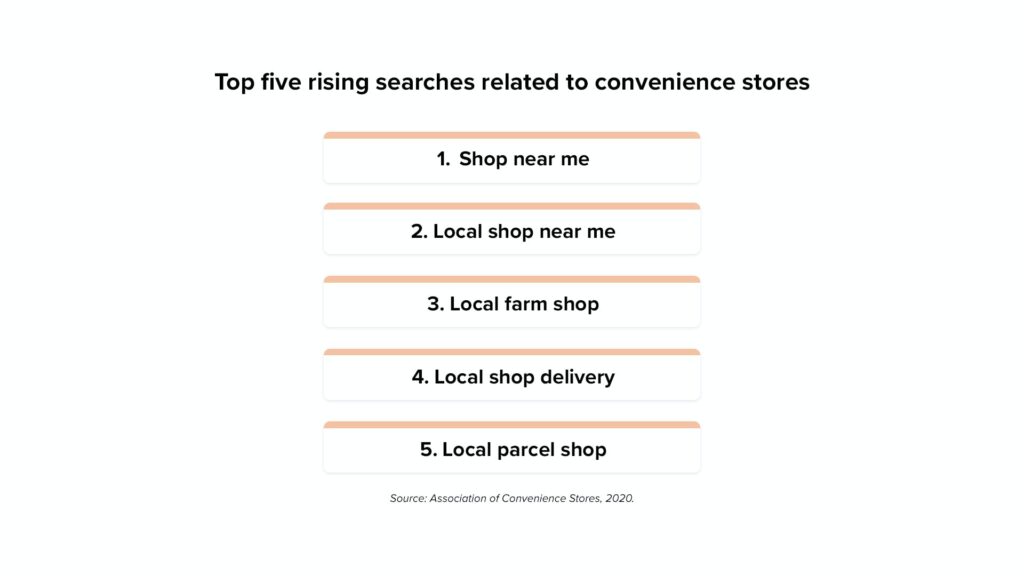 Quarter 4 – The quarter that changed November forever.
November is usually an inflated month for eCommerce. It's common to see big events like Black Friday and Cyber Monday peak for retail sales as early festive shopping begins.
However, in 2020, data from Trends shows a double peak with a retail boom on November 11th – otherwise known as Single's Day.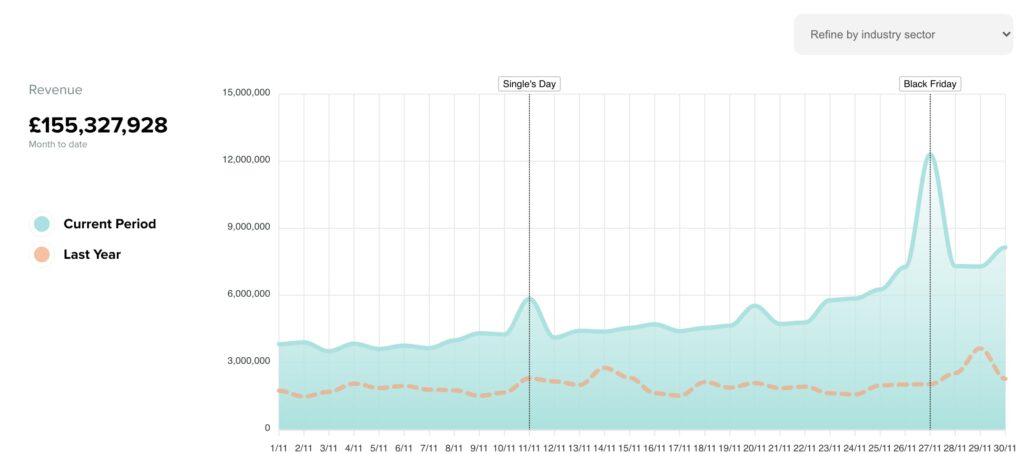 To further understand the growth on Single's Day, you have to know which categories are driving it. Analysis from Trends shows that this peak was driven primarily by the clothing & accessories sector.
This study suggests that the clothing industry may have developed its own unique Black Friday and with it being the first year of notable growth – Single's Day should be on the lips of every fashion brand in 2021.
So that concludes our round-up of 2020 – a year of records, unusual trends and changes that may become the "new normal". This trend played out in search demand too. Among some of the top rising convenience store searches was a theme of localism.
To analyse the data for yourself visit the Trends or listen to our Salesfire experts round it up on the podcast.