How to Get the Most Out of Your Basket Abandonment Emails
By Kelly Aitkin • Last updated: Monday May 15th, 2023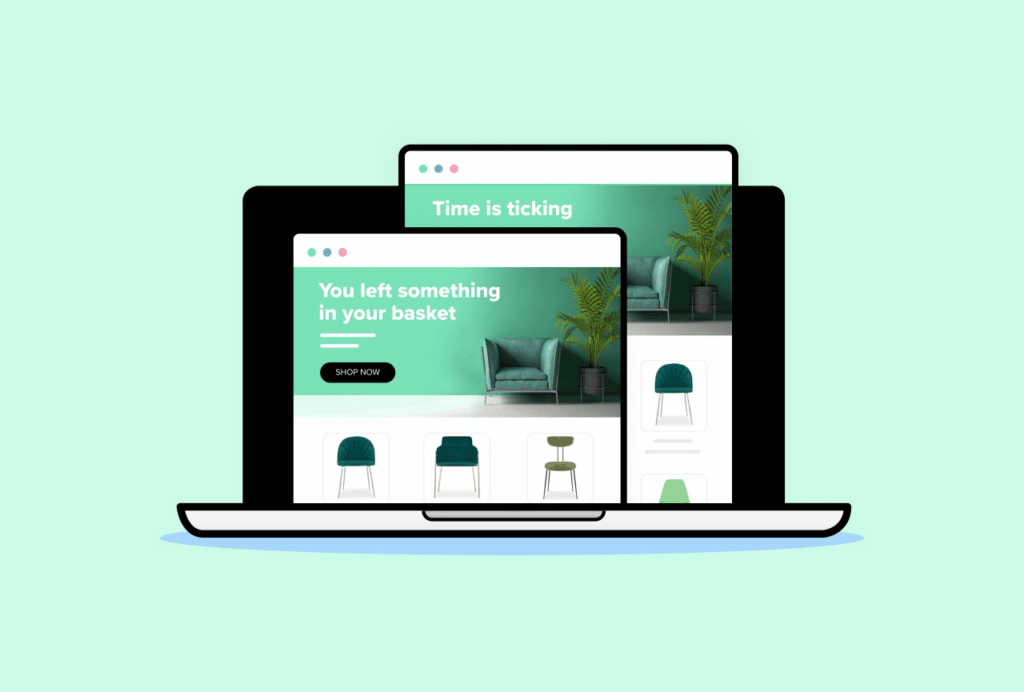 Your customers' journey doesn't end once they leave your site.
With the average shopping basket abandonment rate currently at 69.80%, retailers can't just stop there with their marketing and on-site efforts.
With basket abandonment emails, eCommerce stores can re-engage potential customers to encourage sales and even potential upsells. Your efforts to get users through your buyer funnel don't have to fail if they leave your site without making a purchase.
It's critical to have a plan in place to boost conversions considering half of the customers who abandon their basket will complete their purchase when asked.
A Guide to Cart Abandonment: what is it, why does it happen and how do you reduce it when it happens?
What is an abandoned cart email?
Even after optimising your checkout process to reduce the risk of abandonment, baskets can still be left before completion.
Basket abandonment software detects if a potential customer intends to abandon their basket and offers to email their items for purchase at a later time. This then triggers a single or series of emails to persuade customers to complete their purchases.
You can re-inject customers back into your sales funnel with messaging tailored to their on-site experience and re-engage those who have abandoned browsing or their basket. In fact, 63% of abandoned merchandise could be recovered by online retailers through a follow-up email.
Wondering how to write abandoned cart emails? The best abandoned shopping cart emails follow a certain set of principles.
Abandoned shopping cart email best practices
It's all in the timing
It's important to make sure your abandoned cart email marketing is timely, 72% of users who abandon their basket intend to buy within the next 48 hours so you can't afford to miss this opportunity.
There are a variety of ways you can send abandoned basket emails. Whether it be a one-off email, timed specifically, or a series of basket abandonment emails.
A series of emails should increase in urgency as a user progresses through the sequence, this can be done through the subject line, copy or the call to action.
The series of emails should also follow a structure. First offer a cart reminder a few hours after the customer has left your site, then send a follow up a few days later and a promotional discount a few days after the second email to fully take your customer through the abandonment process.
Content is King
Abandoned cart emails hold the monopoly when it comes to email marketing.
The average open rate of an abandoned cart email is 45%, with a 21% clickthrough rate. Therefore ensuring your content works is important to help conversion.
Your copy should be entertaining, clear and engaging.
Depending on your brand voice, this could be through attention-grabbing subject lines such as "Going, going (almost) gone" which encourages urgency, also known as scarcity marketing, and should be followed by engaging introduction text which may also include personalisation.
Personalising the email greeting can help to give a unique touch and improve open rates on your email. This can be with first and last names and can even be included in the subject line or preview text to draw attention.
The key to success
There are numerous ways to make sure your abandoned basket emails are successful.
Abandoned cart emails are used to create urgency, this is your chance to use scarcity marketing to encourage your customers to make a purchase.
Letting your customers know that they need to buy within a certain time frame using countdown timers can encourage a sale.
You can also use discounts, free delivery and further product recommendations as an additional incentive to persuade customers to complete their purchase.
An abandoned order email can also include social proofing such as reviews or influencer marketing which could potentially encourage a sale.
Trustworthy recommendations from fellow customers or influencers could be exactly what is needed to make your customer complete that check out process.
Including a strong call to action will also encourage customers to re-engage with your site.
Calls to action don't just have to direct people to your checkout page either, they can give answers to frequently asked questions, encourage people to get in touch for more information and prompt customers to subscribe for more updates.
Optimise your email
First things first, you want your recipients to open your email to see the valuable content you're offering.
This starts with optimising your email's preview text and open rate.
Preview text should entice your audience with important information that is valuable to them, whether you decide to do this by telling them what the email includes or by writing something that captures the attention of your reader.
The best abandoned cart subject lines need to stand out. Your recipient may be getting hundreds of emails a day so why should they open yours?
A/B testing different subject lines can help you optimise your strategy; you can try emojis, experiment with questions and see what receives the most opens to inform your strategy. You can also try personalising your subject lines and offering discounts to see if your opens increase.
Including the recipients' name in the email will personalise the interaction, building both loyalty to your brand and encouraging opens as the reader will feel valued by your company.
Personalisation doesn't just stop at names, send your customer the items that were left in their basket to remind them of the products they were looking forward to purchasing and encouraging them to return.
Following abandoned basket email best practice could improve the success of your emails to reduce your shopping cart abandonment and increase your conversion rate.
See how Salesfire can help you optimise your product discovery experience, email one of our experts at [email protected] or book a free demo of our personalisation tools.