Salesfire Updates: Introducing Email Sequences
By Isabelle Leader • Last updated: Tuesday Sep 26th, 2023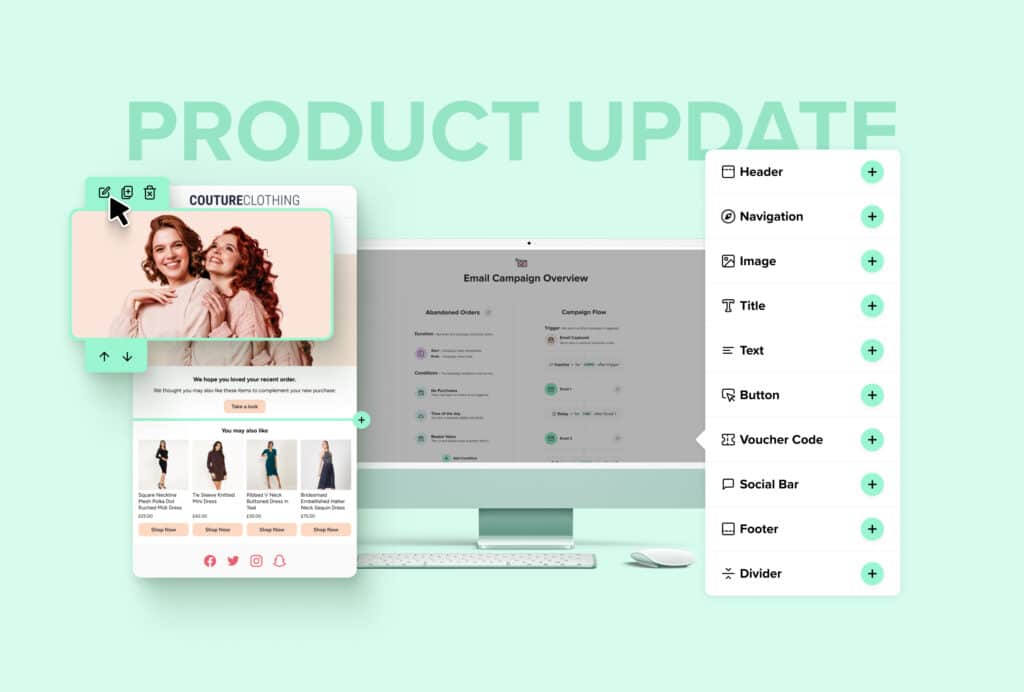 Email Sequences has landed – the latest addition to Salesfire's product suite.
Converting one-time website visitors into lifetime shoppers has never been easier with Email Sequences.
Using a data-driven approach, this email retargeting solution ensures that customers are presented with the right campaigns at the right time to yield maximum engagement and boost sales.
Retailers can choose from various email retargeting strategies to recapture lost customers and direct them back to their website based on the customer's on-site behaviour.
This could include reminding them of their abandoned basket, sending them relevant recommendations or confirming their newsletter subscription.
What's more, our latest product is designed to make campaign creation easier for retailers and connects the whole customer journey, making the creation of effective email retargeting campaigns simple.
The power of Email Sequences
Successful eCommerce retailers use customer data to predict the needs of their customers.
Salesfire's Email Sequences has been created to elevate this behavioural on-site data to form effective email retargeting strategies that re-inject shoppers into the buying journey and motivate purchases at exactly the right time.
By using automation in Email Sequences, customer journeys are understood and acted upon infinitely quicker than humans are capable of. This way, each customer is optimally targeted to achieve the highest possible conversion rates.
Take email retargeting further
Behaviour-based targeting
By understanding a shopper's on-site activity, Email Sequences targets a range of eCommerce pain points to support customers with their shopping journey and drive the lifetime value of customers.
You can deploy targeted email campaigns to reduce basket abandonment, present further upsell opportunities and welcome users to your website.
For instance, by using an upsell email campaign you can send a series of post-purchase emails with cross-sell recommendations based on the product a customer has bought. This will allow you to reinject shoppers back into the sales funnel to purchase from you again.
Email retargeting done differently
Salesfire does email differently – by implementing solutions that connect the whole customer journey, retailers can create a tailored shopping strategy for each customer.
Whether you're retargeting shoppers based on an abandoned search query or sending them genuinely relevant product recommendations based on their interests, Salesfire employs artificial intelligence across the entire shopping experience to understand customer intentions.
Once you've successfully retargeted shoppers through your email, Digital Assistant can then welcome shoppers back to your website, working to personalise the shopping journey and create an omnichannel experience throughout your platforms.
Email Sequences integrates with the entire Salesfire product suite to support the customer journey, enhancing every touchpoint in the shopping process to encourage conversions.
Simplified email retargeting
Campaign creation made easy
Email Sequences makes campaign creation efficient and simple, helping busy retailers to recover their potentially lost sales quickly and efficiently.
Offering a user-friendly interface and pre-set with optimal triggers and content informed by our eCommerce experts, your email retargeting campaigns can be launched in a few steps, with no confusion or fuss.
With as little as one line of code, the Email Sequences tool is easily integrated directly to your site and can be live in minutes – this means there's no time wasted or potentially lost conversions.
A range of re-engagement campaigns
Email Sequences offers a comprehensive range of automated email retargeting strategies to recover lost sales, welcome users to a website or drive upsell and cross-selling opportunities.
Some examples of these strategies include:
Abandoned Orders
Repurchase Emails
Back-in-Stock Emails
If you're looking to elevate your consumer data into more conversions, Email Sequences provides an efficient, effective and personalised way to guide shoppers towards our desired action.