The eCommerce Trends That Shaped 2021
By Bethany Llewellyn • Last updated: Friday Jan 13th, 2023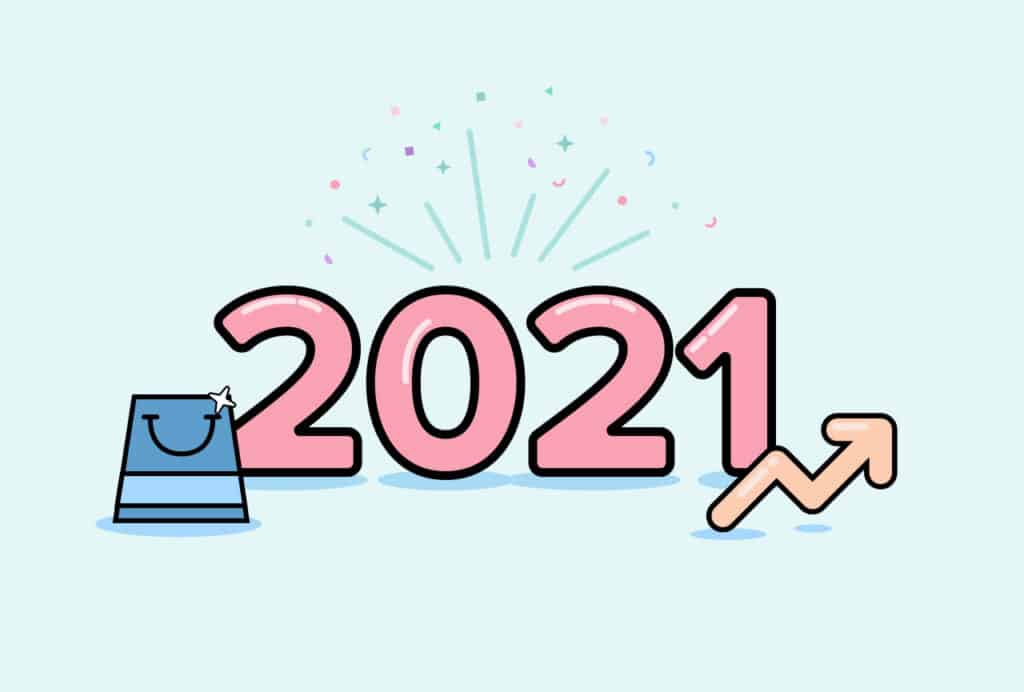 After the digital boom experienced in 2020 due to global lockdowns, 2021 was set to be an interesting year in eCommerce.
Many retailers were eager to see if consumer behaviour had changed forever following the switch to online shopping brought on by Coronavirus restrictions.
As guidelines and consumer confidence fluctuated throughout the year, retailers needed to be reactive in their eCommerce strategies and many leaned on tech innovations, data-driven approaches and an omnichannel strategy to support their efforts.
We've outlined some of the biggest eCommerce trends that shaped 2021, and what this could mean for marketing strategies in the future.
Related: Discover the standout stats from Salesfire Trends in 2021.
Trends that shaped eCommerce in 2021
The rise of mobile commerce

The evolution of consumer shopping preferences has been fuelled by eCommerce bringing the shopping experience right to your fingertips.
More than ever, consumers are moving towards shopping on smartphones for the ease and convenience it offers.
Now that we have one-click checkouts, auto-fill payments and push notifications, slow mobile browsing is a thing of the past.
With over 5.22 billion mobile users worldwide in 2021, data shows a huge 75% of customers carry out purchases on their mobile phones.
As a result, in-app shopping has skyrocketed throughout the year with the likes of Amazon, M&S, Klarna and Etsy apps ranking the highest in the UK.
Since 2020, social media and eCommerce have been merging ever closer, with the likes of Facebook and TikTok introducing in-app shopping options.
This move brings together inspiration, product discovery and purchasing in one platform to make it easier than ever for customers to purchase.
With trending topics having the ability to reach millions of users, there will be major trends for eCommerce retailers to capitalise on in 2022.
Despite this, over 90% of mobile shoppers claim that the overall mCommerce experience could be improved, from introducing larger CTAs, enhancing responsiveness and addressing payment issues.
This is something eCommerce businesses could focus on in the years to come to optimise the user journey and experience.
Data-driven personalisation to improve the customer experience
Data-driven personalisation is about reaching the right users, at the right time.
Customer data is the key to personalisation and is something that has been embraced throughout eCommerce businesses in 2021.
A personalised experience is something the majority of consumers nowadays expect when shopping online.
This doesn't mean just addressing customers by their first name or suggesting products that others have bought.
It's gaining a full understanding of each customer and providing a truly tailored experience to meet the customers' preferences.
This includes web design, email communications, live chat and personalised messages with over 90% of consumers surveyed indicating a personalised experience is appealing to them.
The year the world turned to visual search
In the past year, visual search has become increasingly popular in the eCommerce world, especially following the announcement of Facebook introducing visual search on Instagram.
Figures show over 45% of retailers in the UK now use visual search, following in the footsteps of the early image search adopters such as Pinterest, ASOS and Google.
Rightly so – it's scientifically proven that humans can process images faster than text, so it makes sense for consumers to use images as their search terms.
However, 33% of consumers said they prefer shopping in stores as they can view, touch and interact with the physical products.
That's why the image upload and crop functionality of Visually Similar Search provides that sense of in-store shopping, allowing consumers to find their ideal purchases faster.
Generational differences in consumer behaviour
One of the major differences the past year has shown eCommerce retailers is the difference in consumer behaviour.
A clear divide was created between the generations who were desperate for brick and mortar stores to open, compared to the tech-savvy Millennials and Gen Zers who were more than comfortable with online shopping.
In fact, huge growth in eCommerce throughout this period was due to the Millennial and Gen Z cohorts, who are much more likely to use the internet to purchase goods than older generations.
Research shows that over 40% of Gen Zers alone currently purchase more than half of their clothing and electronics online already.
In such a rapidly changing industry, understanding the difference in generational shopping behaviour and adjusting strategies accordingly is a must for eCommerce retailers to focus on in 2022.
Adapting to the new normal
Without a doubt, eCommerce has slowly become more integral in consumers' lives.
Going from a country-wide lockdown, eating outdoors in the rain, to restrictions easing – all the space of a year – consumers have learnt to rely on eCommerce stores.
Due to the surge, retailers had to step up their game by improving logistics and hiring more staff.
Since then, 53% of consumers now buy more things online than in previous years.
This is supported by data from Salesfire's Trends where Black Friday saw a 20% increase in AOV YoY.
Considerations for 2022 marketing strategies
While these trends soared throughout 2021, they're not set to slow down in the new year.
As the economy is finally returning to normal we expect to see a whole new wave of trends, from sustainable shopping, machine learning and shopping via social media.
eCommerce trends for the future will aim to have one thing in common – enhance the user experience.
Why not capitalise on 2021's emerging trends? Speak to one of our eCommerce experts on 0204 505 9040 or book a free demo.