How to Personalise the Customer Journey with Targeted Messaging
By Bethany Llewellyn • Last updated: Friday Jun 16th, 2023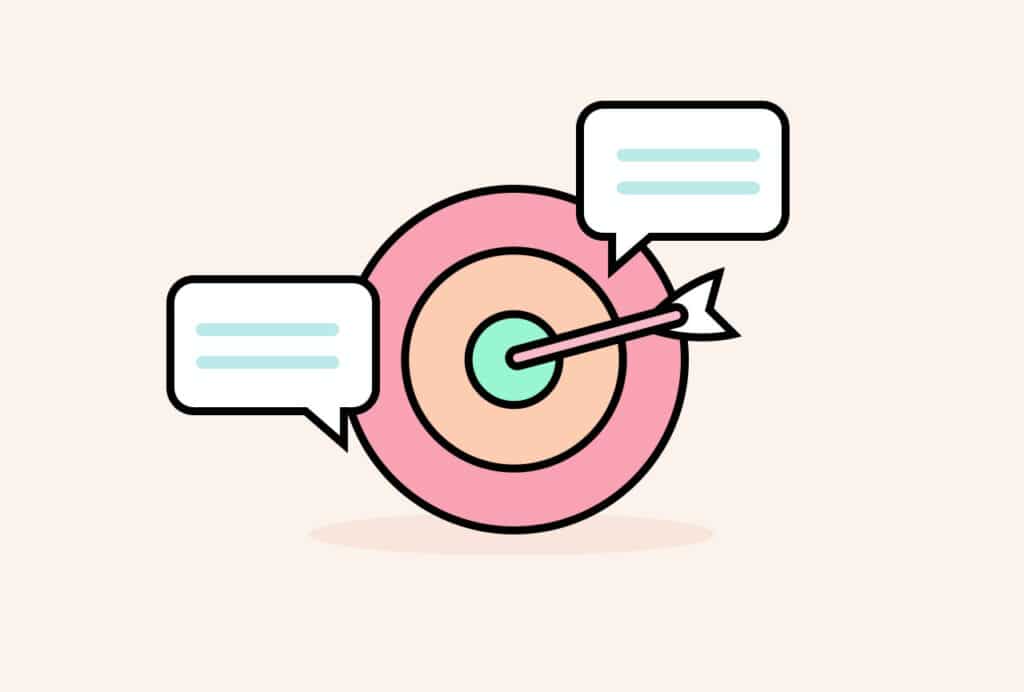 Personalised emails, YouTube pop-ups, and Google ads are just a few examples of the targeted messages that we encounter every day.
This content is tailored to us based on the traits and behaviours we exhibit through our online usage.
Due to the abundance of messaging we all receive on a daily basis, a lot of targeted messaging often goes unnoticed, blending in with other content and only registering subconsciously.
But when done successfully, this smart targeting technique creates purposeful customer journeys on eCommerce sites, improving the chances of completed purchases.
Below we discuss ways you can implement highly targeted messages throughout the customer experience.
Related content: Discover 'How to Revamp the Customer Experience' in our on-demand webinar.
What is targeted messaging?
As mentioned, targeted messaging takes many forms across multiple channels.
It can look like a Facebook Ad in your social media feed or a targeted email in your inbox.
Regardless of how targeted messages are delivered, the definition remains the same.
Targeted messaging involves sending specific pieces of marketing to subgroups of your audience based on their segmented characteristics.
This form of targeting is ideal for eCommerce retailers hoping to:
Build customer relationships: Messaging that feels customised to individual customers breeds loyalty and satisfaction.
Speak directly to target audiences: Putting your products in front of the consumers they were made for can prove to be more successful than mass marketing.
With this in mind, the effectiveness of such messaging relies on its relevance to the targeted customer.
Where segmentation comes in
Customer segmentation is the act of dividing a company's target audience into groups with similar characteristics.
Often these demographic characteristics are:
As an eCommerce retailer, you should also focus on segmenting your audience by:
Purchase behaviour
Time spent on site
Position in the sales funnel
By segmenting customers you can make decisions based on each segment in order to maximise the value of each customer to your business.
You will also be more efficient in time, money and effort.
5 ways to use targeted messaging to grow your online store
Tailoring your messaging throughout the customer journey ensures you deliver the right message at the right time.
Here are five targeted messaging strategies you could use throughout the customer journey to build newsletter subscriber lists, reduce basket abandonment and convert more visitors into customers.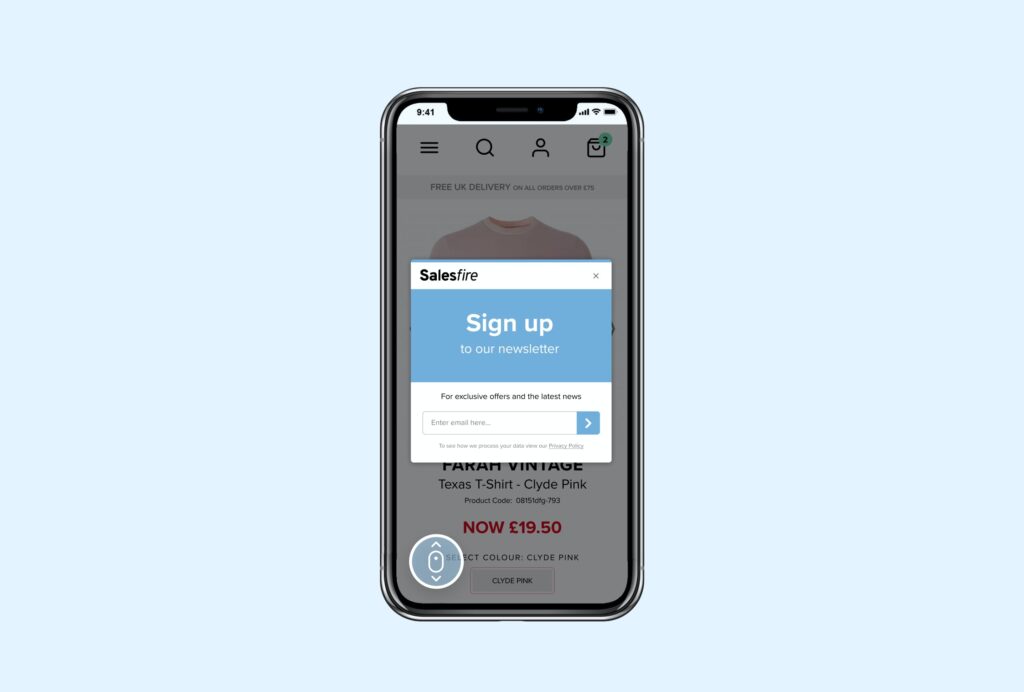 1. Make the most of shoppers higher up the funnel
Not all customers who visit your site are ready to purchase – but that doesn't mean they're not valuable to you.
Shoppers higher up the sales funnel who are still in the product discovery stage might be weighing up their options and may not display intent to purchase.
You could use email capture Overlays to encourage these shoppers to sign up for your newsletter, building a high-quality, GDPR-compliant subscriber list.
From here, you can nurture customers with personalised email campaigns that promote your products and offers, encouraging customers to return to your online store.
What you can do: To develop a subscriber list that's ready to send targeted emails to, we recommend deploying an 'Incentivise Mailing List Sign Up' Overlay on-site.
Offering a small incentive, such as a 5% discount, will increase the chances of collecting those all-important email addresses.
2. Respond to shopping comparison behaviour
25% of first-time website visitors will compare prices across eCommerce stores to find the best deal.1
This can be a revenue-losing pain point for brick-and-mortar and online retailers alike.
When a shopper highlights a product title, your website should react to your customers based on this behaviour.
To do so, we recommend promoting your USPs via Overlays when this action is performed to encourage them to purchase with you.
This will prevent the customer from leaving your site and potentially purchasing from a competitor.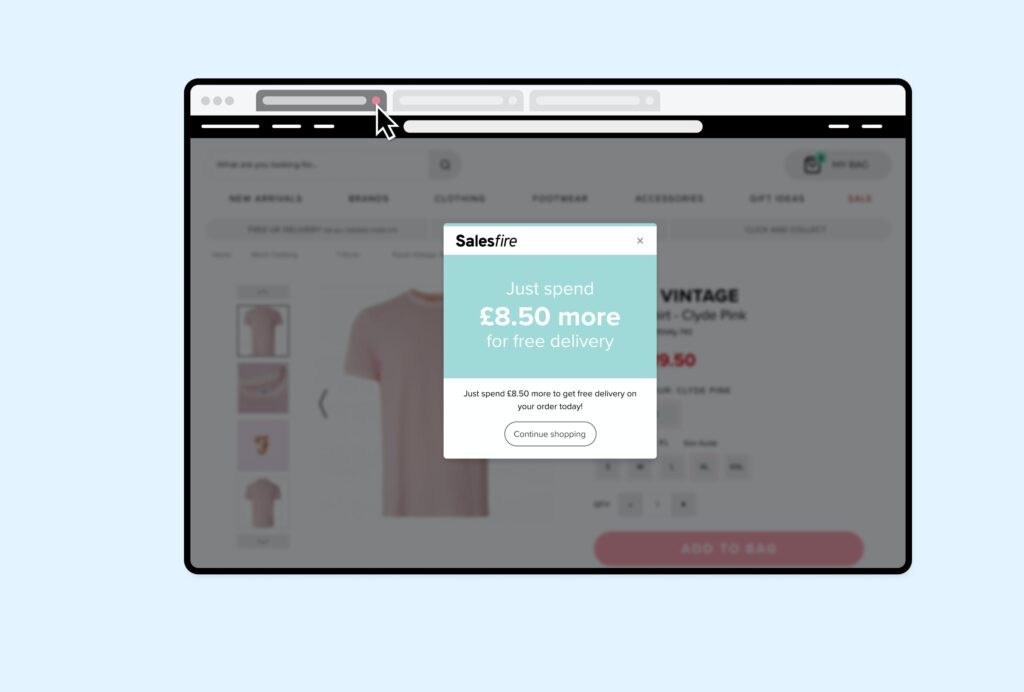 3. Encourage engaged users to build bigger baskets
If your site has a free delivery threshold, we suggest displaying the value customers need to add to their basket in order to qualify for free delivery.
The incentive of free delivery will work two-fold to seal the deal and increase your:
AOV
Revenue
Conversion rate
These messages are commonly displayed through the use of Overlays and often encourage a purchase, with stats from a UPS study showing that 58% of customers were willing to spend more in order to qualify for free delivery.2
What you can do: The presence of a live chat tool on-site can also prove to be successful in encouraging engaged customers to purchase.
Give visitors the opportunity to have their questions answered immediately by integrating live chat through Digital Assistant to ensure they continue to move through the sales funnel.
4. Persuade customers to return to their baskets
Email marketing is affordable, easy to share and great for the delivery of targeted, relevant messages.
Personalised emails generate higher unique open rates and click rates than non-personalised mailing. 3
If a customer shows intent to leave, you can prompt these abandoning shoppers to provide their email address in exchange for a basket reminder.
You can then remind the customer to return to your site and complete their purchase with re-engagement email marketing campaigns, securing sales that otherwise would have been lost.
What you can do: Deploy a 'Save my Basket' Overlay within Digital Assistant to:
Prevent basket abandonment
Perform data collection
Increase conversions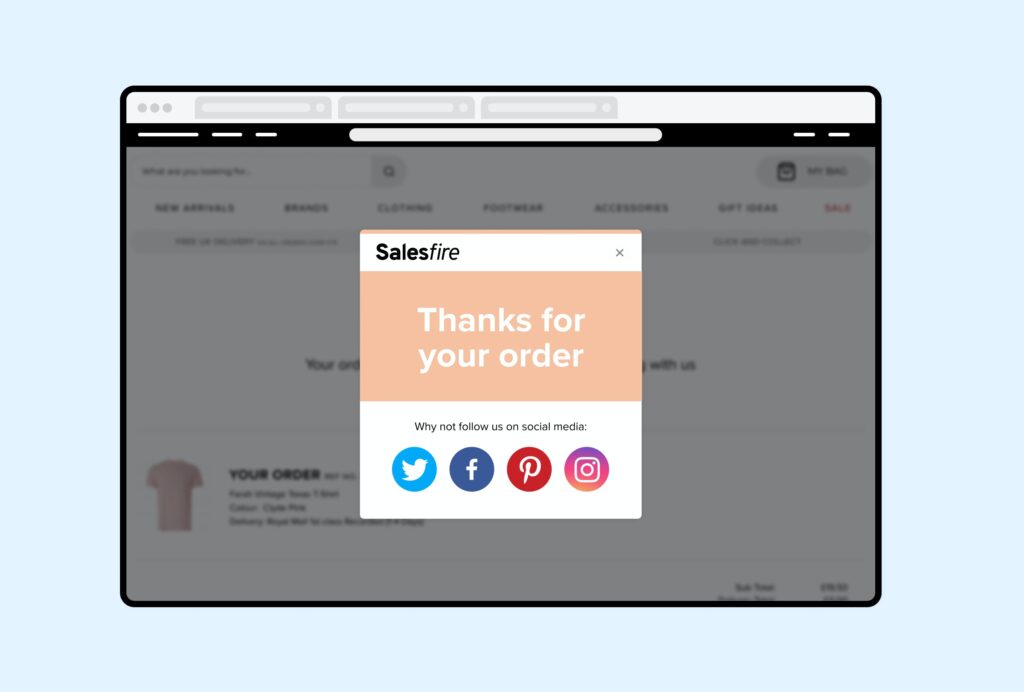 5. Capitalise on the post-purchase feeling
When a customer has purchased from you they've not only bought an item but they've also bought into your brand.
After a customer has completed your checkout process they're perfectly positioned to advocate for your brand.
This is a great time to direct users towards your social channels, building a social following of relevant, engaged customers who will be interested in your new products and latest offers.
Cultivating a strong following across the likes of Instagram, TikTok, Pinterest and Facebook will further your success in the long term by:
Providing insight into consumer interest: Gain real-time insights into the products your followers are loving or disliking to inform your future marketing strategies.
Conducting competitor research: Observe the brands your followers are interacting with to keep a finger on the pulse of what your competitors are doing.
Performing social listening: Search social media platforms for the mention of your brand to gauge customer opinion and understand their needs.
Plus, providing excellent customer service will likely result in your customers talking about their experience on their own social accounts.
Harness the power of targeted messaging
With the right tools, targeted messaging is easy.
There are various options you can choose to deliver personalised messaging that will prove effective in boosting your conversion rate, AOV and revenue.
1 92% of first-time visitors to a brand's website do no make a purchase, survey found | The Drum
2 How far will customers go to quality for free shipping? | Econsultancy
3 Experian Marketing Services study finds personalized emails generate six times higher transaction rates | Experian
See how Salesfire can help you optimise your product discovery experience, email one of our experts at [email protected] or book a free demo of our personalisation tools.