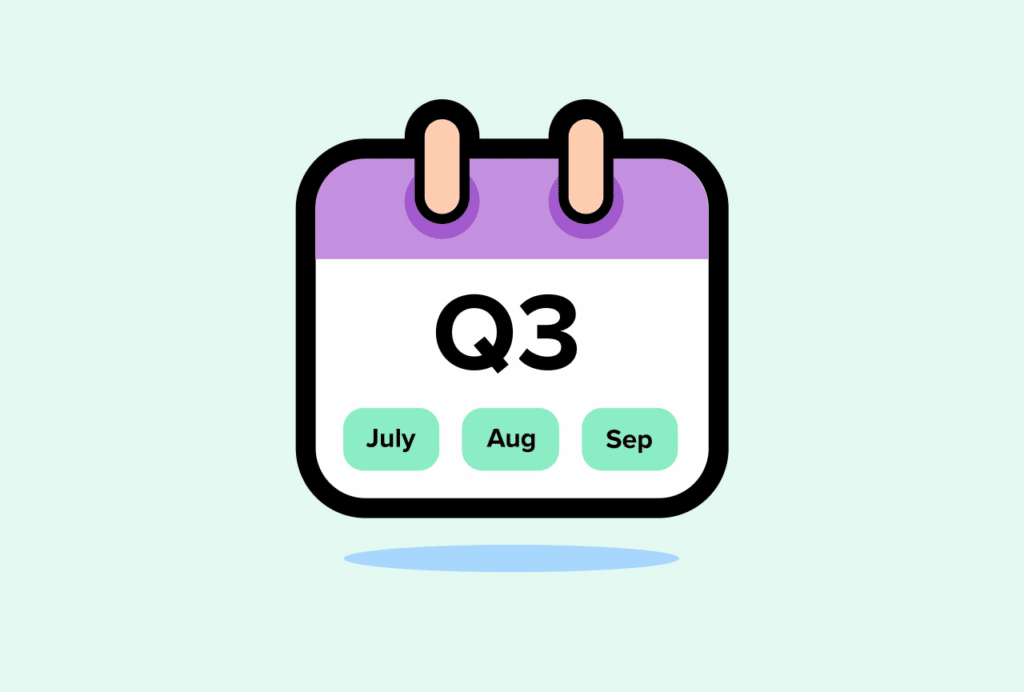 eCommerce has ruled supreme during the past year.
However, as restrictions continue to lift, this may tempt your customers to return to their old habits.
The summer sunshine has finally arrived and as we move into Q3, the focus will be on creating strategies that put you in the strongest position possible, ready for the busiest sales period of the year.
We've put together 5 top tips you can focus on to make the most of this quarter.
5 Top Tips for Q3
1. Optimise your future campaigns
Q3 is traditionally a quieter period for eCommerce, focusing on travel, summer holidays and preparing for going back to school and not around key dates in the calendar compared to the other quarters. 
This is the optimum time to be experimental and create marketing campaigns relevant to your customer base.
From exciting product launches, trying out new social media platforms like TikTok, to an engaging competition rewarding customer loyalty.
Q3 is a great time to put into practice those campaigns you have wanted to try but were too focused on other key retail dates to put in place.
2. Get ahead for Q4
The busiest sales period of the year is fast approaching, so now is the time to update and upgrade your website. 
SEO maintenance is key when it comes to increasing your website traffic.
The more traffic you have coming to your website, the more customers you will have to convert with the Salesfire Dashboard tools.
This source of traffic is crucial for small businesses, as search engines have been shown to drive on average 17% more traffic to small and medium-sized retailers, compared to their large competitors.
Four in 10 visits to small and medium-sized retailers can be attributed to online search.
By doing this key maintenance in Q3, you are positioning yourself well against your competitors and by ensuring you've got the right tools in place to maximise conversations in Q4.
3. Personalise with personas
Over the past year you'll have gained a trove of new customers, make sure you are really getting to know them by creating customer personas.
Personas can be the difference between having an in-depth understanding of your most valuable customers or creating an eCommerce strategy that isn't benefiting your business.
Shoppers expect personalisation and, used well, personas can develop your understanding of the messaging new and existing customers want to see.
4. Post-Covid eCommerce
With the lifting of all restrictions in England now delayed by at least 4 weeks, things will remain changeable for the foreseeable future.
However, when the restrictions are lifted, the claimed behaviour research is looking positive for eCommerce.
Research from ONS shows the continuing impact of the pandemic on non-store retailing (retailers with no physical store presence).
This sector reported the largest growth of 56% compared with April 2019, highlighting a change in consumer behaviour caused by retail restrictions during the pandemic.
Changing attitudes indicate that all age groups will continue to value the convenience and ease of decision-making that online shopping offers, even post-pandemic.
eCommerce can't be beaten in the way it allows customers to shop when they want, how they want, and where they want, all the while providing an enjoyable and seamless experience.
5. Gamify the customer journey
In every quarter we stress the importance of engaging and incentivising your customers. 
Not only is this more cost-effective than targeting new customers, but retaining your existing customers rewards their loyalty and helps turn them into promoters of your business. 
Implement 'gamification' into your engagement strategy.
This is the process of using a sense of reward and achievement to encourage someone to take a desired action, for example, offering an incentive to leave a review to showcase trust factors on your website.
If you want to know how to better engage with your customers, why not just ask them?
Ask your customers for feedback and they will deliver their answers, it's a simple and easy way to improve your customer's experience.
You can always use the tried and tested methods of better engaging with your customers with attractive offers, such as instant coupons and discounts, free shipping, loyalty schemes and membership clubs.
Q3 offers the chance to get prepared for the busiest quarter of the year. It's never too early to start prepping your campaigns to make sure you get the most out of the peak season.
This starts with going back to basics and getting to know your customers, so you can understand how best to target them in the coming months.