Search Best Practices: How To Create a Better User Experience  
By Sophie Walker • Last updated: Friday Aug 18th, 2023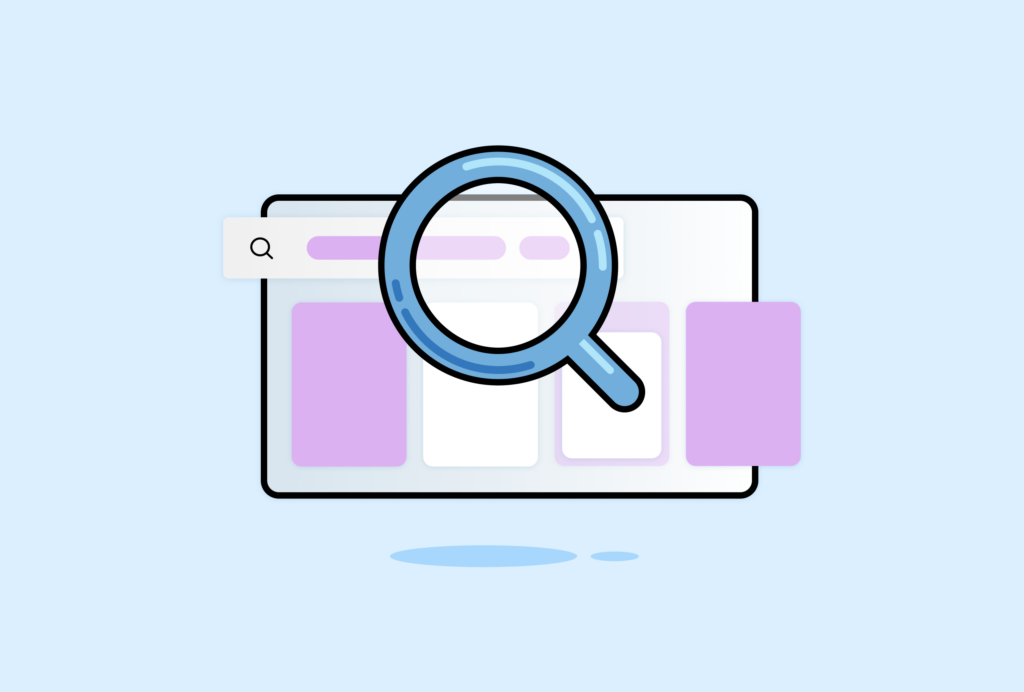 In today's saturated online market, having a strong on-site search tool is crucial for eCommerce success.
Data shows that 69% of consumers go directly to the search bar when visiting an online retailer. 1
By informing how your users navigate through your product catalogue, search can be a make or break for your site, especially when considering that the current eCommerce bounce rate sits at around 44.1%.
A powerful site search can help to prevent abandonment and delight users by delivering the right products at exactly the right time.
Is your search bar a missed opportunity?
Studies show that 72% of sites still fail to meet search expectations, leading to huge problems for online retailers and an abundance of missed conversions. 2
Some of the common search issues that customers encounter include:
Slow loading times: You may miss out on conversions if your search is slow and users have to wait a long time for results to load.
Zero results pages: If your search displays a no results page for a visitor's query, it's likely they'll abandon your site and head to a competitor.
No error tolerance: A shopper misspelling a product name or using an unrecognised synonym may result in an empty or inaccurate results page if error tolerance has not been accounted for.
These common issues may mean high-intent shoppers, who are spelling out exactly what they want to purchase, don't convert or end up looking to a competitor to find what they're searching for.
This lack of efficiency in search can result in:
Low conversion rates
Poor customer satisfaction
Lack of customer loyalty
To take steps to avoid user frustrations and prevent high-intent shoppers from leaving your site, you should look to optimise your Search to meet new customer demands.
Search best practices for eCommerce user experiences
eCommerce search tools can now adopt intelligent search algorithms, artificial intelligence, and advanced features to maximise speed, search performance and efficiency.
So let's delve into some of the search best practices that will contribute to creating a better user experience and catapult conversions.
1. Optimise for search accuracy
Going back to basics, your eCommerce search engine needs to display the most relevant results for your shopper to prevent them from leaving your site and purchasing from a competitor.
Relevancy and accuracy within search results can be the difference between a conversion and a user leaving your site.
And one way to guarantee your shopper can always find what they're looking for is to provide them with an optimised tool that will guarantee search relevance across the board.
Salesfire's AI-driven Search was designed with shoppers in mind, built specifically with the purpose of improving conversion rates and boosting engagement.
Using artificial intelligence to deliver immediate, personalised results straight from the search bar, it features:
Intelligent algorithms: Utilise algorithms within your Search to fine-tune search result rankings based on your wider eCommerce strategies. You can show visitors trending products or available stock first, or prioritise specific pricing models or keywords, to help guide your visitors towards their ideal products.
Redirects: Empty search results or 404 pages mean a missed conversion and may even defer your shopper to a competitor. Instead, you can prevent any wasted search queries by setting up redirects to your chosen category, products, or landing pages and encourage users to continue their product discovery journey.
Synonyms: Your shopper may be trying to find a product but might not be able to reach the exact search terms. Allow for error tolerance by adding synonyms to your search results, and guarantee they can always find what they're looking for.
Search allows you to take control and deliver the most accurate results, optimising each touchpoint with intelligent, user-friendly features.
2. Consider mobile shoppers
One of the biggest changes in recent years is the switch to mobile shopping.
Studies expect that mCommerce sales will account for 43.4% of total eCommerce sales in 2023. 3
Mobile optimisation is now crucial for retailers looking to appeal to modern browsers. This is especially true for Gen Z shoppers, who are often influenced by social media to make purchases directly from their phones.
To meet their needs you should include search features that make it easier for smartphone shoppers to find what they're looking for, such as:
Visual search: Mobile shoppers who use their smartphones to find inspiration on social media can upload screenshots or their own images to find close visual matches from your product catalogue.
Voice search: On-the-go shoppers can use AI-driven voice search to find the products they're looking for in an instant.
Mobile compatibility: Implement a search that's compatible and responsive on mobile devices. Test your functionality on mobile to ensure information is easy to find, and navigation is smooth.
Mobile search optimisation should now be at the forefront of modern eCommerce strategies.
Catering for mobile users will help improve conversion rates amongst digital native generations and capture sales from on-the-go shoppers.
Related content: Listen to 'Mobile Commerce: Enhancing Your Business for the Modern Shopper' to find out more about optimising for mobile.
3. Monitor search analytics
As we solidify the switch to shopping online for essentials, eCommerce stores are providing wider product offerings to meet consumer needs.
This means browsers rely more on the search function to navigate through vast product catalogues.
Search solutions now allow retailers to monitor search volumes and traffic, delving into the search data to gain insights into customer behaviour.
With Salesfire's Search, you can monitor your analytics straight from your own dashboard, allowing you to see search fluctuations and patterns from your shoppers, in real-time.
Search analytics can play a crucial role in:
Discount and sale strategy: Giving insight into the products that are being searched for across seasons, retailers can map out sale and discount strategies for specific products.
Trend forecasting: Making predictions about popular and trending products based on search data allows retailers to focus specific campaigns on popular items.
Stock management: As a result of this analysis, retailers can keep track of inventory levels and identify patterns of demand.
Monitoring search analytics is crucial for eCommerce retailers to make more informed business decisions based on real-time customer data.
4. Prioritise UI design
While the mechanics of your search bar is crucial for your shoppers, it's vital not to overlook the importance of the design of your search.
Your UI plays a crucial role in how your shoppers interact with your functionality.
You will need to consider search UI design, how it displays on your site, and its usability, across devices.
Search result clustering: You will need to ensure that your search result presentation is formatted correctly for usage across devices so that it's easy to navigate and view.
Search placement: You will need to consider search box placement and ensure it's easy to find on your site and user-friendly.
Animated ticker text: With Search, you can integrate an animated ticker text in the search bar, to draw the user's eye directly to it and encourage them to interact with your search.
By ensuring the UI of your search is simple and effective, you can allow customers to effortlessly interact with your search and make it easy to buy from your site.
5. Offer query refining features
We've come to understand the advanced features that facilitate product discovery and allow for smoother queries.
Taking search to the next level with its advanced functionality means maximum efficiency.
Offer filters: You can offer advanced filters on your search that allow users to filter by category, brand and colour, making it easier for them to find exactly what they want to find.
Query suggestions: Inspire searches by offering query and term suggestions when your shopper starts to type in the search bar.
Auto-suggest: Get one step ahead and auto-suggest the rest of your searcher's query to help them get to that product page a lot quicker.
Offering query suggestions and advanced filters enables shoppers to refine their search, allowing them to effortlessly find what they want, in no time at all.
Search best practices for better user experiences
It's clear to see the fundamental role, that Search plays in the eCommerce experience.
To keep up with new consumer demands, your search should be optimised for efficiency. By expanding functionality to include smart features, artificial intelligence, and seamless UI, you can provide a better user experience for your shoppers and increase conversion rates along the way.
1 Unsuccessful Search – Performance Marketing World
2 Why Is eCommerce Search Still So Terrible – Forbes
3 Rise of mCommerce: Mobile eCommerce Shopping Stats and Trends in 2023 – Insider Intelligence
Are you ready to take your site search to the next level? Salesfire's Search is designed to increase conversion rate and maximise user engagement. Reach out to one of our experts [email protected] or book a demonstration.