Looking Back on 2022: The Impact Q4 Had On the eCommerce Sector
By Sophie Walker • Last updated: Tuesday Jul 4th, 2023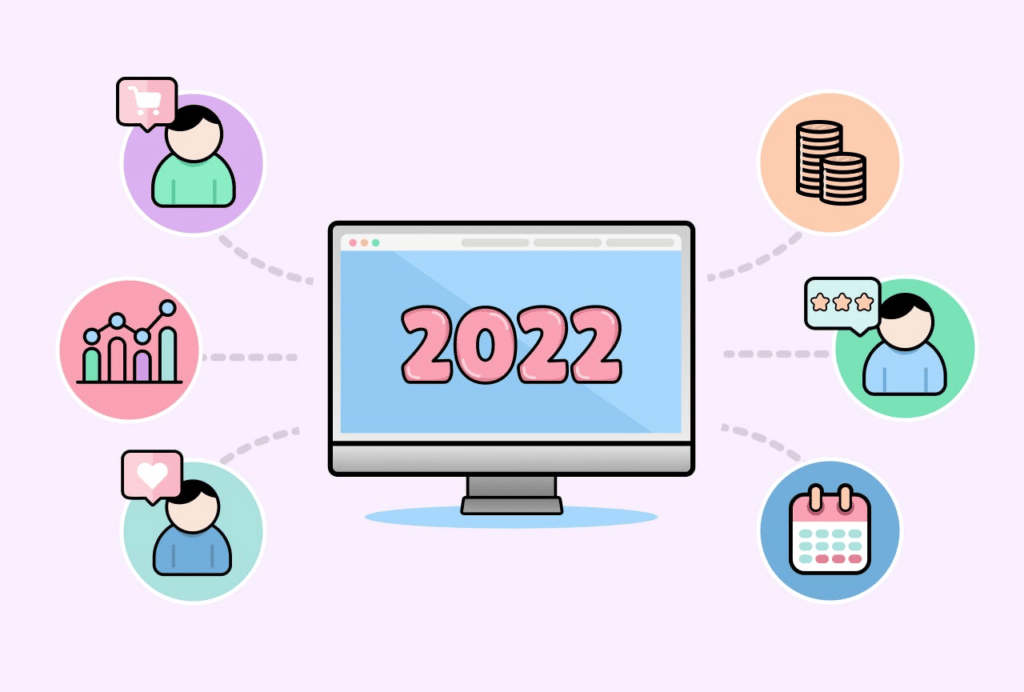 2022 was a year of uncertainty, defined by supply chain issues, the cost of living crisis, and the continued aftermath of the Covid-19 pandemic. These issues drastically changed consumer behaviour, forcing eCommerce businesses to adapt.
Q4 contains a number of key eCommerce calendar dates, including Black Friday, Cyber Monday, and the holiday season. In 2022, online retailers had to plan their Q4 eCommerce strategies in an unstable and turbulent economic environment, and many chose to put extra measures in place to drive sales.
In this article, we'll delve into the impact the last quarter of 2022 had on eCommerce, and consider the trends retailers could utilise to drive their growth in Q1 2023.
Suggested reading: Read our article, "The 6 Top eCommerce Trends That Shaped 2022", to learn more about how businesses adapted to the retail climate of 2022.
Abandoned orders and the cost of living crisis
The cost of living crisis had a significant effect on eCommerce in Q4, with 77% of consumers saying they had to change their overall spending habits as inflation increased.1
With shoppers hesitant amid financial insecurity, basket abandonment strategies were crucial for online retailers. The average abandonment rate across eCommerce industries currently sits at about 69%, which means roughly 7 out of every 10 shoppers won't complete their order. 2
In an attempt to secure sales and prevent abandonment, online stores offered larger discounts on Black Friday than in previous years, with the average consumer discount rate coming in at 23.4% for electronics and 13.8% for clothing. 3
These larger discounts meant that many shoppers were faced with more options within a similar price range, potentially increasing the likelihood of cart abandonment.
A proportion of abandoned carts is inevitable from shoppers who are not yet motivated to purchase. However, as we look to Q1, we may see these rates becoming a more pressing issue as the cost of living crisis continues to take hold and shoppers make a habit of shopping around to find the best deal.
There are several steps retailers can take to reduce abandoned cart rates and increase their sales going into Q1, including:
Reviewing abandoned cart reminders: An automated abandoned cart email sequence will re-engage your shoppers, and encourage them to complete their purchase.
Displaying an Overlay on exit intent: Overlays can be used to remind shoppers of your USPs, or to give them a discount code that encourages them to shop with you over a competitor.
Delivering value-driven content: Consider how you can provide value-driven content to your existing customers, and how you could improve your customer service. You can emphasise the value of your products by tailoring your content marketing plan to highlight your products and brand.
In such a competitive space, it's essential to nurture those shoppers who have engaged with your site or previously purchased from you. By promoting the value of your products throughout your marketing strategy, you can recover lost sales, reduce basket abandonment rates and gain a competitive advantage in your eCommerce space.
Pro tip: Using Digital Assistant you can encourage shoppers to save their basket if they show intent to leave. You can then use your Salesfire email tool to send a reminder prompting shoppers to return and complete their purchase.
Creating user journeys that convert
Trends data shows that Black Friday revenue in 2022 was down 11.99%, while the total number of visitors decreased by 19.64% compared to the previous year.
Though the number of people shopping online may have decreased from 2021, consumers were arguably making more considered and well-thought-out purchases, as overall conversion rates were up 13% across all industries in 2022.
Further Trends data reveals that electronics saw an 8.9% increase in conversion rate, while Fashion saw an increase of 6.33%, proving positive for industries that typically thrive through Black Friday.
This uplift in conversion rates despite the decrease in visitor numbers demonstrates how important it is for retailers to nurture their relationships with existing customers by optimising their websites and creating user journeys that convert.
Laura Black, Delivery & Operations Director at Brave the Skies, said "With consumers becoming more restricted with their spending due to the ongoing economic uncertainty, we've seen many merchants focussing on customer retention and loyalty.
"I think it's so important for brands to get behind the importance of storytelling, seamless user journeys, and presenting their core USPs." 4
What you can do: Optimise the most influential areas of your buyer's journey using Digital Assistant, which seamlessly guides your shopper from browsing through to purchase.
With Digital Assistant, you have access to a range of ready-to-deploy campaigns that build trust, drive AOV, and increase sales by:
Showcasing product views and purchases: Highlight the popularity of your products by showcasing how many shoppers have viewed a product listing and gone on to purchase. This will create a sense of urgency to encourage a shopper to complete their purchase and avoid missing out.
Displaying recently viewed items: Personalise the shopping experience by displaying recently viewed products to new and existing shoppers, connecting them with the products they love.
Promoting content and products: Showcase your latest content and direct your shoppers to your newest product offerings on-site to improve the product discovery experience.
To make the most of existing online traffic in 2023, it's essential for retailers to outline a strong marketing strategy that focuses on enhancing on-site experiences and building brand loyalty.
Mobile commerce continues to grow
As the landscape of eCommerce evolves, the way shoppers browse also continues to change.
By 2024 it's predicted that 42.9% of eCommerce sales will be made on mobile devices, a claim supported by recent statistics: Black Friday 2022 saw a record 48% of all eCommerce sales made on smartphones. 5 The average abandonment rate is 85.65% on mobile phones, and slow-loading sites increase abandonment rates by 75%.7
As mobile commerce — or mCommerce — continues to grow in 2023, it's essential for retailers to consider how their website acts on mobile devices. Online retailers need to ensure their websites are optimised for mobile use, from navigation and search bars to product and landing pages. Reviewing and optimising your site's functionalities to deliver the quickest results possible is the key to selling products on mobile.
Consider upgrading your site search to ensure you deliver fast results to your on-the-go shoppers and prevent them from abandoning your website due to slow loading times.
Salesfire's Search is driven by AI and delivers search results in under 0.001 seconds, driving those all-important conversions and keeping up with mCommerce's faster and more convenient shopping experience.
Pro tip: The drive towards mCommerce has made social media one of the main sources of product discovery. Upgrade your eCommerce social media strategy to engage target audiences and reach new potential customers in Q1 of 2023.
AI is here to stay
With cart abandonment rates and financial insecurity at an all time high, AI has been an essential tool for improving online retail outcomes through the tough Q4 of 2022.
AI is going to continue to be a driving force for eCommerce in 2023. As technology continues to improve, AI and machine learning functionalities are becoming increasingly accessible for online retailers to integrate into their websites.
Looking ahead, the AI-driven functionalities expected to shape eCommerce trends in Q1 of 2023 are:
Visually Similar Search: Allowing users to search for products using inspiration they have found on social media and deliver close matches from your product catalogue. This seamlessly connects your shoppers with the items they're looking for.
Voice site search: 27% of the global population currently use voice search on their mobile devices. 8 Get ahead of the curve and allow your shoppers to easily articulate their query using voice search.
AI-driven recommendations: With so many different product options available to modern shoppers, showcase the most relevant products at optimal parts of the user journey with AI recommendations.
By integrating AI-driven functionalities on your website, you enable your shoppers to find products on their own terms and let AI do all the heavy lifting on product discovery.
Looking to 2023
As the cost of living crisis worsens and growth shrinks, it's important that retailers continue to adapt their eCommerce strategies in line with economic and buyer fluctuations in 2023.
Consumers are expected to shop more cautiously and reduce their spending on non-essential items, meaning that online retailers need to work harder to ensure that the traffic they generate on-site converts to a purchase.
But while 58% of UK adults have reduced their spending on non-essential items in the last six months due to the cost of living crisis, 47% still make at least one online transaction a week.9 ECommerce sites still have numerous opportunities for developing leads, sales, and growth, even as shoppers become more restrictive.
1 Quarterly Changes In Consumer Behaviour – Jungle Scout
2 15 Cart Abandonment Statistics You Must Know In 2022 – Drop.io
5 Rise of Mcommerce – Insider Intelligence
6 Shopping Cart Abandonment Statistics – Truelist
7 Voice search mobile use statistics – Think With Google
8 Uk and US shoppers plan increasing online spend despite the cost-of-living crisis – Enterprise times
See how Salesfire can help you optimise your product discovery experience, email one of our experts at [email protected] or book a free demo of our personalisation tools.