17 Best eCommerce Conversion Rate Optimisation Tools in 2022
By Courtney O'Riordan • Last updated: Monday May 15th, 2023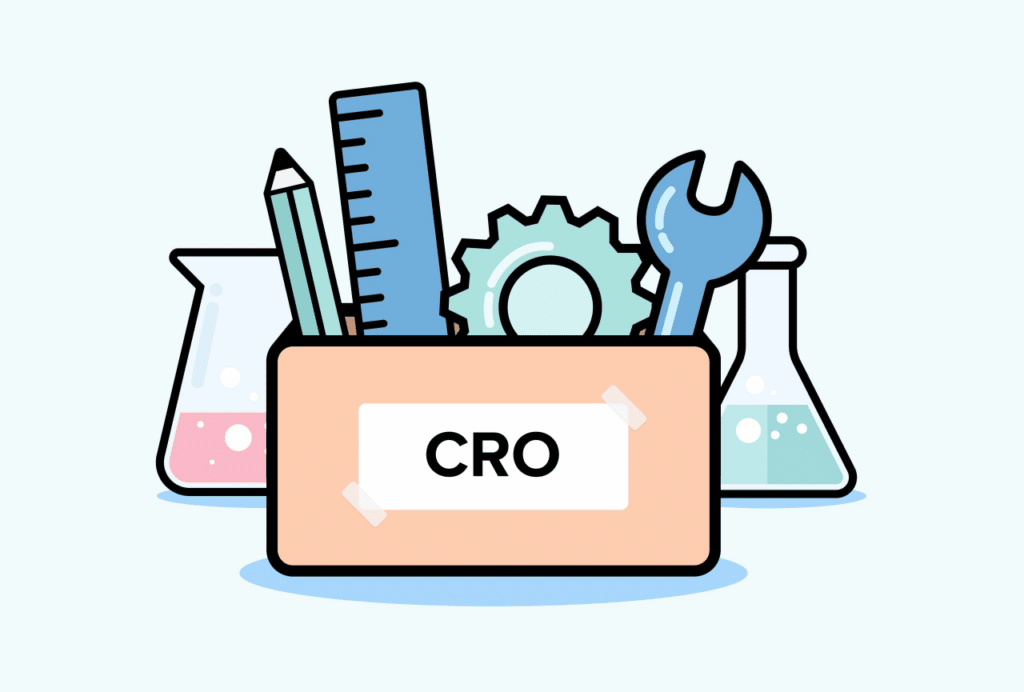 These days, eCommerce sites must be fully optimised in order to generate conversions.
It's no longer a case of choosing whether to implement CRO tools on your site or not, now it's a matter of deciding which tools will best optimise your site.
Such tools have revolutionised how eCommerce teams operate in terms of CRO.
For example, easy access to website optimisation solutions makes automating your CRO strategies virtually effortless.
This frees up valuable time for your marketing and eCommerce teams to fulfil other business needs.
There's a wide range of CRO tools and providers that can cater to your specific goals and help in improving your conversion rate in the most cost-effective way.
Suggested reading: We've written a handy explainer on why CRO is so important for eCommerce.
What to look out for
It's important to outline the goals you hope to achieve from implementing CRO tools on your site. Here are just a few examples of why eCommerce businesses turn to CRO services:
Reduce bounce rates
Understand customer behaviour
Increase conversions
Analyse user behaviour
Collect data
Split testing
Identify problem pages
Conduct multivariate testing
Once you have identified your objectives, you can find a service that specialises in solutions that work for your website.
But, how can you find a provider that suits your wants and needs in a busy industry?
We've shortlisted 17 of the best eCommerce CRO tools currently available to help you with your search.
17 Best eCommerce CRO Tools
All-in-one CRO solution
Whether you are at the beginning of developing your CRO strategy or hoping to improve your current efforts, an all-in-one CRO solution can greatly enhance every aspect of the customer journey.
To put it simply, all-in-one CRO solutions allow retailers to sell more by creating seamless, personalised experiences.
1. Salesfire
Salesfire offers AI-powered conversion solutions that streamline eCommerce strategies to convert potential customers into loyal ones.
Salesfire accompanies retail customers through every stage of their on-site journey — from their very first click on your site through to repeat purchases.
A uniquely data-driven approach guides shoppers seamlessly through the conversion funnel with purchase inspiration, support and personalisation.
Salesfire makes the creation of hyper-personalised experiences accessible for any eCommerce site with an effortless implementation process of just a few simple steps.
Their suite of plug-and-play solutions includes:
All of these are designed to optimise the most influential areas of your site to increase eCommerce sales, boost AOV and drive revenue.
eCommerce managers can now take an industry-informed approach to their CRO strategies with Salesfire's insight and analysis function, TrendDesk.
Knowledge gained from TrendDesk allows you to track industry insights with data on important KPIs, a feature that is especially useful during key dates like Black Friday.
Once analysed, this data can be used to plan successful campaigns, analyse performance and compare yourself to your competitors.
No matter the industry you are in, TrendDesk can be used to continually inform the enhancement of your CRO strategy for and maximise results.
We'll cover more uses of TrendDesk later on in this article.
Analysis of user behaviour informs creative and complete CRO campaigns that are easy to implement and generate immediate results.
All of this and more makes Salesfire a one-stop shop for conversion rate optimisation.
Key services and benefits include:
Free demo: Discover CRO tips that generate real results while contributing to Salesfre's pledge of planting a tree for every demo completed.
In-depth performance analytics: Determine your most effective strategies and identify areas for growth with comprehensive insights into your conversion rate in your Salesfire dashboard.
Benchmark your performance with TrendDesk: The UK's largest eCommerce network, Salesfire's TrendDesk, is available in your dashboard, offering unique insights into your site's performance and allowing you to compare your data to the rest of your industry.
A single line of code integration: Rapid integration allows you to start converting more of your website traffic today.
Campaign creation in no time at all: Launch reactive campaigns in minutes that respond to trends and customer behaviour without needing a developer.
Dedicated Client Success Manager: To provide product support and guidance.
A complete CRO solution: Integrates with any eCommerce platform and works alongside your existing app ecosystem.
User behaviour analysis CRO tools
Directing traffic to high-performing pages or discovering which of your CTAs are the most effective is crucial in optimising your site.
To help you understand how your visitors are behaving, we've selected a few of the best CRO tools that will provide you with this knowledge.
2. Crazy Egg
Crazy Egg is perhaps best known for innovating the tracking of website visitor behaviour by originating heatmap technology.
Their suite of tracking tools provides clients with a deep understanding of what is and isn't working on their site. Through easy-to-understand reports, it's possible for clients to go on to optimise underperforming areas of their websites.
When they are not tracking behaviour, they are making A/B testing easy. Their range of testing tools provides the knowledge needed to increase conversions, improve the shopping experience and direct traffic to a desired action.
Key services and benefits include:
30-day free trial
A suite of tools that identifies areas of customer frustration
Fast split testing set-up
3. Hotjar
A commitment to understanding what is happening on-site and why is at the heart of Hotjar's offering.
Appealing to product managers, teams, designers and researchers allow every stage of the user experience to be optimised based on real-time user behaviour.
Insights fueled by heat maps, recordings, feedback or surveys communicate pain points that can be fixed to boost conversions.
Key services and benefits include:
Free basic package
GDPR and CCPA ready
365-day data storage
4. Chatbot
Chatbot focuses on mimicking human-like conversations through their all-in-one conversational chatbot platform without coding.
A Visual Builder allows eCommerce teams to drag and drop conversational elements and test them in real-time to design their own engaging chatbot exchange.
Chatbot focuses on building relationships with customers to support visitors through the conversion funnel and prevent the possibility of an abandoned cart.
Key services and benefits include:
Free sign-up
Ability to connect with Facebook Messenger
24/7 customer support via Chatbot
Personalisation CRO Tools
As 71% of consumers have come to expect personalisation, the following CRO tools allow you to give your customers exactly what they want.1
A focus on upgrading your user experience ensures each visitor will gain a unique experience from your site that will result in conversions.
5. Wunderkind
New York, London and Indianapolis-based Wunderkind focus on one-to-one marketing to empower customers to convert.
Boosting conversions comes from their customer-centric approach which calls to the universal consumer need for a personalised experience.
One-to-one messages through email and text create thoughtful and tailored communication that generates revenue for clients.
Wunderkind specifically works well in cultivating a loyal and engaged audience to maintain sustainable growth for their clients.
Key services and benefits include:
One-to-one customer experiences
Custom performance estimates
An impressive list of partners
6. Yieldify
Working with brands like Adidas has furthered Yieldify's mission of advancing the human connection between brands and their customers.
An extensive set of personalisation tools improves various aspects of CRO strategies, whether that be increasing lead generation or improving customer experience.
Key services and benefits include:
No code set-up and build
A substantial list of customer testimonials
Expert client and technical services
7. Nosto
The collective eCommerce experience of Nosto's two founders laid the foundations for a clear but difficult to achieve goal: to create shopping experiences that win customers for life.
Their unique approach to keeping shopper and product data updated in real-time truly personalises the journey all the way down the conversion funnel.
Their Shoppable Instagram feature is worth noting for those hoping to utilise their social media presence on their eCommerce store.
Key services and benefits include:
Segmentation and A/B testing capabilities
Omnichannel integrations
Quick set-up
8. Revlifter
Revlifter utilises AI and UX to the benefit of customers and eCommerce stores.
A Hyper-Personalisation Engine is at the centre of their offering. This engine collects visitor signals, applies rules and delivers offers that drive conversions.
Their goal-orientated approach allows eCommerce businesses to personalise their objectives while personalising the customer journey.
Key services and benefits include:
A 3-month trial based on a percentage of website traffic
Worldwide customer base
Flexible pricing
9. PureClarity
Everything PureClarity does revolves around personalisation. This is evident through their series of AI-driven tools that effectively grow sales for eCommerce businesses.
In particular, their Personalised Content excels at giving every visitor a unique experience through individualised banners and carousels.
Not only this, but A/B testing and segmentation ensure that each shopper is viewing content optimised for them based on their past and current behaviour.
Key services and benefits include:
98% customer satisfaction rating
No contract
Personalisation within Pop-Ups, Emails and Search
10. Fresh Relevance
Fresh Relevance aims to put eCommerce teams in the driver's seat. To fulfil this aim they have created an extensive set of tools that can be set up with no prior technical expertise.
This range of tools works best when creating a seamless omnichannel experience that delivers targeted campaigns across websites, apps and emails.
Such a focus on cross-channel personalisation allows for the engagement of customers from the point of inspiration to the point of purchase.
Key services and benefits include:
A large portfolio of tools that includes Geotargeting, Social Proof and Data Management
Core and Enterprise plans are available
Flexible and modular feature menu
11. Segmentify
Segmentify's all-in-one personalisation platform combats the idea of outdated "one-size-fits-all" marketing.
They offer tools that are built on advanced algorithms that analyse each visitor's behaviour and respond accordingly.
A particular emphasis is placed on making note of customer fluctuations due to seasonality, campaigns or taste, to allow for real-time reactions to consumer preferences.
Key services and benefits include:
14-day trial
Active in 25+ countries
Free set-up, integration and campaign optimisation
12. intent.ly
In almost a decade, intent.ly has undergone a successful rebrand and developed a close-knit international group of employees.
Amidst all of this, their award-winning conversion business has continued to leverage the reach and potential of every individual customer.
Timely prompts and messages, through overlays, notifications and emails, create brand-aligned experiences that drive conversions.
Key services and benefits include:
Live chat on-site
An extensive client base
Analytics suite to fix invalid codes
13. Cloud IQ
London-based Cloud IQ has a unique focus on their Customer Data Platform (CDP).
This tool allows Cloud IQ to identify customers and understand their lifestyle stages. With this knowledge, they aim to convert a first-time buyer into a loyal customer through truly personalised consumer communication.
Key services and benefits include:
Focus on 'Next Gen eCommerce'
Demand Forecasting tool for sustainable growth
Trusted by brands such as Boots
Product Discovery CRO Tools
The ultimate goal of the product discovery experience should be to connect your customers with relevant products.
We've listed a range of tools that will help you do this with the ease and speed necessary to generate purchases.
14. FACT-Finder
With 20+ years of eCommerce experience, FACT-Finder is very aware that happy shoppers provide high revenue.
Their award-winning Site Search tool creates conversions and satisfaction by connecting customers with the product or service they need in an instant.
Although they specialise in product discovery via search, their suite of tools includes Personalisation, Geo, Recommendations, Predictive Basket and Customer Specific Pricing modules.
Key services and benefits include:
One team working across five different European offices
Committed to the Climate Neutral Now initiative
B2B and B2C offerings
15. Syte
Since 2015, Syte has transformed from an image search company to become the first ever product discovery platform.
They aim to merge the online and offline product discovery experience through their services, including Visual Discovery and Searchendising.
Syte's continuous evolution with the times means they have a strong grasp on the new era of customer experience and use their tools to accommodate the changing eCommerce landscape.
Key services and benefits include:
95% accurate Visual AI
Cater to the specific needs of the fashion, jewellery and home decor industries
The first product discovery platform
16. Algolia
Search and Recommendation-driven Algolia provides customers with easy accessibility to eCommerce products. They uniquely use their improved search experience to help clients venture into their headless commerce journey.
Key services and benefits include:
A developer-centric approach
A community of 500k+ developers
Free demo available
Benchmarking CRO Tools
Benchmarking allows you to evaluate your position within your industry and leverage this knowledge to further the optimisation of your site.
Not only can the below tool allow for competitor comparison, but it can also help you to identify internal areas for optimisation.
17. Salesfire Trends
Trends is a free tool which specialises in tracking the latest eCommerce trends and benchmarking data.
Viewing total visitors, page views, revenue and conversion rates of specific industries allows eCommerce managers to:
Plan campaigns: Gain access to real-time and past eCommerce trends to inform future launch dates and campaign scalability.
Real-time benchmarking: With data from 28 available industries and tracking over 570 million, you can see how you can compare to your competitor.
Analyse performance: View trends as they happen and gain actionable insights to optimise your performance.
Key services and benefits include:
Free to use
Track stats within your specific industry
Insight and analysis function of Salesfire
It's over to you
Deciding which CRO tool to use to improve your site boils down to one important question – which tool will improve your current conversion rate the most effectively?
At Salesfire, we deliver increased conversions and immediate results with our all-in-one conversion rate optimisation tool. Powered by data and behind-the-scenes CRO experts that guide you on your journey to eCommerce success.
Don't just take our word for it — hear from our customers by reading our reviews.
1 The value of getting personalization right – or wrong – is multiplying | McKinsey & Company
See how Salesfire can help you optimise your product discovery experience, email one of our experts at [email protected] or book a free demo of our personalisation tools.