Why Shoppers Abandon Their Online Carts
By Brianna Riley • Last updated: Monday May 15th, 2023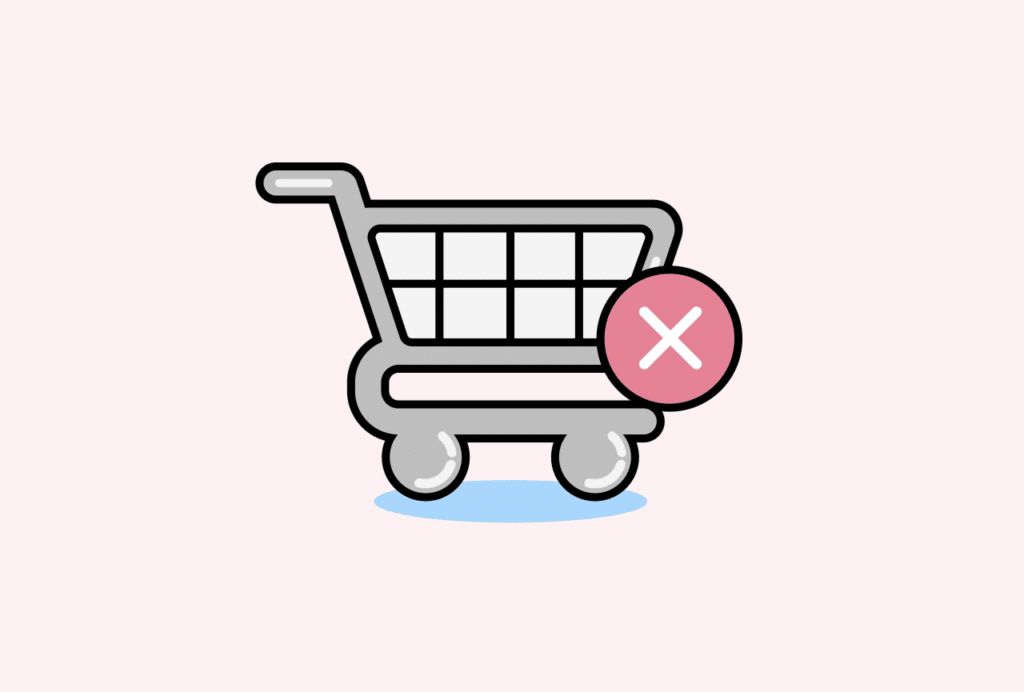 eCommerce is still at war with cart abandonment.
As eCommerce retailers, a lot of work (and budget) is spent on encouraging consumers to your website and perfecting your sales funnel. Shoppers will browse the website, see a few products they like and add them to their cart with a desire to purchase. One step away from a sought-after conversion, the shopper leaves the website and does not complete their order. This is the dreaded cart abandonment.
According to Baymard, the current cart abandonment rate stands at 69.57%. In other words, nearly 7/10 shoppers who place a product in their cart choose to leave the site without completing the transaction.
The even harsher reality is that shoppers abandon online carts worth almost £30 a month, resulting in more than £18 billion of lost sales each year.
If you thought hard enough, there would be an endless list as to why a customer has abandoned their online cart at some point or another. However, while basket abandonment is inevitable, some websites see a much higher rate than others due to both practical and technical obstacles standing in the way of what should be a seamless checkout process.
Luckily, we have data and we were able to pull together some of the biggest reasons why shoppers really abandon their online carts and a few tips on how to prevent the dreaded 'cart abandonment'.
Why are carts abandoned?
1. Having to create an account
Given that online orders are supposed to be quick and convenient, it's no surprise that 34% of shoppers cite having to create an account as their reason for not completing their online purchase. Modern customers want instant results that can be processed quickly.
The solution? Offer a guest checkout.
Data from Invesp states that failing to offer a guest checkout option is one of the leading causes of cart abandonment.
While some suggest making account creation optional is an effort to throw away valuable customer data, an email address can still be retrieved from a guest checkout.
If a customer knows they will want to buy regularly from your website, they will be more than happy to create an account and input their details in order to make their next time ordering easier and more efficient.
The best approach is to provide the option to create an account, but ensure that it is not mandatory to make a purchase.
2. High or surprise shipping costs or a poor returns policy
In a world of Amazon Prime and ASOS, the delivery process of online retailers is expected to be nothing short of seamless and free of charge.
As much as you don't want to hear it, shipping costs are vital. A surprising delivery charge is something no customer wants to be confronted with, the fact being that 28% of customers will cancel their online purchase if a shipping fee suddenly appears on their order. The failure to mention shipping costs, either at the start of the sales funnel or during, is a major obstacle to bagging a conversion.
Free shipping is a major incentive as well as a faultless USP, so much so that nine in ten respondents cited free shipping as their main incentive to shop online. If your site does offer free shipping, but over a certain amount, make sure to be upfront about the requirements. Transparency is highly valued by today's shoppers.
It's good to note that offering help during the checkout process can also help prevent customers from abandoning their purchase due to unanswered questions. Implementing a live chat icon or an FAQ section may be something to think about.
Messenger provides the shopper with the opportunity to learn more information about specifics which, if unattended to, might prevent them from going through with their purchase. Why not invest in technology for a month or two and measure the difference in results?
While shipping is important, don't forget about your return policy. Up to 66% of shoppers say that they would spend more with a generous return policy. Given that there is no option to feel the material of that jumper or see the size of that handbag in person, an easy and flexible return policy couldn't be more crucial in some customers' shopping sprees.
3. Website errors and crashes
The customer experience is paramount, so routine checks to ensure your website is functioning smoothly without bugs doesn't hurt.
No customer wants to experience slow loading pages, page errors or general website crashes. Not to mention these factors contribute to a sense of online insecurity.
Make sure to regularly perform these checks across all devices as mobile shopping continues to grow, with the mobile cart abandonment rate being the highest out of tablet and desktop.
If you are booking dates in the calendar for sales and promotions and are expecting spikes in traffic, it's important to reserve extra capacity.
Reducing cart abandonment with Retargeting Emails
Despite your best efforts to minimise cart abandonment, a percentage of customers will always fall through the gaps. This is where email retargeting comes in to play.
While cart abandonment is a fact of life for online retailers, email retargeting is there to soften the blow having proven to be the most effective way to secure what would have been a lost purchase.
Salesforce data shows that 60% of shoppers returned to make a purchase within 24 hours of receiving a personalised abandoned cart email. Customers now want brands to tailor offers to their own individual behaviours and interests.
Personalisation is extremely effective in any marketing strategy, but it is even more effective if you are reaching out to users who have already engaged with your website and have a desire to purchase.
Don't be afraid to throw in a discount code or a promotional offer to sweeten the deal.
See how Salesfire can help you optimise your product discovery experience, email one of our experts at [email protected] or book a free demo of our personalisation tools.