Salesfire Updates: Target your shoppers by traffic source
By Kelly Aitkin • Last updated: Monday Mar 13th, 2023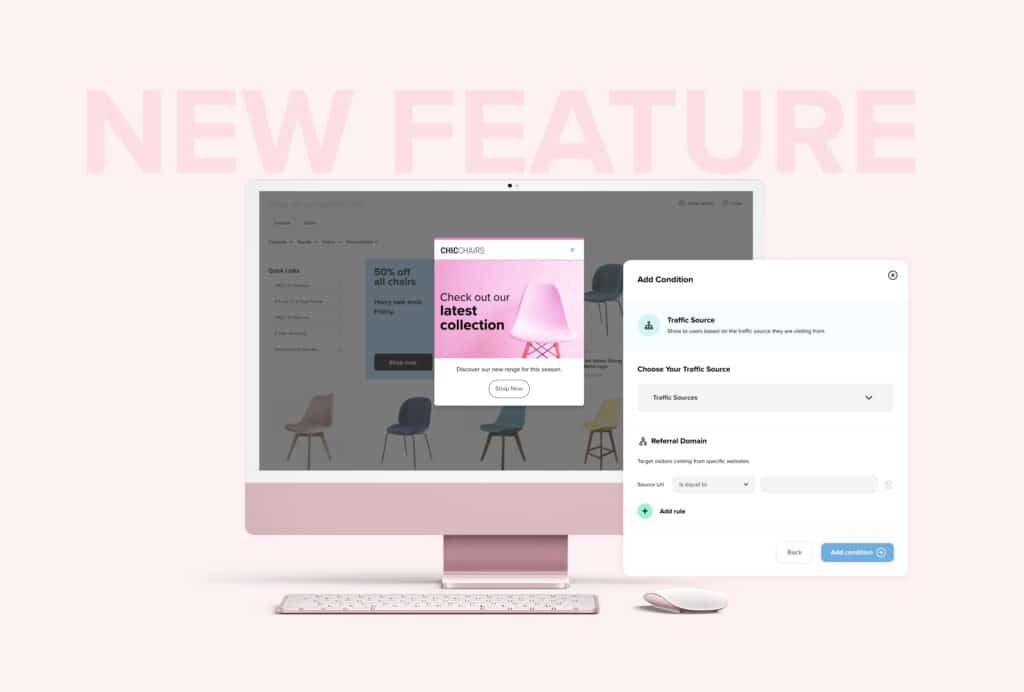 Our latest update takes campaign targeting even further.
You can now precisely target your website traffic based on the journey they've taken to reach your website with the new Traffic Source condition in Salesfire.
Let's look at how you can use the condition to take your Overlay campaign targeting to the next level.
Introducing our Traffic Source condition
Want to target your visitors based on the campaign that has driven them to your site?
The Traffic Sources condition detects which referral domain or landing page traffic is coming from, segmenting your visitors and dictating which campaigns they're shown.
This enables you to show personalised messaging to tailor the shopping journey to each individual.
Seamlessly introduce traffic to the shopping journey
Perhaps you want to target users coming from an affiliate link such as Groupon or maybe you're running a social media campaign and want to engage shoppers from specific social networks such as Facebook.
With the Traffic Source condition you can thank shoppers for visiting your website from your social media channels or greet them with an Overlay directing them to your new range based on the referral domain they have arrived from.
Shoppers have come to expect a high standard of personalisation from leading eCommerce brands, therefore targeting these users with similar messaging through your social media campaigns and into your website works to increase buyer confidence.
Target on-site traffic
Do you want to target shoppers based on the pages they've visited on your own site?
The Traffic Source condition not only enables you to target from external domains but from landing pages on your site too.

You may want to show a unique incentive to shoppers who have visited a specific product or category page on your website.
Boost campaign engagement
In an increasingly competitive market shoppers are faced with an abundance of marketing campaigns every day meaning brands have to work harder to capture and retain attention.

With the average eCommerce bounce rate currently sitting at 44.68%, leading retailers are working to ensure traffic doesn't simply bounce off their site with no engagement.

Targeting visitors by traffic source takes into consideration that each shopper is an individual, arriving on your site through a different journey, with different motivations to buy.
Hyper-targeting your campaigns to specific audiences based on their behaviour can immediately capture their attention, turning them into engaged shoppers.
Whether it's a specific welcome message or an incentive that's tailored to the user's referring platform to increase the likelihood of a conversion.
You can access your new Overlay conditions through your dashboard now.